Society
In keeping with our focus on corporate responsibility principles and actions, Bell has been a leader and partner in addressing important social needs wherever we operate, supporting the wellbeing of Canadians with public safety, accessibility and other measures that benefit society as a whole.
WHY IT MATTERS

tag

GRI 103
Canadians are increasingly dependent on digital technologies and require access to the digital ecosystem to learn, work, socialize and access essential services. Access to high-speed, reliable and affordable Internet has become an essential service and a key driver of improved social wellbeing as we help bridge the digital divide and provide accessibility for everyone.
WHAT WE ARE DOING
Bell participates in the Connected Families program of Innovation, Science and Economic Development Canada (ISED) to help bridge the digital divide for Canadian families who may struggle to afford access to home Internet. Bell is the largest donor by volume of used computer equipment and peripherals to Ordinateurs pour les écoles du Québec (OPEQ), which manages the delivery of computers to eligible households in the Connected Families program in Québec. Through our Accessibility program, we also bring the benefits of advanced communications technology to those with disabilities through unique apps, products and partnerships.
Helping to bridge the digital divide
9
11
Bell's industry-leading investments in fibre, 5G and rural broadband networks, and our ongoing work with governments to deploy services in remote and hard-to-reach areas, are helping Canadians access the benefits of the Internet and online platforms (for more on these initiatives, please see the Customers section).
Despite the important role played by high-speed Internet in the participation of Canadians in the digital economy, and the initiatives that are improving access across the country, almost half of Canadian households with an annual income of $30,000 or less do not currently have access, for reasons other than availability. To help address this need, Bell is participating in the Government of Canada's Connecting Families initiative. Under this initiative, government, private companies and non-profits are working together to enable qualifying low-income Canadian families to access the Internet by reducing the price of access to more manageable levels.
Originally launched in November 2018, the Connecting Families program will enter a second phase, announced by the Government of Canada in 2021. This second phase will take effect in 2022 and offer download and upload speeds that are 5 to 10 times faster than phase one of the program and include 200 GB of data usage for $20 per month. The second phase also broadens eligibility to include low-income seniors in addition to families receiving the maximum Child Care Benefit (CCB). The initiative is possible thanks to the involvement of Internet service providers, including Bell, and is administered through Computers for Success Canada (CFSC-OPEC), a not-for-profit partner of the Government of Canada's digital inclusion and economic development programs.
The Connecting Families initiative also provided 50,000 computers to schools through the Computers for Schools Plus program. From this total, OPEQ has delivered 12,300 computers to eligible families in Québec since the start of the Connecting Families program.
Our computers at the service of our communities
Bell maximizes the reuse of its IT equipment that is no longer useful for the enterprise by giving it to the national program Computers for Schools Plus (CFS+). This program, a leader in the re-use of computer equipment, allows young adults to enhance their technical knowledge and spurs growth in their personal, social and professional lives. In addition to being an ecologically responsible solution for companies that need to dispose of equipment, CFS+ provides refurbished computers and other electronic equipment to elementary and high schools, various non-profit organizations, and eligible low-income Canadians. The education component of the 2021 Bell for Better national advertising campaign is directly related to Bell's donation to the CFS+ program.
Additionally, in 2021, Bell joined other companies to launch the CEO Pledge campaign. Initiated by Microsoft Canada, the campaign is a joint effort by several companies that have committed to reducing digital divides by donating their used equipment to the CFS+ program.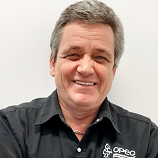 "It's important for us to give back to the community by providing them access to technology, but also by training the next generation of technicians and giving them a boost up in finding a job."
Daniel Meunier, OPEQ instructor, Québec City, Québec
Daniel works for OPEQ and is responsible for the laptop workshop. Since 1998, this workshop has been actively involved in the reuse of thousands of Bell equipment. It is through the employability of marginalized youth and the training of future technicians that Bell equipment is repaired, revalorized and redistributed to schools, non-profit organizations and low-income individuals.
Bell has been contributing to the success of this program for more than 20 years. In addition to making equipment donations, Bell is actively involved in Ordinateurs pour les écoles du Québec (OPEQ), the Québec division of CFS+: a Bell team member acts as the executive director, we provide workshop and office space for the OPEQ management team and another Bell team member sits on its board of directors.
The COVID-19 pandemic has greatly increased demand for IT equipment to provide connectivity between individuals and for remote education. Our equipment donations have enabled OPEQ to be a strong supporter of our communities.
Donations of used equipment for reuse or recycling
Number of units donated to CFS+
Computers
Monitors
Printers
Cumulative total (since 1997)
127,500
23,350
4,950
For more information on OPEQ's history and performance, see the OPEQ information sheet on our website.
Accessibility for everyone
At Bell, we recognize that all individuals – including customers and team members – should have equal opportunity to have their needs accommodated without discrimination, and we believe that the benefits of advanced communications technologies should be easily accessed by everyone. Today, an estimated 1 in 5 Canadians lives with a disability, and Bell is helping break down the barriers that limit access through a company-wide Accessibility Program, which supports existing solutions as well as the development of new and innovative tools and resources. Additionally, Bell has established a leadership council to guide various accessibility initiatives across the entire organization.
Through initiatives such as our Accessibility Services Centre (ASC), Bell is an established leader in helping break down the barriers that limit access. ASC is a specialized call centre dedicated to serving customers with disabilities, including hearing, vision, speech, cognitive and mobility disabilities among other accessibility needs. These services are complemented by accessibility webpages for Bell, Bell MTS, Bell Aliant, Virgin Plus and Lucky Mobile that are important tools used to promote and deliver solutions for customers with disabilities.
The webpages provide information on the range of available accessibility discounts, plans, products and services. They also direct customers to ASC call centre representatives for further information.
We also offer accessibility discounts, data add-ons and services to customers with accessibility needs. For instance, Bell Mobility customers with a disability are eligible to receive a $20/month discount on any current Bell Mobility Connect Everything or Unlimited smartphone rate plan. Virgin Plus customers with a disability are eligible for a complimentary 2GB per month data add-on, which can be paired with an existing postpaid smartphone rate plan with data. Customers with disabilities are eligible for a 411 directory assistance exemption, which allows them to make free calls to 411 directory assistance.
Eligible Bell Mobility customers with disabilities can also benefit from a monthly handset bill credit of up to $20 per month when purchasing select handsets, as well as exclusive pricing on apps built specifically for accessibility needs including MobiHelper, Seeing AI and BlindSquare.
Bell also actively supports the use of the Canada Video Relay Service (VRS) and is a member of the board of directors of the Canadian Administrator of Video Relay Service. To ensure widespread access to VRS, Bell Mobility, Virgin Plus and Lucky Mobile, customers using VRS on a mobile network within Canada are not charged for the data associated with such use. Furthermore, through a partnership with the Canadian Hearing Services, Bell stores offer complimentary sign language interpretation when requested by the customer and where resources permit.
Bell also continues to invest in making our digital assets more accessible. For example, we continue to roll out enhancements that make our TV and media content more compatible with various assistive technologies.
To help bring attention to accessibility issues, Bell sponsors special events and works with key organizations representing Canadians with accessibility needs, including the Canadian National Institute for the Blind, the Neil Squire Society, the Canadian Hard of Hearing Association and the Canadian Paralympic Committee. In order to further address issues impacting customers with accessibility needs, we also actively participate in the Wireless Accessibility Committee of the CWTA.
Bell's accessibility program aligns with the Accessible Canada Act (federal legislation that aims to create a barrier-free Canada by 2040). The program helps further Bell's purpose – to advance how Canadians connect with each other and the world – and is driven by our focus on further championing customer experience, driving growth with innovative services, and engaging and investing in the Bell team.
Working to connect Canadians and meet urgent needs
Bell is ready to act quickly to meet the needs of Canadians and is always ready and willing to help Canadians during crises, including extreme weather events, and through initiatives that support emergency preparedness and connectivity. We also seek to engage with community stakeholders on network and other business decisions when appropriate.
Responding to outages and emergencies
Bell team members are always ready to step up for their communities, responding quickly to natural disasters, outages and other emergencies to ensure that Canadians remain connected when they need us most.
In response to wildfires in Manitoba during the summer of 2021, Bell MTS teams from Network, Field Services, Customer Operations, Real Estate and Emergency Management worked together to keep Bell sites and equipment online by installing generators and other emergency equipment at impacted locations, often in very remote parts of the province. The teams also worked with the provincial Emergency Measures Organization and other partners to ensure that the needs of other organizations would be met. For example, in response to a special request from the Office of the Fire Commissioner to enhance wireless coverage for first responders in the hard-hit Loon Straits region, the Bell MTS team deployed a mobile "cell on wheels", or COW, to provide firefighters with the communications support needed to help fight the local wildfires.
Bell teams were back at it with extraordinary efforts after Hurricane Larry made landfall in Newfoundland and Labrador in September 2021. This included setting up a special Bell emergency response team, with representatives from Network, Field Services, Customer Operations and other groups, that coordinated efforts to maintain phone, Internet and mobility connections for residential and business customers as the storm hit cell sites and other infrastructure. At the same time, Bell Media stations continued to provide local news updates to help ensure public safety.
Bell teams also stepped up in August 2021 when a major fire under the Montcalm Bridge in Sherbrooke, Québec damaged or destroyed a significant number of copper and fibre cables. Special temporary measures were quickly taken to assist customers who had lost service. This included line transfers and forwarding, mobile phone loans and migration to other fibre links where possible, as technicians worked around the clock to repair the damage and fully restore service.
Bell also provides direct financial assistance when emergencies strike, often working with the Canadian Red Cross and the Mobile Giving Foundation, so that Canadians are able to donate by text message to support relief efforts.
Serving emergency responders
At Bell, we understand that in an emergency, every second counts, and that is why our network is the first choice for first responders. For more than 20 years, we have successfully deployed some of the largest mission-critical 2-way radio service communication networks in Canada. Since we provide public safety radio communications to more than 70,000 first responders and other users in Canada, including government and public safety organization employees, we have a unique mandate to serve the public when it matters most. As the first Canadian carrier to offer designated Mobile Broadband Service for First Responders on a 4G LTE network, Bell is Canada's largest provider of public safety land mobile radio (LMR) services, with contracts from Atlantic Canada to Manitoba.
9-1-1 services
Bell is the largest provider of 9-1-1 emergency services in Canada, offering specialized 24/7 bilingual support and network monitoring to emergency contact centres in Manitoba, Ontario, Québec, Nova Scotia, New Brunswick, Prince Edward Island and Newfoundland and Labrador.
We offer the T9-1-1 or Text with 9-1-1 service and support the Alert Ready system used to inform Canadians across the country of critical emergencies in their area.
Bell is also leading the way in the development of Next Generation 9-1-1 (NG911). NG911 enables delivery of real-time text (RTT), videos, images and other multimedia to assist 911 callers, including those with accessibility needs, and will provide emergency response agencies with national operability, advanced tools and standardized protocols.
Consulting community stakeholders on new infrastructure builds
Bell engages in meaningful dialogue with municipalities, provincial as well as federal agencies and Indigenous communities to develop new opportunities and to mitigate local concerns about our network. For example, our network infrastructure environmental evaluation program is embedded directly into our environmental management and review system in order to minimize the negative impacts of network projects on the environment. This evaluation process is mainly intended for the project managers responsible for deployment, and it applies to every stage of projects, including the planning, design, construction, maintenance and decommissioning of installations.
To learn more, see the Environmental assessments of network infrastructure information sheet on our website.
See the Suppliers page on our website for information on supplier diversity and also our Wireless health and safety information sheet.tagGRI 416