Community
Bell team giving program
Bell supports its team members in a wide range of interests that go beyond the corporate focus on mental health. Through our Team Bell Giving Program and the annual campaign it holds each November, Bell matches donations that employees make to the registered Canadian charities of their choice, in an amount of up to $1,000 per employee per year. Bell also provides team grants to charities based on and in recognition of the volunteer time commitments of its employees and retirees. Through the Team Bell Giving Program, Bell team members and retirees donated more than $2.5 million to charities in 2021.
Children and youth
16
Today's youth face challenges that simply did not exist for earlier generations. In addition to the various Bell Let's Talk funds that support the mental health of young Canadians and post-secondary students, Bell partners with a wide range of youth-oriented organizations such as Kids Help Phone, Jack.org, the Canadian Centre for Child Protection (including Cybertip.ca), MediaSmarts, Backpacks for Kids, RE*Generation, and Computers for Schools. Northwestel also creates lasting partnerships with youth initiatives in the North. For information on these partnerships, including needhelpnow.ca, the Cleanfeed Canada initiative and others, see the Helping and protecting children and youth information sheet on our website.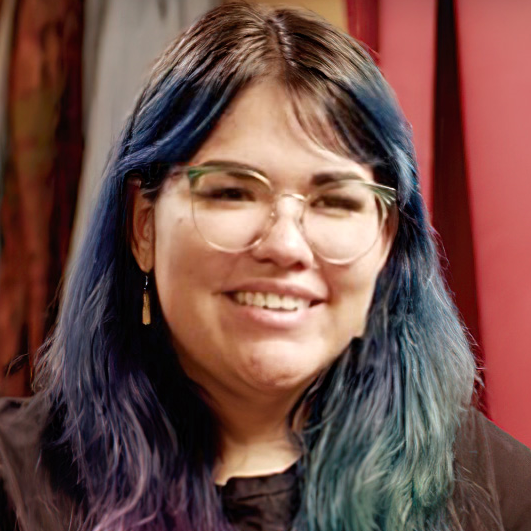 "Calling Kids Help Phone was really important in getting out of a crisis state of mind and into a calmer and happier state."
Ashley Cummings, Co-Chair of Kids Help Phone Indigenous Advisory Council
Bell Let's Talk is proud to support Kids Help Phone as they and advocates like Ashley Cummings work together to improve support for Indigenous youth from coast to coast to coast. Find out how Ashley is now making an impact helping Kids Help Phone better support other Indigenous youth through their Indigenous Youth Action Plan. Watch this video to learn more.
Arts and culture
Bell is proud to continue a long tradition of supporting Canadian arts and culture, working with a variety of partners to enrich the communities we serve by encouraging creative expression. This support ranges from a full roster of initiatives and festivals in the North, to the utility boxes that are transformed into art. For information about Bell's support for arts and culture, the Bell boxes transformed into works of art, and Bell Media's support for cultural events, see the Supporting arts and culture information sheet on our website.
Supporting major festivals

G R I 203-2
Bell is proud to be a longstanding partner of many of Canada's premier entertainment events – including the Osheaga Music and Arts Festival, Just For Laughs, the Festival d'été de Québec and the Toronto International Film Festival (TIFF). This involvement recognizes that these events build stronger communities, generate billions of dollars in consumer spending, and raise significant tax revenue for municipal, provincial and federal levels of government.
While the COVID-19 pandemic caused many events to be modified and reimagined in 2021, the organizations worked closely with Bell to move forward with a hybrid format to ensure that there would be both an onsite and an online component to each major event. Fans were able to connect and share in an enjoyable experience. Crave also launched the SPRINT Gala Cinéma Movie series to showcase Québec-made films, and partnered with Hot Docs on the Citizen Minutes Series, which featured eight original short documentaries by Canadian filmmakers exploring and celebrating stories of civic participation in communities across the country. Bell Media also continued working with other organizations and festivals – including Cinemania, Inside Out, imagineNATIVE, the Reel Asian International Film Festival and Reelworld Film Festival – that pivoted during COVID-19 to present events online, while also continuing to work with many of these same organizations on industry development programs important to all Canadians, including the LGBTQ2S+ and BIPOC communities.
Bell also supported a diverse mix of local events across the country – including the Winnipeg Folk Fest at Home, the Festif! de Baie-Saint-Paul festival, and the Cavendish Beach Music Festival.