Bell Let's Talk initiative extended to 2025, Bell's total funding target for Canadian mental health grows to $150 million
Announced alongside a

$10 million

national partnership with Montréal's Graham Boeckh Foundation to support youth mental health
Partnership launching with a

$1 million

donation to Aire ouverte youth services
MONTRÉAL, March 9, 2020 /CNW Telbec/ - Bell today announced the extension of the Bell Let's Talk initiative to 2025 and an increase in Bell's total funding commitment for mental health to at least $150 million. As we kick off the next 5 years of Bell Let's Talk, Bell and the Graham Boeckh Foundation today also unveiled a $10 million partnership to support integrated youth mental health and wellness services across Canada.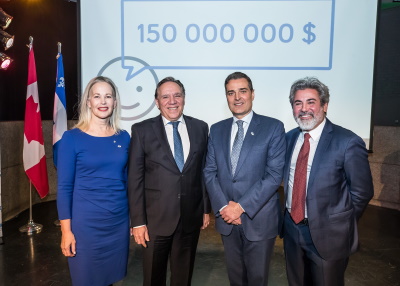 "We've made great strides over the last 10 years but the need for action in Canadian mental health remains, so we're taking Bell Let's Talk further. We are proud to renew our Bell's Let's Talk commitment for another 5 years as we set a new target of $150 million in total Bell funding for mental health," said Mirko Bibic, President and Chief Executive Officer of BCE and Bell Canada. "In our first decade, Bell Let's Talk helped create an unprecedented conversation about mental illness as Canadians worked together to reduce the stigma while also driving Bell's funding for mental health programs on every Bell Let's Talk Day. Together we've built awareness and acceptance of the impact of mental illness on all of us, and Bell Let's Talk is proud to continue enabling the access to care necessary to make a real difference for everyone who struggles – including the new youth mental health partnership announced today alongside the Graham Boeckh Foundation."
"Bell Let's Talk has been instrumental over the last decade in changing how Canadians view mental health, becoming a social movement for greater action to improve how we care for those affected by mental illness," said the Honourable Pablo Rodriguez, Leader of the Government in the House of Commons and Québec Lieutenant. "The Government of Canada congratulates Bell on renewing its truly impressive commitment to mental health, and we look forward to moving forward with all our partners towards ensuring Canadians have access to the best in mental health care when they need it."
"I salute Bell for this decision to extend its financial support for Bell Let's Talk for another 5 years and its partnership with the Graham Boeckh Foundation, which helps young people," said Québec Premier François Legault. "Money is key, but when you want to take on mental illness, talking about it is important too. I would also like to highlight the donation made to integrated mental health services for young people, which will be given to the Aire ouverte centres. If it's difficult for an adult to ask for help, imagine how hard it is for a child or a teenager. Mental health is an important issue for our government, and this innovative collaboration will make a real difference in the lives of many young people."
$10 million Integrated Youth Services partnership
Montréal-based Graham Boeckh Foundation and Bell Let's Talk have partnered in a $10 million national project to accelerate the delivery of mental health services for young people through Integrated Youth Services (IYS) hubs.
"There is a critical need to make mental health supports more readily available to young people, and the Integrated Youth Services approach is a proven model developed with youth and community involvement from the ground up," said Mary Deacon, Chair of Bell Let's Talk. "We're pleased to join with the Graham Boeckh Foundation to take action in youth mental health by accelerating the ability for young people to access IYS hubs and get the help they need."
The IYS model builds youth-focused mental health, addiction and related services based on a defined set of principles: youth and family participation; integration of services; continuity of care from ages 12 to 25; easily accessible points of care; incorporation of online portals and other technologies; stepped care models; and data collection, evaluation and research for continuous improvement. The Bell Let's Talk and Graham Boeckh partnership will work to accelerate the launch of new provincial and territorial IYS projects, help develop, evaluate and roll out evidence-based innovations in treatment and care to fill existing gaps, and support collaboration across provincial and territorial projects to build capacity and knowledge sharing.
"The Graham Boeckh Foundation has been dedicated to developing Integrated Youth Services as a pan-Canadian movement, to ensure that Canadian youth and their families can access care for mental health, substance use and related issues," said Ian Boeckh, President of the Graham Boeckh Foundation. "We are excited to partner with Bell to extend and deepen this pan-Canadian movement which aims to ensure fast and easy access to youth friendly services in communities across the country."
Aire ouverte centres
Bell Let's Talk and Graham Boeckh Foundation today announced the first donation from the partnership will support Aire ouverte's existing youth hubs in Laval, Nord-de-l'Île-de-Montréal and Sept-Îles and 4 new sites currently in development. Aire ouverte will receive a multi-year gift of $1 million to support programming at the existing centres, help launch the new hub sites and develop a shared governance model and standardized metrics.
"This funding testifies to an obvious desire to collaborate with the agencies in our health and social services network, by targeting the real needs of Québec's young people, and particularly those who are among the most vulnerable in our society," said Lionel Carmant, Québec Minister for Health and Social Services. "Aire ouverte reaches young people in places designed by and for them, and I am therefore delighted that Bell Let's Talk believes in this initiative as much as we do, by giving these young people essential help to achieve their full potential and become adults who are accomplished and fulfilled."
"The renewal of the Bell Let's Talk initiative for 5 more years, and the new partnership with Montréal's Graham Boeckh Foundation, is excellent news," said Benoit Dorais, Chair of the City of Montréal's Executive Committee. "Fighting the stigma and discrimination around mental illness is everybody's business and Bell Let's Talk contributes directly to opening dialogue and finding solutions to improving the well-being of the population as a whole. Montréal is proud to also contribute to the cause by implementing ambitious policies and investing to make the city an exemplary working environment, and our neighbourhoods healthy living environments."
Bell Let's Talk moving forward
Bell Let's Talk was launched in 2010 as a 5-year initiative with a $50-million donation from Bell, the largest-ever corporate commitment to mental health in Canada. Focused on 4 key action pillars – Anti-stigma, Care and Access, Research and Workplace Leadership – Bell Let's Talk has since partnered with more than 1,000 organizations providing mental health services throughout Canada, including hospitals, universities, local community service providers and other care and research organizations.
Bell Let's Tallk was extended in 2015 for a further 5 years, with a target of at least $100 million in total funding for mental health – which includes Bell's orginal $50 million donation plus all Bell funding driven by engagement on Bell Let's Talk Day. Bell donates 5 cents to mental health for all eligible calls, texts and social media messages of support on each annual Bell Let's Talk Day at no cost to participants.
The 10th anniversary Bell Let's Talk Day on January 29 resulted in a record 154,387,425 eligible interactions and, with a Bell donation of 5 cents per message, a further $7,719,371.25 in Bell funding. This brought Bell's total commitment since 2010 to $108,415,135, exceeding the $100 million target set in 2015. With today's announcement of the extension of the Bell Let's Talk program for another 5 years, Bell is now targeting a total donation to mental health of at least $150 million in 2025.
About Bell
Bell is Canada's largest communications company, providing advanced broadband wireless, TV, Internet and business communication services throughout the country. Bell Media is Canada's premier content creation company with leading assets in television, radio, out of home and digital media. Founded in Montréal in 1880, Bell is wholly owned by BCE Inc. (TSX, NYSE: BCE). To learn more, please visit Bell.ca or BCE.ca.
Media inquiries
Caroline Audet
Bell
514-391-9794
caroline.audet@bell.ca
@Bell_LetsTalk
@Bell_News
Alison Houle
Graham Boeckh Foundation
514-904-0551
alison.houle@grahamboeckhfoundation.org
SOURCE Bell Canada