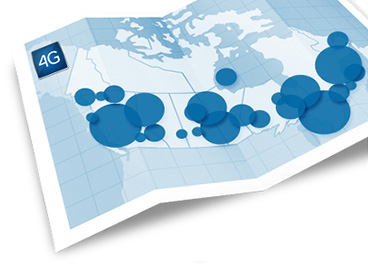 Discover why Bell is
Canada's largest communications company
About Bell Canada
As Canada's largest communications company, Bell provides consumers, businesses and organizations of all sizes with solutions to all their communications needs: 
Wireless through Bell Mobility, SOLO and Virgin Mobile Canada
High-speed Internet and Bell Fibe Internet
Bell Satellite TV and Bell Fibe TV
Bell Home Phone, local and long distance
Connectivity, Internet Protocol broadband services and information and communications technology (ICT) solutions including cloud computing through Bell Business Markets
The media content Canadians most want through Bell Media, the country's premier multimedia company which offers radio, digital media and television, including CTV – Canada's #1 television network, and the country's most watched specialty channels
A leader in Wireless:
Bell offers consumer and business customers across Canada blazing fast speeds, high quality coast-to-coast coverage and global roaming to more than 200 countries on a full range of wireless voice and data communications products.
Those services are delivered across the most extensive wireless networks in the Canadian industry. Bell's 4G High-speed Packet Access (HSPA+) network is as good as any in the world, with a footprint that covers 97% of the population. We continue to improve it with HSPA+ Dual Cell technology which doubles the network's data transfer speed up to 42 Mbps. Dual cell is available to 70% of the HSPA+ footprint.
An established leader of Canadian wireless, Bell continues to innovate, most recently with the launch of an even faster network – 4G LTE (Long-Term Evolution) – which will eventually support speeds approaching 150 Mbps.
Bell leverages the power and reach of those networks with an unmatched line-up of superphones (including iPhone 5s and iPhone 5c), smartphones, tablets, Turbo Sticks and Turbo Hubs, enabling us to provide subscribers with everything from mobile email and messaging to music downloads and television coverage of popular shows and live major sports events.
Bell Mobility Inc. provides wireless communications services across Canada under the Bell Mobility and Solo Mobile brands. Bell also owns 100% of Virgin Mobile Canada and offers wireless services under the Virgin brand nationally