Team member engagement
8
Bell recognizes how critically important our team is to our success. It is a strategic imperative for Bell to continually engage and invest in our people. This includes listening to our employees and leveraging their voices to guide our people practices and priorities.
Team survey
One of the tools we use to measure and increase engagement is our annual team survey, which is designed to be completed quickly and easily in the official language of the team member's choice, and is accessible on both desktop and mobile devices. Capturing both quantitative and qualitative data, the survey focuses on understanding how engaged team members are, and ask them to rate their leaders in key areas specific to engagement including communication, recognition, trust and respect
In 2021, we continued leveraging our platform to gain insights into key engagement indicators. The platform also provides leaders with self-serve access to their results. This approach helps us implement focused actions to make positive changes. In addition, our survey tool enables us to conduct multi-variant analyses including geography, tenure, generation, team, role and level, among others, and to explore further into areas that present opportunities for improvement.
In 2021, we reached our highest ever participation rate, with 85% of team members completing the survey. The overall engagement score was 76%1, 1 point above our target, with 80% of team members reporting that they are proud to work for Bell and 81% pleased to see how their individual work contributes to the company's success. In response to the feedback we received from employees on the survey, we have taken tangible actions, some of which are highlighted below:
Offered COVID-19 pandemic support, flexible work and employee resource enhancements
Focused on diversity & inclusion with inclusive training
Gave ongoing attention to reskilling and continued investment in learning
Successful launch of unified recognition program (Better Together)
Target: Reach and maintain an overall team member engagement score of 75%
Target: Maintain engagement above Canadian norm
Recognition – Celebrating success
In 2021, we launched Better Together, a new unified recognition program for all team members that leverages a best-in-class platform.
The Better Together recognition program transforms how we recognize team members and provides a meaningful and fun way for Bell teams to connect and celebrate milestones. This has been vital during the pandemic, when our team members could not be together in person.
A points-based recognition program that reinforces the "one Bell" team, Better Together provides transparency and consistency by rewarding the same behaviours across the company, enabling collaboration among all Bell teams and facilitating peer-to-peer recognition in a equitable and timely manner.
In addition to introducing a unified recognition program, Bell continues to publicly honour the work of team members through a variety of initiatives. Our formal programs recognize the contributions made by both individuals and teams – with success celebrated informally and formally. In 2021, we continued to celebrate the winners of our programs virtually, ensuring that our team members are being recognized for their great work and accomplishments during this period of pandemic health measures. The Bravo Award is the most prestigious award at Bell, recognizing outstanding performance by individuals and teams. We also celebrate service anniversary milestones, and we honour our retirees with the traditional President's Wallet to recognize and thank them for their contributions.
To learn more about recognition programs, see the Team member recognition information sheet.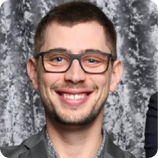 "Recognition provides us with a sense of fulfillment, pride and confidence in making a difference as it pushes our ability as well as those of others."
Samuel Gauthier, Senior Manager, Program Design & Delivery, Bell Technical Solutions, Montréal, Québec
Samuel has had hands-on experience with Bell's fibre technology when he first started as a field technician at Bell Technical Solutions 10 years ago, and has always been a tinkerer. His leadership brought him to find innovative solutions to daily challenges. Today, as a Senior Manager focusing on Digital Transformation, he seeks to improve quality and best practices. A second-time Bravo Award winner, his latest initiative celebrates an automated coaching system using machine learning and artificial intelligence to personalize experiences for both managers and technicians. Recognition is an integral part of nurturing people's potential, encouraging new ideas and should always be at the heart of how we manage our teams.