Management of corporate responsibility at Bell
Our approach to corporate responsibility begins with our goal of balancing economic growth, social responsibility, and environmental performance as we pursue our ongoing success as a company and seek to ensure our continued ability to contribute to the Canadian economy.
Since our founding in 1880, Bell has been the Canadian leader in telecommunications enabling Canadians to connect with each other and the world around them. We take very seriously our responsibility to manage the company in ways that enable us to sustain our record of serving the personal and business communications needs of millions of customers, seek to create value for shareholders, provide meaningful careers for tens of thousands of people, and make a significant contribution to the broader Canadian community and economy.
Our goal
Is advancing how Canadians connect with each other and the world, and our corporate strategy is centred on our disciplined focus and execution of 6 Strategic imperatives.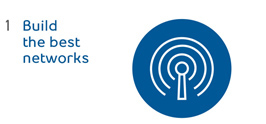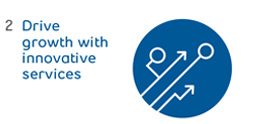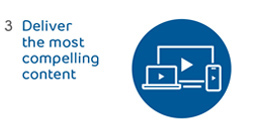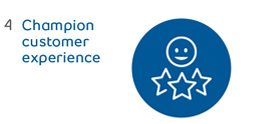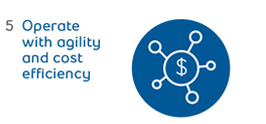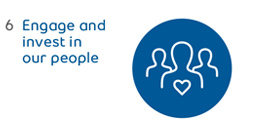 Corporate responsibility underpins our 6 Strategic imperatives
Corporate responsibility is a fundamental element of each of the 6 Strategic imperatives that inform Bell's policies, decisions, and actions. We insist on this approach not just because it is the right thing to do, but also because it supports our goal: to advance how Canadians connect with each other and the world. For example, while waste management and energy reduction initiatives address important environmental concerns of society, they also create a chain of benefits for Bell. They enable us to operate more efficiently as part of our imperative to operate with agility and cost efficiency (#5). They also align with the values of our team members, driving satisfaction and engagement, evidencing our work toward goal #6: engage and invest in our people. In addition, they free up funds for a variety of purposes, from extending our networks in support of the productivity of Canadian businesses (#1), to investing in the communities we serve. Engaged team members also drive customer satisfaction through championing the customer's experience (#4). Moreover, engaged team members in turn drive growth with innovative services, and help us to deliver the most compelling content (#2, 3). For more information on our 6 strategic imperatives, please see the Our Strategy page on our website.
Governance structure
We seek to remain a leader in corporate governance and ethical business conduct by maintaining best practices, transparency, and accountability to our stakeholders. This includes adhering to the highest standards of corporate governance as BCE's Board and management believe that good corporate governance practices contribute to the creation and maintenance of shareholder value.
The Board of Directors has established clear lines of authority and oversight over our corporate responsibility programs, with primary accountability at the committee level. The Health, Safety, Security, Environment and Compliance (HSSEC) oversight committee is co-chaired by the Chief Human Resources Officer and the Chief Legal Officer, and reports directly to board committees.
For a description of each board committee and to learn more about our corporate governance practices, please visit the Board committees page on our website.
For more information on risk management and team member conduct, see our 2019 corporate responsibility report.
Corporate responsibility issues and our business
The telecommunications industry is the foundation of societal and economic information sharing and commerce. As the Canadian leader in this ever more important, growing, and evolving industry, Bell is an important provider of the infrastructure essential to enable world-class quality and accessible services for all Canadians. As such, we believe we have a responsibility to approach our management of particular issues strategically.
What we report
We report on the topics at the intersection of value chain impacts, industry sustainability megatrends, stakeholder interest, and external research on emerging trends. These are the issues that are of greatest importance to our stakeholders and could have an important impact on our business. For a complete description of our stakeholder engagement process, please see Reporting what is relevant in the Responsibility section of our website.
For a complete description of our stakeholder engagement process, please see Reporting what is relevant in the Responsibility overview section of our website.
Key performance indicators and results
In the wide range of ESG topics we cover in this report, we have identified several priority areas for key performance indicators. Here is a summary of our progress against objectives in 2019. Indices for GRI, SASB, and the SDGs are available in the Responsibility section of BCE's website.
ESG pay link1

Team Members

Reach an overall team member engagement score of 75%

PwC2

73%3

-1 percentage point (p.p.); 2p.p.from our goal

Team Members

Maintain engagement above Canadian norm

Team Members

Women in senior management

At least 35% women in executive positions (vice-president level and above) by the end of 2021

+3p.p.; 3p.p. from our goal

102-8
405-1

Team Members

Time lost accident frequency rate4

Customers

LTE advanced network coverage5


Reach 96% of Canadians by the end of 2020


Environment

Greenhouse gas (GHG) emissions reduction6

Reduce the ratio of our Scope 1 & 2 GHG emissions (tonnes of CO2 equivalent) to our network usage (PBytes) by 75% of 2014 level by end of 20207

Environment

55 kg of waste sent to landfill annually per employee in Bell-owned or -leased administrative buildings by 2024

Environment

Divert 100% of generated hazardous waste to certified recyclers by 2024

On track

Environment

Recover 10 million used TV receivers, modems, and mobile phones between January 1, 2016 and the end of 2020

+49,672; 3.5% from our goal

301-3
306-2

Community

Community investment8

Make a meaningful contribution to improving mental health in Canadian communities through 4 key action pillars: anti-stigma, care and access, research, and workplace health

9

Governance

Women on the Board of Directors10

Goal achieved in 201711

Governance

ISO 14001 certification12
This indicates ESG factors linked to an executive's variable pay as an incentive for driving environmental, social, and governance performance that protects and creates long-term company value
PricewaterhouseCoopers LLP has provided limited assurance over indicators marked PwC. Please see PwC's assurance statement
We conduct our annual Team Survey early in the year and scored 76% (3 p.p. increase) on our Engagement score in 2020. This data point has not been verified by PwC
Time Lost Accident Frequency Rate = number of time-lost accident cases ÷ number of worked hours × 200,000
Data valid as at December 31, 2019. The percent of population covered depends upon the plans of our partners, which are not yet fully known, and which could influence the result. Population data is based on the 2016 census conducted by Statistics Canada
Excludes Bell MTS. Network usage includes residential and wholesale Internet, business Internet dedicated (BID), virtual private network (VPN), IPTV, Inter-Network Exchange (INX), prepaid and postpaid wireless services, wireless-to-the-home, Voice‑over-LTE (VoLTE) traffic, IoT, and enterprise usage, both in Canada and on international roaming partners' network. As methodology for gathering the network usage differs from one carrier to another, and because a company's business model directly impacts the amount of GHG it emits and how those GHG emissions are calculated and classified (as noted in Impact of the business model section of Reporting what is relevant information sheet on our website), the ratio itself cannot be used to directly compare carrier performance. For information relevant to the TCFD recommendations, see the Statement related to the Task Force on Climate-related Financial Disclosures on our website
2019 performance is based on energy consumption and network usage data from October 1, 2018 to September 30, 2019, while 2014 performance is based on energy consumption and network usage data from January 1 to December 31, 2014
This includes cash donations, in kind donations, and management costs
Multiyear funding commitment for mental health on track
Non-executive directors. Data valid as on December 31, 2019
Following the BCE 2020 annual shareholder meeting, the representation of women has temporarily decreased to 29%. This temporary decrease is the result of the nomination of one male director to facilitate a seamless transition and ensure Board renewal with the appropriate mix of skills, expertise and experience in anticipation of the retirement of three male directors at the 2021 annual shareholder meeting. BCE's Board of Directors remains committed to its target that each gender represent at least 30% of non-executive directors by the end of 2021
The scope includes all Bell Canada business sectors, including wireline, wireless, television and Internet services, broadband, data hosting, and cloud computing services, radio broadcasting services and digital media services, in addition to related general administrative functions (excluding Bell MTS Inc., Bell Smart Home, BCE Holding Corporation, BCE Nexxia International Inc., Northwestel Inc. (Northwestel), Quantrics Enterprise Inc., and The Source (Bell) Electronics Inc. (The Source), which are part of the environmental management system (EMS), but not within the scope of certification.