Enhanced team survey
Bell's ongoing commitment is to listen to team members and increase their engagement. One of the tools we use to this end is our annual Team Survey, which is designed to be completed quickly and easily in the official language of the team member's choice, accessible on both desktop and mobile devices. Capturing both quantitative and qualitative data, the survey focuses on understanding how engaged, agile and aligned team members are, asking them to rate their leaders in key areas specific to engagement, including communication, recognition, trust, and respect.
In 2016, we continued our partnership with a best-in-class vendor to get insight into key engagement indicators. This approach helps us implement focused actions to make positive changes. In addition, our survey tool enables us to conduct multi-variant analyses, such as, by geography, tenure, demographic, team, role, level, etc., to drill further into areas of opportunity.
In 2016, Bell's results continued to exceed the external Canadian benchmark.
82% of team members participated in the survey, with the following results: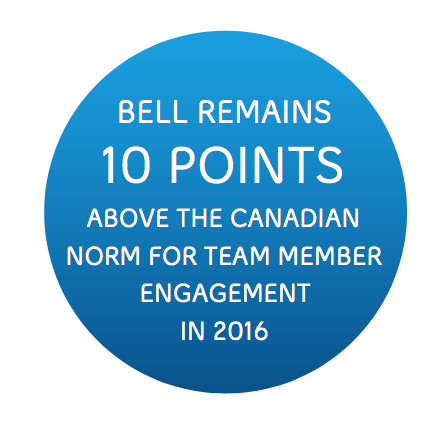 81 %
of team members are proud to work for Bell and excited about how their individual work contributes to the company's success
88 %
report that their leader treats them with respect and 80% say their team collaborates well
82 %
would recommend Bell's products and services to friends and family
78 %
are confident about the future success of the company.
Recognition – Celebrating work successes
Through a variety of recognition initiatives, Bell publicly and effectively values the work of team members. Our formal program recognizes contributions at 3 levels: local team, business unit, and corporate – with success celebrated informally and formally. Informal recognition includes public praise on team calls, team communications, or general thanks in meetings. We also celebrate service anniversary milestones every 5 years and honour our retirees with the traditional "President's Wallet" to recognize and thank them for their contributions.
Managers need multiple ways to give meaningful recognition to team members. In 2016, workshops were held to increase awareness of these opportunities.