You are here: Home > Our report > Management of corporate responsibility at Bell
Management of corporate responsibility at Bell
Bell's goal: To be recognized by customers as Canada's leading communications company.
Our approach to corporate responsibility begins with an unwavering commitment to governance discipline. Our solid governance structure and rigorous practice enable us to actively balance economic growth, social responsibility and environmental performance to seek to ensure our ongoing success as a company, and our continued ability to contribute to the Canadian economy. These key elements are the foundation of sustainability.
Strategic alignment
Since its founding in 1880, Bell has led the industry in enabling Canadians to connect with each other and the world around them. We take very seriously our responsibility to manage the company in a way that seeks to enable us to sustain our record of serving the personal and business communications needs of millions of customers, create value for shareholders, provide meaningful careers for tens of thousands of people, and make a meaningful contribution to the broader Canadian community and economy.
Thus, corporate responsibility is a fundamental element of each of the 6 strategic imperatives that inform Bell's policies, decisions and actions. We insist on this approach not just because it is the right thing to do, but also because it supports our goal: to be recognized by customers as Canada's leading communications company. For example, while waste management and energy reduction initiatives address important environmental concerns of society at large, they also create a chain of benefits for Bell. They enable us to operate more efficiently as part of our imperative to achieve a competitive cost structure (#6). They also align with the values of our team members, driving satisfaction and engagement. And they free up funds for a variety of purposes, from extending our backbone networks in support of the productivity of Canadian businesses (#1), to investing in the communities we serve. Engaged team members also drive customer satisfaction (#5), which in turn enhances performance in our wireless, wireline, and media segments (# 2,3,4). Similar beneficial linkages, resulting from our fully aligned governance oversight structure, are evident in the table below and in every topic addressed in this report.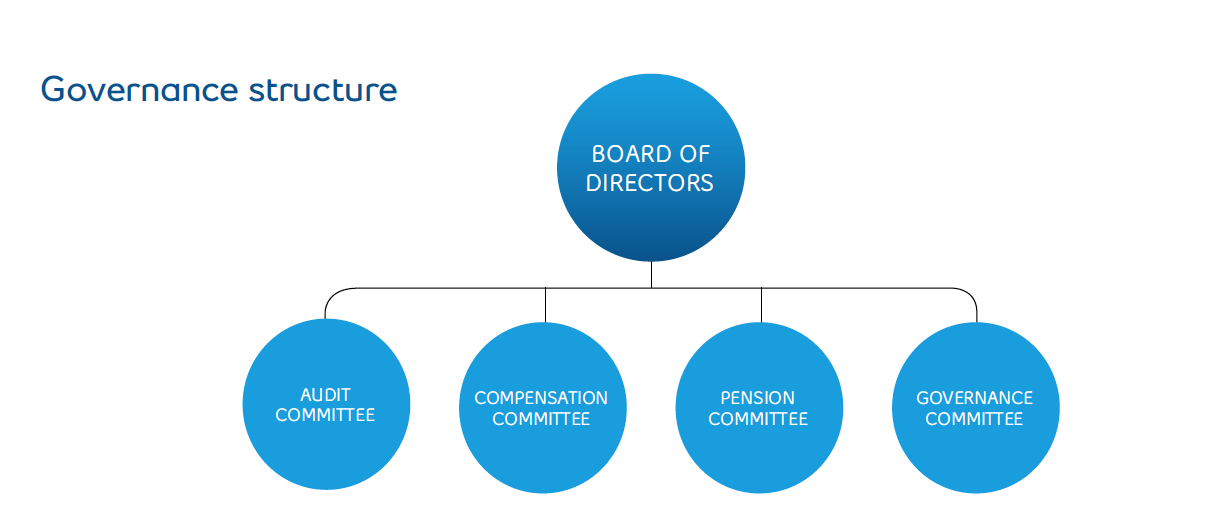 The Board of Directors has established clear lines of authority and oversight over our corporate responsibility programs, with primary accountability at the committee level:
The Audit Committee
oversees issues including environmental risks, security and business continuity.
The Management Resources and Compensation Committee (Compensation Committee)
has oversight for human resources issues, including health and safety.
The Corporate Governance Committee
is responsible for governance practices and policies, as well as for policies concerning business conduct and ethics, including Bell's Code of Business Conduct.
Learn more.
To further focus our governance structure with respect to corporate responsibility, the Compensation Committee has established the Security, Environment and Health & Safety Oversight Committee (SEHS Committee), chaired by the Executive Vice President, Corporate Services. Its mandate is to seek to ensure our CR strategy is well integrated throughout the business in order to minimize risk (financial and reputational) and optimize business opportunities. Among its duties, the SEHS Committee annually reviews the company's security, environmental and health and safety policies and recommends modifications for approval by the Board. The SEHS Committee also reviews operational directives related to environmental issues.
As chair of the SEHS Committee, the Executive Vice President, Corporate Services, has 30% of his variable pay tied to personal objectives that include enhancing team member engagement, leading Bell's diversity and mental health programs, preventing workplace accidents, maintaining ISO 14001 certification, and optimizing energy efficiency. He or she also has direct oversight of the Corporate Responsibility and Environment team, which is responsible for corporate responsibility initiatives. This team's managers also have part of their variable portion of their compensation tied to social and environmental goals.
We further reinforce individual accountability through a clear management structure to make certain that we identify and properly address responsibility issues and initiatives throughout the company.
Moreover, we rigorously apply a global strategic approach and a highly effective, practical management system. In 2009, we were the first Canadian telecommunications company to have such a system ISO 14001 certified.
More details on our approach to sustainability management are available here. For more information on corporate governance and risk management, please see the Governance section of our website, our 2017 Management Proxy Circular  (p.21 ), and our Annual Report, p. 36.
Guidance on team member conduct
Ethical behaviour by team members is integral to our ongoing commitment to be a responsible company. Accordingly, since 1995, all team members have been subject to a detailed Code of Business Conduct that sets out specific expectations and accountabilities, provides guidance on conflicts of interest, safeguarding privacy and confidentiality, improper influence of audits, protection of the environment, and interactions with team members, clients, business partners and competitors.
Each year, every team member must re-commit to this Code.