Diverting waste from landfill
As with energy consumption, a company's business model directly affects the amount of waste it generates. Generally speaking, companies with greater vertical integration produce a higher proportion of their industry's waste.
Unlike other telecommunications companies, Bell has integrated much of its installation and construction functions. This makes us accountable for managing a large part of our network waste ourselves. Outsourcing such functions would allow us to reduce our waste-to-landfill results, but we would not be able to maintain direct control over functions that directly influence customer service and operations.
To minimize the amount of waste we send to landfill, Bell runs several programs to reduce, reuse, recycle or repurpose. In 2016, the amount of waste we sent to landfill increased by 2.4 percentage points – meaning we diverted 69% of waste, 6% short of our goal. Over the last 4 years, the story our waste management data tells has been distorted by several factors, including: major strategic business acquisitions (Q9 Networks, Astral, Bell Aliant); growth in the number of customer-facing products recovered; a decrease in paper and packaging use; an increase in waste-sorting stations across the country; and our aggressive deployment of fibre optics networks. Recognizing this, we understand it is time to rethink our waste management data and how we share these with you.
In this spirit of transparency, we have set our objective for 2017 to improve our own awareness in each function that generates residual materials and devise an indicator that clearly explains which kind of waste is managed in which manner. We will analyze our network operations recovery program to identify opportunities to improve its efficiency and to facilitate sorting by team members. We will also improve recycling and composting services at 32 administrative buildings to reduce waste sent to landfill.
For more details on waste management at BCE, click here.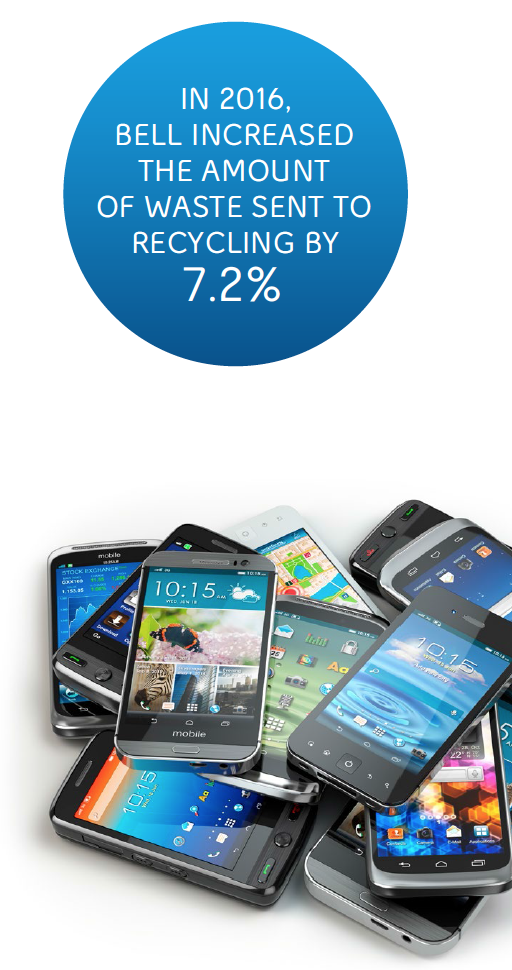 Environmental stewardship for electronic devices and hazardous material (batteries)
Customer-facing electronic devices recovery (2015-2016)
Bell provides customers with programs to help them protect the environment by making it easier to recycle their products, including mobile phones, Bell Internet modems and Bell TV receivers. In 2016, thanks to our customers' participation in our recovery programs, Bell diverted more than 2,600 tonnes of electronics from landfill.
Bell recovers mobile phones through two complementary programs: the Bell Trade-in program and the Bell Blue Box program. Launched in 2003 and available at all Bell stores, Virgin Mobile stores and participating The Source locations, the Bell Blue Box program was the first cross-Canada collection program established by any company for re-using and recycling mobile phones. Bell donates the net proceeds from the Bell Blue Box program to a partner in the Bell Let's Talk mental health initiative. Combined, the Bell Trade-in program and the Bell Blue Box program diverted nearly 289,000 phones from landfill in 2016, for a total of almost 2.2 million mobile phones, 128 tonnes of batteries and accessories since 2003.
In addition, Bell participates in provincial recycling programs for other electronic products, such as tablets, headsets, TVs, computers and batteries. For more details on these programs, visit our website Bell.ca/recycling. Regarding e-waste stewardship, Bell collected almost 946,000 modems and more than 1.1 million TV receivers in 2016. Recovery is difficult to predict and control, as it relies on the rate at which customers upgrade to newer devices. Recovery is often related to economic activity: in times of economic recession, people upgrade their devices and sign up for new plans less frequently. It is also dependent on customer behaviour. A CWTA study shows that 40% of Canadians store their old handsets when they acquire new mobile phones. Since we have no control over when or whether a customer returns a device, we are exploring reasonable and achievable performance indicators for the recovery of used products that take into account our limited control over public behaviour.