Bell's energy saving objective
Energy savings
No matter how we define our ultimate objective, Bell's Energy Saving program is an important part of getting to our emission reduction targets. The program focuses on 3 areas: our facilities, our fleet and substituting technology for travel. It also enhances our cost competitiveness by offsetting rising energy costs. The Bell team has made substantial progress in this area since 2008.
By reducing electricity consumption at Bell facilities, improving fuel efficiency in company vehicles, and using phone, video and web conferencing tools to curtail business travel, we have prevented the release of nearly 60 kilotonnes of CO2 equivalent emissions, saving almost $68 million. The table below illustrates the cumulative savings for the 3 focus areas.
Savings (2008-2016)

As a recognized environmental leader, Bell is working on a new approach to setting emission-reduction objectives using a science based methodology with the CDP – a global organization that helps companies improve their sustainability initiatives – and its various partners such as World Resources Institute (WRI) and Groupe AGÉCO. This methodology aims to limit global temperature rise to 2°C above pre-industrial levels. We will use this as a base for determining how such objectives could be achievable in Bell's operations.
We expect to conclude this ambitious endeavor sometime in 2020. In the interim, Bell intends to implement mitigation measures that seek to reduce our energy and fuel consumption, and therefore cut our annual greenhouse gas (GHG) emissions intensity. Our short-term objective is to reduce the ratio
of our Scope 1 and 2 GHG emissions (tonnes of CO2 equivalent) to our network usage (PBytes) by 75% of 2014 level by the end of 2020.
Bell's GHG emissions reduction objective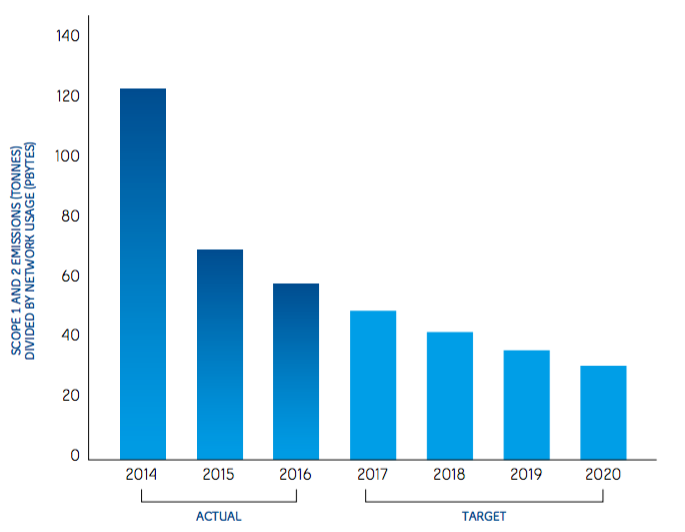 This intensity target expresses the footprint of our operations in a meaningful way, recognizing the carbon reduction enabling capabilities of our products and services. As demonstrated by GeSI, the use of telecommunication technologies (such as cloud services, virtualization, teleconferencing, etc.) helps Bell fight climate change by reducing the carbon footprint of our customers and our own operations. Although our energy consumption has historically been going up, Bell's network usage – which aims to quantify the use of our technologies – is growing much faster, which shows significant network efficiency gains. Since 2014, our GHG emissions per network usage showed a 56% improvement in only two years.
While our own footprint is increasing, we help our customers reduce their energy needs, cut carbon emissions and enhance productivity in numerous ways. For example, by hosting our enterprise customers servers in our highly energy-efficient data centres, and by connecting their devices through our machine-to-machine (M2M) services. M2M services are typically used to optimize fleet management, logistics, distribution and manufacturing processes. In order to understand our net impact on the planet's carbon load, we have developed a methodology in collaboration with Groupe AGÉCO to quantify the environmental benefits of our products and services. Our analysis concludes that in 2015, Bell technologies enabled carbon abatement for our customers of more than 780 kilotonnes, which is equivalent to more than twice our corporate carbon footprint. Overall, this is a net gain for the planet's carbon load.
Carbon abatement enabled by Bell technologies (2015)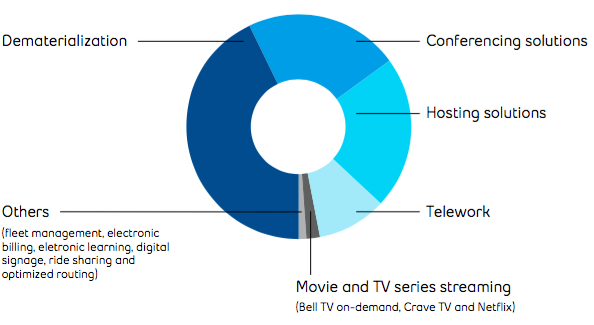 This preliminary analysis is the first of its kind performed at Bell. The environmental benefits measured are likely understated given the conservative assumptions selected and the complexity of the data acquisition process. Nevertheless, this analysis confirms that our products and services have a significant carbon abatement potential that we intend to promote.
Virtualization
Virtualization is a systematic approach to limiting the carbon footprint of our data centres by optimizing space, power and cooling through the consolidation of servers and storage. In 2016, we removed the equivalent of 992 devices under this program. Through consolidation and virtualization, we also optimized 67% of our physical servers, up from 63% at year-end 2015. At the end of 2016, 90% of the servers in our internal IT architecture were virtual. This reduced capital requirements and saved approximately 3,950,000 kWh, enough energy to heat 395 households for a year. It also resulted in a year-over-year reduction of 602 tonnes of GHG emissions.
Conferencing solutions
Audioconferencing and videoconferencing solutions provide a quick, convenient and cost-effective way for multiple people to simultaneously communicate, improving efficiency and reducing the need for travel. These solutions – in particular audioconferencing – also offer significant benefits for business continuity, enabling team members to work effectively from any location if an incident prevents access to the normal workplace.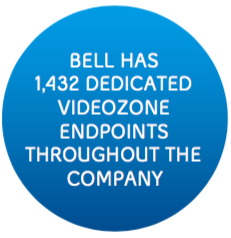 VideoZone Call volume growth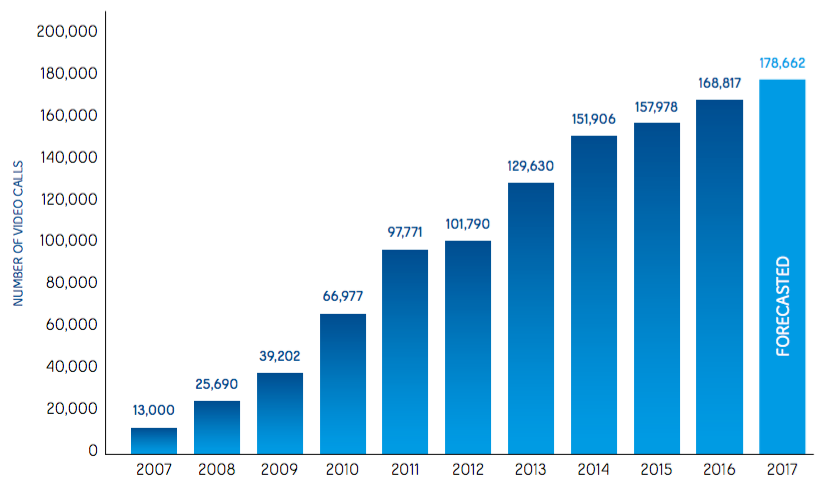 Videozone celebrates its 10th anniversary in 2017, having grown from 4 units to more than 1,400 across the country, the largest corporate deployment of conferencing endpoints in Canada with an average annual growth rate of about 20%. In 2016, another 70 endpoints were added. In the spring of 2017, Videozone hosted its 1 millionth video call.
Videoconferencing is a fast-growing tool used 11 times more often today than just 7 years ago. In 2016, Bell team members held 168,500 VideoZone conference calls. Assuming that 1 in every 10 video calls enables us to avoid $750 in travel costs, in combination with other factors, videoconferencing helped Bell save approximately $12.5 million in 2016. Bell team members also held 1 million AudioZone calls last year.
These same technologies also help our customers address their own environmental-protection and cost-reduction priorities every day.
The use of conferencing solutions depends on the variable nature of business travel, access to technology – especially in the case of videoconferencing – and the degree to which users understand the technology. However, we anticipate usage to continue to grow as these technologies become part of the everyday business environment.
Learn more.