Driving innovation and economic growth
Fostering digital skills and experience
Canada's ongoing prosperity depends on Canadians having access to advanced broadband networks. This critical 21st century network infrastructure supports Canada's digital, information, and knowledge economy, which creates well-paying, highly-skilled jobs in addition to providing Canadians with access to new technologies and other innovative online applications.
Delivering advanced networks and services demands 21st century skills in engineering, software development, business intelligence, data analytics, security, applications management, installation, maintenance and repair, sales, marketing, finance, accounting, planning and customer support. Whether designing and installing networks, testing and adding new capabilities or helping Canadians make the most of today's technologies, Bell's 48,000 team members are instrumental in leading the way forward.
Growing a digital ecosystem
Bell is at the centre of a large circle of Canadian innovators, creators and builders. The inherent complexities at the core of today's communications networks, services and devices demand a wide range of partners and suppliers – companies of all sizes that provide new and improved methods for deploying fibre, securely managing and meeting ever-increasing network demands, and producing and distributing digital content.
The importance of this ecosystem to the Canadian economy cannot be overstated. The billions of dollars invested by Bell each year helps build and support Canada's Information and Communications Technology (ICT) sector, which itself contributes over $70 billion annually to the Canadian economy. In fact, of the more than 850,000 professionals currently working in Canada's ICT sector, employment growth in 2016 was strongest in professions related to digital communications1.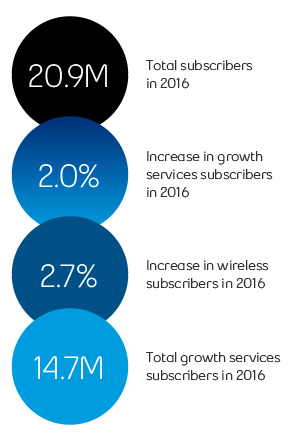 These ICT professionals help Bell and our partners and suppliers design, build, manage, develop and improve our networks and the services we offer. Moreover, the employment benefits of our investments extend well beyond ICT. Indeed, it's estimated that every $1 billion that Bell invests in deploying new fibre networks supports up to 19,000 jobs in the Canadian economy as a whole2.

Advanced networks
Bell is Canada's leader in broadband investment. As part of a capital investment program of over $3.7 billion in 2016, Bell's fibre-based wireline services reached 8.3 million business and consumer locations across Ontario, Québec and Atlantic Canada by year end, including 2.9 million direct fibre connections to homes and businesses. Broadband performance tests conducted for the Canadian Radio-television and Telecommunications Commission (CRTC) in 2016 show that Bell's all- fibre broadband Fibe network delivers the highest quality broadband Internet service in Canada, exceeding advertised download speeds by a greater margin and delivering the lowest levels of latency and packet loss compared to services from other Internet service providers across the country3.
Bell also continued to lead the way in wireless, leveraging spectrum purchased from the Government of Canada at a cost of almost $2.6 billion since 2001 to increase Canada-wide LTE coverage to 97% by the end of 2016. Bell's LTE network was ranked as Canada's fastest by two major independent analysts, with PCMag pointing out that Bell LTE speeds were twice as fast as the top-ranked US wireless carrier's average LTE speeds4. Added to this, 73% of Canadians had access Bell's LTE-Advanced network, which delivers data speeds of up to 335 megabits per second (Mbps) with expected average download speeds of 25 to 100 Mbps.
Most of Bell's investment goes to extend and enhance the performance of our broadband fibre and state-of-the-art wireless networks, which provide the services customers want and need, from IPTV and high-speed Internet to mobile data. The result? Better communications services available across every sector of the Canadian economy, increasing performance, generating new opportunities and creating an even stronger digital future.
As part of a capital investment program of over $3.7 billion in 2016, Bell's fibre-based wireline services reached 8.3 million business and consumer locations across Ontario, Québec, and Atlantic Canada.
Supporting innovation
Advanced networks are both building blocks and springboards for further innovation. Construction generates tremendous economic benefits as network providers, partners and suppliers combine to design, purchase, license and deploy innovative components, including hardware and software. Techniques and equipment for line trenching, tower construction, in-building set ups and the placement of sophisticated electronics along digital pathways, whether wireline or wireless, continue to evolve and improve.
These changes pave the way for new devices and capabilities like the Home Hub 3000, offering the most powerful home Wi-Fi service in Canada, and the world's first fully wireless IPTV service, the Wireless 4K Whole Home PVR from Fibe TV. Both these innovations were launched by Bell in 2016.
These are products of the ecosystem which result from companies continuing to search for, and find, new ways to take advantage of emerging networks. For example, in 2016, Bell worked with major companies like Microsoft and Apple to deliver new services for Canadian businesses and consumers. Bell also worked with global organizations like the Global M2M Association to enhance international roaming and Internet of Things management. And smaller Canadian firms are playing a critical role in the development of Bell Fibe TV, Canada's top-ranked television service, enabling Canadian firsts like 4K broadcasts of live events, the innovative Restart function and other smart new features included in the constantly evolving Fibe TV app.
The adoption of innovative Canadian technology extends into another field where Bell is a national leader – the development of accessibly products and services. In 2016, Bell launched a new portfolio of products and services to make mobile communications more accessible for customers with disabilities. Among these is Tecla, a hands-free device for those with limited upper-body mobility designed and manufactured in Toronto by Canadian start-up Komodo OpenLab.
Some innovations have a direct bearing on economic performance while others create new opportunities for small and large businesses. But what is crucially important for Canada and Canadians is that many more are on the way as Bell continues to augment billions of dollars in capital investment with hundreds of millions of dollars in research and development (R&D).
Research and development
Our leadership in service innovation stems directly from our longstanding ranking as the leading investor in Canadian communications research and development. R&D expense is the amount of money we spend to develop new products and services each year. These investments enable us to continue to provide our customers with the latest products and services, comparable with any in the world, and to make our own operations more productive. They also help fuel a positive cycle of innovation and growth in our partners and suppliers.
Bell invested $530 million in R&D in 2015, more than any other communications service provider in the country5.  In 2016, Bell increased its R&D focus on the transition to software-defined networks that will advance the future of both wireless and wireline connectivity. More capable of adapting to individual consumer and business needs quickly and efficiently, new software-centric network platforms also serve as important drivers of additional innovation by better supporting new network- enabled applications that require large amounts of data, like 4K video and many other entertainment, educational and medical apps. Along with Orange S.A., Bell is collaborating with AT&T Inc. in the development of this new network approach6.
Bell also conducted the first Canadian trial of fifth generation (5G) wireless technology in collaboration with Nokia. Conducted at one of Bell's 3 wireless innovation centres, the test achieved sustained data speeds more than 6 times faster than the top 4G speeds available in Canada7. 5G, expected to be widely available within the next 4 to 6 years, 5G will provide the speeds and capacity needed to meet the demands of mobile customers for broadcast video and Internet of Things applications.
Through these and other R&D initiatives, Bell is playing a key role in the emerging network, device and application ecosystem, ensuring Canadians are able to take advantage of future digital technologies and the economic and social benefits they deliver.
Supporting Canadian content
Bell's role in generating economic opportunities through investment also goes well beyond providing access to advanced broadband networks and services. In 2016, Bell Media operations invested approximately $1 billion to support the production and distribution of Canadian content. This investment provides work for Canadian actors, on-air personalities, technicians, showrunners, directors, artists, technicians, crafts personnel and many other specialists and suppliers across the media industry as a whole. It also helps Canadian talent and expertise reach local, national and international audiences through television, radio and on-line distribution platforms.
As one of the largest supporters of film, television, and music through development funding, and as an avenue to showcase home-grown talent, Bell Media also supports partnerships and events that enhance the Canadian industry and provide opportunities for Canadian talent to achieve both artistic and commercial success.
In 2016, Bell Media operations invested approximately $1 billion to support the production and distribution of Canadian content.
1 Information and Communications Technology Council, Quarterly Monitor of Canada's ICT Labour Market – 2016 Q3.
2 Singer, H., "Economic Impact of FTTH Deployment in Toronto"
3 Sam Knows Analysis of Broadband Performance in Canada, March and April 2016
4 PCMag, Fastest Mobile Networks Canada 2016
5 Research Infosource 2016 Top 100 Corporate R&D Spenders. R&D research data traditionally lags the reporting period by one year
6 AT&T news release, Bell Canada Testing ST&T's Open Source ECOMP Platform for Building Software-Defined Network Capabilities, Dec 15 2016
7 BCE news release, Bell and Nokia complete first Canadian trial of 5G mobile technology