Innovation accelerates service quality
Quality of service
More Canadians than ever are taking advantage of online and app-based tools to manage communications services and pay their bills. Bell is making it easier than ever for our customers to take control of their accounts wherever they are.
In 2016, Bell introduced our revolutionary new Manage Your Appointment feature, which allows customers to confirm their service call while giving them access to important information such as the name and approximate arrival time of their technician. The tool also allows technicians to access a customer's account history right on their mobile device, further improving service by reducing set-up time.
Bell also updated the entire welcome strategy for new Mobility customers, giving them key information in a variety of ways, including an in-store checklist and a customized video explaining their first bill, along with tips on how to add new features and check their data usage.
Customers responded to our enhanced features with a record 95% satisfaction rate in 2016, also driven by Bell technicians who arrived right on time for 97% of appointments. Thanks to ongoing process efficiencies, most service appointments are now scheduled within 2 days of a customer's order.
By prioritizing investment in customer service and advanced online tools, the number of complaints filed about Bell with the federal Commissioner for Complaints for Telecommunications Services (CCTS) fell 18%, continuing the improving trend over the last 3 years.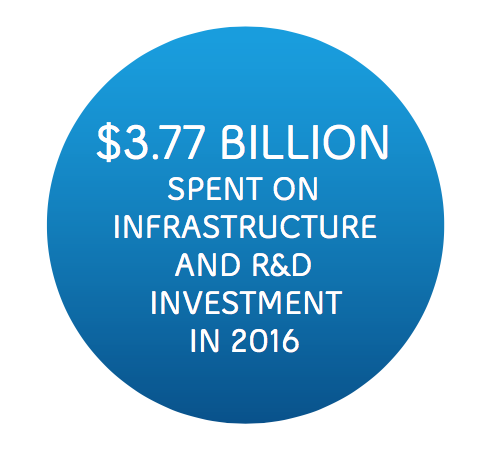 Next-generation products
Bell services support a growing number of innovative products across a range of communications technologies.
Bell remained Canada's #1 TV provider in 2016 as customers chose the exclusive features available on Fibe TV over cable competitors. In 2016, Bell launched the Wireless 4K PVR, the Home Hub 3000 modem and Virgin Internet. We also became the first Canadian service provider to offer both Apple TV and support Netflix in 4K on Fibe TV. That's in addition to Bell- first features such as Restart, Trending and the Fibe TV app. Bell also launched Own with Fibe, giving customers the opportunity to purchase On Demand movies to watch as many times as they want.
Bell Media's popular streaming service, CraveTV, hit a major milestone in 2016, surpassing 1 million subscribers and growing as fast this year as at launch in December 2014. CraveTV is available to any Canadian with an Internet connection, offering thousands of hours of programming from HBO, SHOWTIME and other networks, along with original Canadian content.
With the rapid pace of smartphone development, Bell Wireless customers have unparalleled choice in the latest technology with devices from manufacturers such as Apple, Samsung, Google, LG, Sony, Blackberry, HTC, ZTE, Motorola, Novotel and Alcatel.
Bell has made it easy for subscribers to take their device anywhere they travel with our Roam Better feature. Introduced in 2015, Roam Better includes unlimited talk and text plus 100 megabytes (MB) of data per day for $5 a day in the US. In 2016, Bell launched Roam Better in 110 popular destinations across Europe, the Caribbean, Bahamas, Bermuda, Mexico, Central and South America, Asia, Oceania, South Africa, and the Middle East for just $10 a day. Roam Better covers Bell customers in more locations than any other Canadian competitor.
Bell is staying on the cutting edge of mobile broadband technology and network development. In 2016 we partnered with Nokia to complete Canada's first successful trial of 5G wireless technology. Capable of speeds more than 6 times faster than those available today, 5G offers increased capacity for mobile video and Internet of Things (IoT) applications including connected vehicles. 5G is expected to be commercially available in 4-6 years.
Bell Media remains the largest media company in Canada, committed to significant investments across our media assets in order to provide customers with the best content available. In 2016, Bell Media became the sole provider of HBO Canada and expanded The Movie Network (TMN) nationally.
Bell Media's partnership with iHeartRadio in October 2016 brought Canadians instant access to all 105 Bell Media radio stations. The free iHeartRadio Canada digital app adds more than 100 exclusive streaming channels.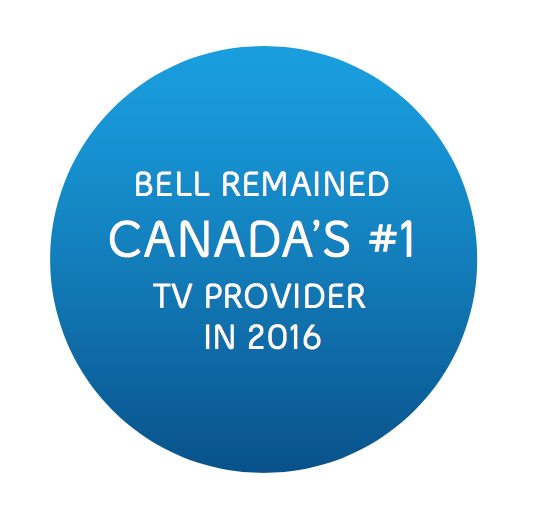 Network leadership
Bell's world-class networks are the key to our growth services offered by our Wireless, Wireline and Media segments. That's why we're investing more in infrastructure and R&D than any other Canadian telecom provider, $3.77 billion in 2016 alone. With the explosion of demand for data and increased wireless usage, Bell's 4G mobile network is consistently ranked Canada's fastest and largest LTE network. In a 2016 report that named Bell's wireless network the fastest in Canada for a second year in a row, PC Mag noted that "Bell's network... is spectacularly fast, exceeding anything we've ever seen in our US results."
Bell customers have access to the largest selection of LTE Advanced devices and were the rst in North America to benefit from the very fastest LTE speeds available. Bell's 4G LTE network offers speeds of 75-150 Mbps (expected average download speeds of 12 to 40 Mbps) while our Dual-band LTE Advanced network offers speeds of up to 260 Mbps (expected average download speeds of 18 to 74 Mbps). Our latest wireless network service is Tri-Band 4G LTE Advanced, which is available in Halifax, Fredericton, Moncton, Toronto, Hamilton and Oakville, with download speeds of up to 335 Mbps (expected average download speeds of 12 to 100 Mbps).
Launched in 2015, Gigabit Fibe delivers the fastest Internet available with download speeds of up to 1 Gigabit per second and more. Approximately one-third of homes and businesses inside Bell's wireline footprint will be able to access Gigabit Fibe service by the end of 2017. In March 2017, Bell announced an $854 million investment to deploy Gigabit Fibe fibre-to-the-home network to 1.1 million customer locations across Montréal Island over the next few years.
Bell supports the largest fibre network in Canada, spanning more than 196,000 kilometres. An Internet performance report commissioned by the Canadian Radio-television and Telecommunications Commission (CRTC) and released in March 2016 found that fibre-to-the-home (FTTH) connections like Bell's provide the best Internet service available in Canada today.
Bell supports the largest fibre network in Canada, spanning more than 196,000 kilometres.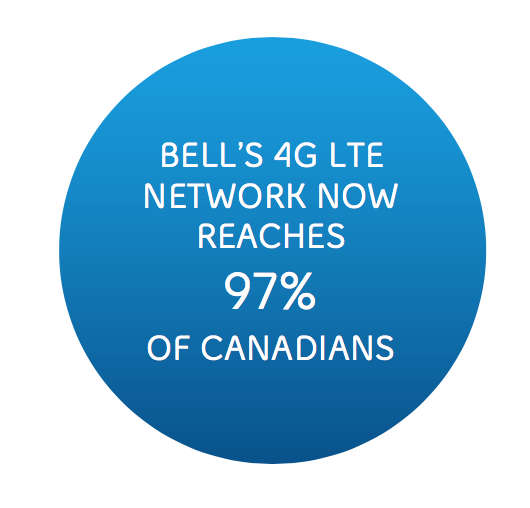 Canadian businesses run on Bell
Bell understands that our networks and services play a critical role in keeping Canadian businesses productive, connected and competitive in a global economy. Bell offers tailored solutions to both small business and enterprise clients through dedicated pages on Bell.ca, where businesses can order services and connect with specially trained staff. In 2016, we made it even easier to connect to our services by delivering same day service for small business 73% of the time, a 98% improvement since 2014.
Bell further boosted its business markets leadership by expanding Canada's largest network of data centres with the acquisition of Q9 Networks Inc. Connected by our leading broadband fibre networks, Bell data centres deliver secure managed hosting and cloud solutions to business and government so that our customers can avoid the high costs of maintaining in-house facilities and expertise.
Bell also became the first Canadian provider to offer businesses access to Microsoft Azure ExpressRoute, while our partnership with IBM Canada Limited delivers exclusive access to IBM MobileFirst for iOS apps. In addition, Bell expanded Bell Total Connect – a powerful suite of next-generation business communications tools used by large enterprises – to small-business customers.
Enhancing our retail footprint
Thanks to highly-knowledgeable retail staff, continual upgrades to store design and the most innovative products, Bell is setting the pace in a very competitive communications market.
Bell is expanding our reach across the country with a growing network of retail outlets, including about 1,400 Bell-branded stores and The Source locations. Glentel, which is 50% owned by Bell, is responsible for another several hundred more locations, operating under brands such as WIRELESSWAVE, WIRELESS etc. and Tbooth wireless.
Bell MTS: bringing better service to Manitoba
Completed in March 2017, the transaction uniting Bell and MTS will significantly enhance Manitoba's broadband infrastructure and improve the service provided to consumers across the province.
Bell's plan to invest $1 billion in Manitoba over the next 5 years includes bringing Gigabit Fibe Internet, Fibe TV, Crave TV and our LTE wireless network to urban and rural areas including Winnipeg's "Innovation Alley" hub, Thomson, Flin Flon, Brandon, and the Arctic port of Churchill. Customers in Manitoba will benefit from Internet speeds up to 20 times faster than those currently available.
Bell MTS serves approximately 710,000 broadband wireless, Internet and IPTV customers including more than 470,000 wireless subscribers. Bell MTS operates a total of 69 retail locations in the province.
Responding to outages and emergencies
Bell technicians are on the front lines when extreme weather disrupts communications services, working to keep our customers connected and safe.
When a sinkhole opened in downtown Ottawa on June 8, our field technicians moved quickly to repair damaged cables and re-establish temporary service while working to implement a permanent solution.
During a very busy July 1 Move Day in Québec, our technicians set a record by meeting the customer appointment promise 98.6% of the time, while also maintaining same day/next day residential results at 95%, despite extremely high demand.
An essential link for communications and commerce
Our national voice and data network reaches all major Canadian metropolitan centres, as well as New York City, Chicago, Boston, Buffalo, Minneapolis, Ashburn (VA), and Seattle in the United States.
To address strong customer demand for a vast number of data-dependent applications, gaming and streaming video services, Bell continuously upgrades and grooms its core IP VPN (Internet Protocol, Virtual Private Network) so that customers can rely on its robust ability to transmit voice and data between main communications hubs across Canada.
During a very busy July 1 Move Day in Québec, our technicians set a record by meeting the customer appointment promise 98.6% of the time.
Coverage map