Protecting the youth
Our young people face challenges that simply did not exist for earlier generations. Many of these have emerged as the result of the evolution of communications technology, giving Bell a special role in helping our communities and families deal with them. To that end, Bell partners with organizations such as the Canadian Centre for Child Protection, MediaSmarts, Free the Children, Computers for Schools and programs like Backpacks for Kids, RE*Generation and online safety initiatives. These initiatives help Canadian children overcome difficulties, build self-esteem, play, learn and grow in new ways.
Online safety
Bell is dedicated to keeping Canadian children safe online. We are a proud founding supporter of the Canadian Centre for Child Protection, contributing $150,000 annually to promote cyber safety. The funds support Cybertip.ca, a national tip line for Canadians to report their concerns about online sexual exploitation of children and to raise awareness of the issues so that children are better protected when they use the Internet.
Since its creation in 2002, Cybertip.ca has received more than 215,000 reports from the public and has provided more than 14.3 million pieces of educational material to schools and families across the country. In 2016 alone, Cybertip.ca received more than 39,000 reports from Canadians.
Bell's donation also supports the Centre's initiatives to reduce "sexting" which is when young people create, send and share sexual imagery online or via texts. Bell has funded 2 guides to help parents and educators address the issue. Bell also helped the Centre launch needhelpnow.ca which provides young people with practical advice on dealing with sexting situations. The Centre provided the guide free of charge to schools and law enforcement with 6,600 copies distributed in 2016.Since the launch of the guide in 2012, a total of 19,500 copies have been handed out.
As a founding supporter of MediaSmarts, Bell donated $50,000 in 2016 to help improve media and digital literacy for young people and their families. Working closely with academics, broadcasters, telecommunications service providers and Internet-based organizations, MediaSmarts develops educational materials and programs such as online tutorials to assist parents with strategies for the digital generation, a web-awareness workshop series for teachers and librarians, and a media literacy week to build public awareness of the importance of digital consumers developing critical-thinking skills.
Bell and MediaSmarts developed 2 new workshops to promote a positive online experience for teens and pre-teens using social media. The first one, Respecting Yourself and Others Online, helps students in grades 7 to 9 develop critical-thinking skills and strategies to support respectful interactions and minimize the risk of negative experiences. The second workshop, The Parent Network: Social Media and Your Kids, helps parents understand the connected world of kids and teens and provides tips and tools for maximizing the positive opportunities of social media. In 2016, MediaSmarts launched the rst 2 videos in a 4-part series: Social Media: The basics and Social Media: Keeping your kids safe.
Bell is also proud of its role as a founder of the Canadian Coalition Against Internet Child Exploitation and its Cleanfeed Canada initiative (operated by Cybertip.ca). This was developed to reduce Canadians' exposure to child abuse images and create a disincentive for those who access and distribute child pornography.
Backpacks for Kids
Bell team members across Canada support the Backpacks for Kids program, collecting school supplies for kids in need to help them get ready for back to school. In 2016, team members responded enthusiastically once again, filling more than 9,600 backpacks that were distributed to schools and community groups across Canada.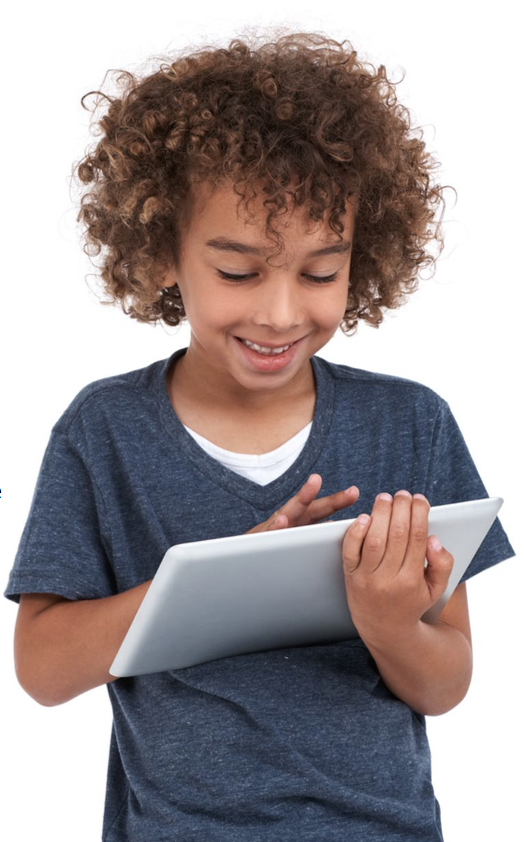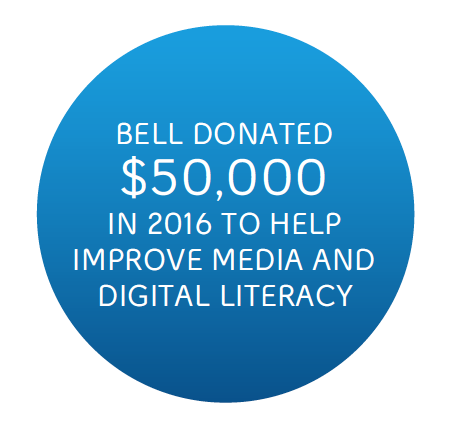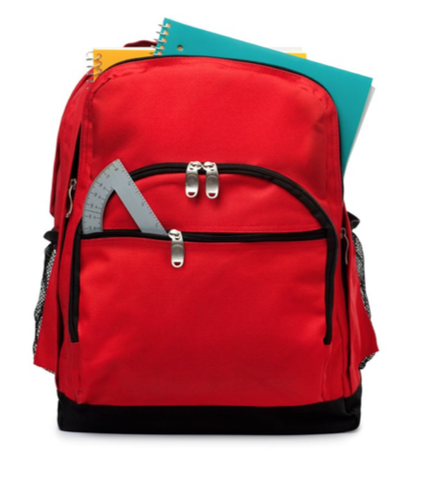 Virgin Mobile RE*Generation

Virgin Mobile RE*Generation focuses on investing in job skills training programs that help at-risk and homeless youth gain skills to get jobs. More than 800,000 youth in Canada are jobless, not in school or in training, and either looking for work or have left the labour force entirely (see report details from OECD here). On any given night 6,000 youth sleep on the streets. Recognizing the barriers to finding jobs, Virgin Mobile RE*Generation invests in helping charities deliver in-demand job skills training, so at-risk and homeless youth have what they need to gain employment and stability. In 2016, more than 200 young people completed training with Virgin Mobile RE*Generation partners NPower Canada (Toronto); Broadway Youth Resource Centre (Vancouver); and Threshold School of Building (Hamilton). By the end of the year 130 youth were hired into full-time jobs in the IT, culinary arts, and construction industries and 47 youth were in progress of completing paid work experience placements with leading employers. For more about Virgin Mobile RE*Generation, please click here.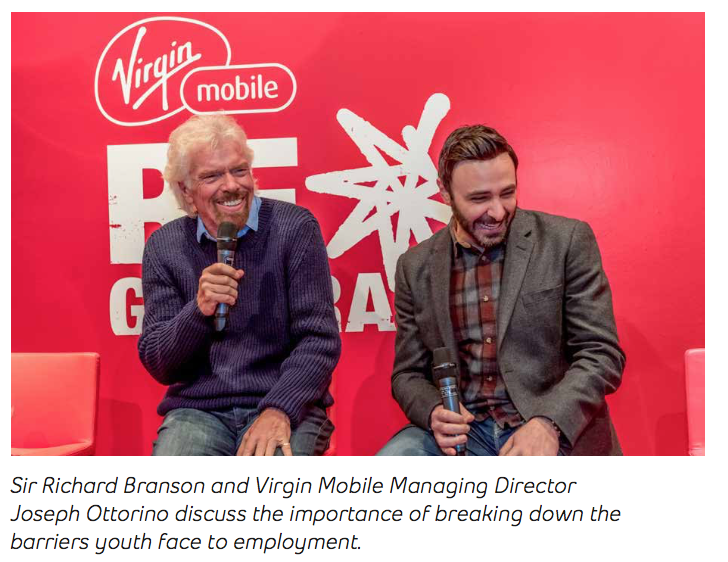 Supporting youth in the North
In partnership with Bell Let's Talk, Northwestel has made mental health in the North a cornerstone of its community engagement. In 2016, the company announced a joint $250,000 contribution in the Yukon to establish a FRIENDS mental health support program for youth.
Northwestel played a major role in promoting Mental Illness Awareness Week, with Bell Let's Talk ambassador Shea Emry joining us in Yellowknife and Whitehorse to bring attention to efforts to end the stigma surrounding mental illness. The company also continued long-standing mental health partnerships with Yukon and Nunavut distress help lines.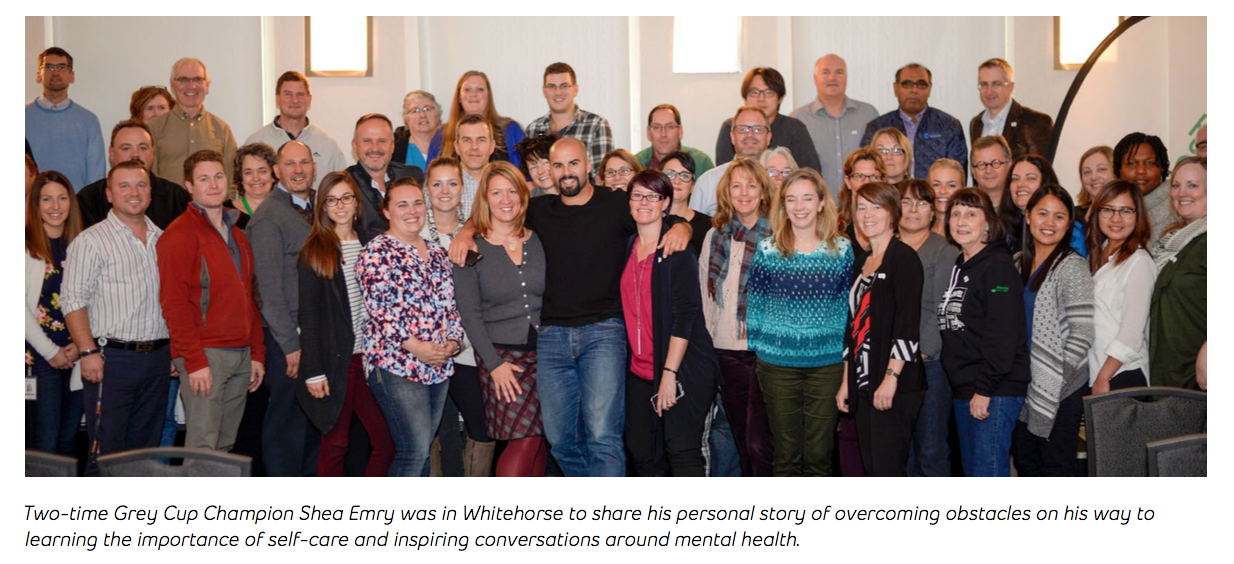 Computers for Schools

Bell also supports the Computers for Schools program, which provides refurbished computers to primary and secondary schools as well as other non-profit organizations. This program is ISO 14001:2004 certified and has been audited and approved by the RQO (Recycler Qualification Office) under the ERRP (Electronics Reuse and Refurbishing Program). It has also been selected as an EPRA-Québec (Québec Electronic Products Recycling Association) reuser/refurbisher.
In addition to chairing and managing the program in Québec, Bell also provides space for a workshop and office management. CFS encourages reuse, social reinsertion and environmentally sound recycling.
In 2016, Bell and its subsidiaries donated 9,887 used computers 1,537 screens and 165 printers for reuse or recycling, bringing Bell donations since the beginning of our involvement to more than 90,000 computers, 16,500 screens and 4,500 printers.