Celebrating culture
Bell is proud to continue a long tradition of support for Canadian arts and culture, working with a variety of partners to enrich the communities we serve through the encouragement of creative expression. These initiatives, some of which are detailed below, range from a full roster of summer festivals in Québec to grants for school musical instrument programs.
Northern culture
Northwestel is a proud supporter of Aboriginal youth and culture. In 2016, the company partnered with First Nations and Aboriginal groups to support National Aboriginal and Nunavut day celebrations, the Yukon First Nations Graduation Day, and Aboriginal youth hockey tournaments. Through Northwestel Community TV, the company was a major partner of the award winning documentary SHIFT, which shone the light on Carcross Tagish First Nations youth and their role in building an emerging mountain-biking mecca.

In all, Northwestel invested more than $600,000 in 2016 in supporting arts, culture, youth, Aboriginal and health initiatives. The company is a proud sponsor of the Yukon, NWT and Fort Nelson Hospital Foundations, Sports North and local youth sports leagues, and cultural events through the Yukon Arts and Cultural Centre and Nunavut's Alianait Arts Festival. For over 30 years, the company has selected a local artist in each of its main operating areas to display on the cover of its phone directories, a tradition which is often a boost for the careers of emerging Northern artists.
Bell Media supports cultural events
Bell spread the influence of inspiring speakers and popular performers as they engaged tens of thousands of Greater Toronto Area youth leaders at the 2016 Free the Children's We Day. As the broadcast partner, Bell Media's MTV helped gather more than 20,000 student leaders and supporters in Toronto to celebrate positive activism in local and global communities. Bell Media aired the one-hour specials on CTV, MTV, and MUCH.

Bell Media lends it support to the annual Kids Help Phone Walk so Kids Can Talk, a fun and inspirational 5K walk where thousands of kids, adults, families, schools, community organizations and corporations across Canada come together to support kids' emotional well-being by raising funds for Kids Help Phone. In 2016, more than 11,000 participants in over 36 communities raises nearly $3 million for
Kids Help Phone. Bell Media promoted events by airing national radio and television public service announcements and digital advertisements, as well as having on-air talent engaged across the country.
Bell Media was once again the presenting sponsor of the 17th edition of imagineNATIVE Festival, an international event that celebrates the latest works by indigenous peoples at the forefront of innovation in lm, video, radio and new media. The 2016 event, which Bell Media supported through event coverage, interview opportunities, and talent/executive hosting opportunities, attracted 19,738 attendees.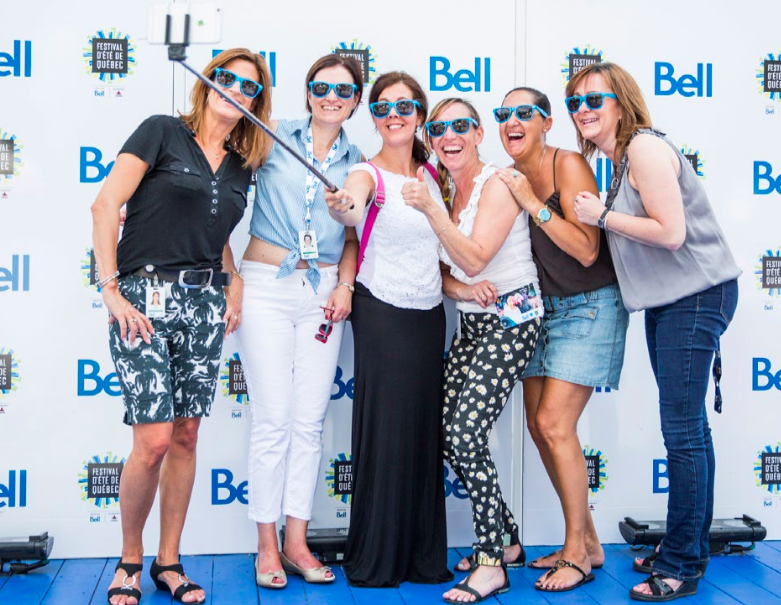 Bell Media team members take a selfie at company event.
Tangible benefits funding
As part of our acquisition of Astral Media Inc. (Astral), Bell committed to pay $263 million in tangible benefits to develop French- and English-language TV, radio and lm content, support emerging Canadian musical talent and enable new media training and consumer participation initiatives in the Canadian broadcasting industry. In 2016, our tangible benefits funding went to organizations such as:
The Centre for Aboriginal Media, to promote and exhibit lms, videos, and audio and digital media artwork by indigenous artists to Canadian and international audiences at the imagineNATIVE Film + Media Arts Festival in Toronto

The Dreamspeakers International Film Festival celebrates the latest works by Indigenous people in lm, video, radio, and new media, presenting selections of Indigenous works from around the globe.

Regard sur le court métrage au Saguenay is a regional Film festival which aims at promoting, airing, and developing short films from Canada and abroad. The Festival also awards prizes to the best shorts in eight different categories, hosts a market for professionals, and presents conferences, master classes and workshops. The tangible benefits contribution supported the activities of this regional festival.

Kino'00, based in Montreal, supports the development of short independent films from the region by assisting young talented lmmakers with their projects through courses, equipment and various events to showcase their films to the public, including through a film festival. Bell Media's support helped the organization's members continue to have an important venue to create and develop original media content to serve its communities through various initiatives.

Equipped with the latest digital technology, Wapikoni Mobile studios visit more remote Aboriginal communities to offer workshops on music and video production. The tangible benefits funding supported the screening of the best short- form films produced by young lmmakers during the year.

Palmarès ADISQ (formerly known as Top Musique Québec App), a digital platform developed by l'Association québécoise de l'industrie

du disque, du spectacle et de la video (ADISQ), is a collective music marketing tool that showcases Québec-based artists. The site present charts, lists of new songs, a calendar of shows to watch and playlists reflecting listening consumption. Palmarès ADISQ is an initiative by an eligible third-party music advocacy association using new media and online promotional/advertising material to support Canadian artists, and therefore fully qualifies as an eligible initiative.

MediaSmarts, a Canadian not-for-profit organization, to fund initiatives promoting digital and media literacy in Canadian homes, schools, and communities

MusiCounts, Canada's music education charity associated with The Canadian Academy of Recording Arts and Sciences (CARAS), provides grants to schools to purchase musical instruments of all kinds.

The National Music Centre offers an artist-in-residence program, allowing Canadian artists access to NMC's unique music and recording collection to create new and innovative Canadian content in every genre. This initiative directly supports and trains Canadian artists.

The National Screen Institute provides film, television and digital media training for writers, directors and producers. The tangible benefits funding supported the NSI Totally Television program which helps strong creative writer/producer teams refine their concepts for TV series and secure a development deal with a broadcaster

The National Theatre School, to provide training to enhance the skills transfer as actors move from theatre to cinema, television, web and other platforms