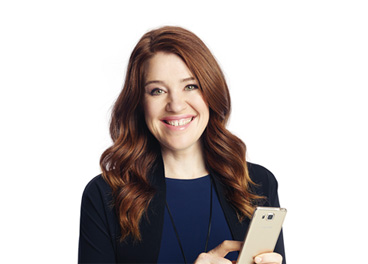 Thank you Canada for more than 122 million tweets, texts, calls and shares on Bell Let's Talk Day!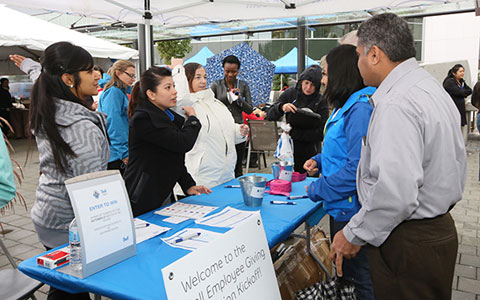 At Bell, we believe being  an outstanding corporate citizen is about using our financial resources and the expertise of our employees to invest in the communities we serve. Bell employees have been giving back to communities across Canada since the company was created more than 130 years ago. In line with this tradition, Bell invested almost $ 16M in 2013 to support a variety of community initiatives including workplace mental health program.
Our people care
BCE and Bell employ some of the best-performing people in the business. Our policies and practices aim to attract, retain and inspire employees who demonstrate leadership, innovative thought and commitment — people who care about what they do. Not surprisingly, our employees' sense of commitment spills over into their personal lives, generating an abundance of goodwill, generosity and community service.
Bell continued its tradition of service to our communities in 2013 as the company and its team members stepped up all year long to help with widespread disasters, both natural and manmade, at home and abroad. In a number of cases they worked to restore service even when their own homes were in the middle of the disaster zone
That was the case when floods covered large parts of Calgary and southern Alberta in June. Network and Field technicians worked around the clock to keep Bell networks and systems running, in some cases taking care of our customers even as they were evacuating their own buildings.
Bell also assisted the people of Lac˗Mégantic following the fatal train derailment and crude oil explosion in July. Bell donated $25,000 to support Red Cross relief efforts and quickly enabled mobile phone users across Canada to donate $5 to the relief effort simply by texting. The Red Cross used a Bell-donated emergency response trailer to bring equipment to the local emergency centre at the secondary school in Lac-Mégantic.
As well, to enable emergency workers and residents to stay connected in a town that suffered significant damage in the explosion and fire, Bell donated mobile phones, landlines and WiFi for the shelter. Meanwhile, more than 300 Field technicians, Network staff and the emergency management team worked tirelessly to maintain operations at our local central office and continued to be present as the community rebuilt. Another group of 150 volunteers staffed the phones for the Avenir telethon which raised an additional $310,000 for the Lac-Mégantic recovery.
In another initiative, soon after Typhoon Haiyan – one of the most devastating storms ever recorded – hit the Philippines, Bell contributed $100,000 to the Red Cross rescue and recovery operations there. As well, to enable Canadian Filipinos to have access to the latest information on the situation, Bell provided free access to 4 Tagalog-language channels on Bell Satellite and Fibe TV.
As a long-time partner of the Humanitarian Coalition, we also supported their typhoon fundraising campaign by contributing free airtime for TV and radio ads, plus space for banners on Bell Media websites such as CTV.ca and TheLoop.ca.
Employee Giving Program
In partnership with the United Way/ Centraide, Bell helps fund the vital social services that build healthy communities. We are also proud to be an important part of the United Way's annual fundraising campaign through our Employee Giving Program and local fundraising events, as well as corporate donations.