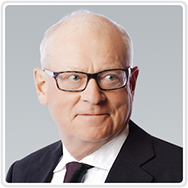 Thomas C. O'Neill, FCPA, FCA
Ontario, Canada
Chair of the Board, BCE and Bell Canada (Since February 2009) and Chartered Accountant
Mr. O'Neill is Chair of the Board of BCE and Bell Canada since February 2009 and has served on our Board since 2003. He held a number of positions at PricewaterhouseCoopers (an accounting firm) and its related entities until 2002, including CEO and Chair of the Board of PricewaterhouseCoopers Consulting, COO of PricewaterhouseCoopers LLP, Global and CEO of PricewaterhouseCoopers LLP, Canada. Mr. O'Neill serves as Chair of St.Michael's Hospital, where he has served on the Board since 2003.
He is a former Vice-Chair of the Board of Trustees of Queen's University and is a member of the Advisory Board of Queen's University School of Business. Mr. O'Neill graduated from Queen's University with a Bachelor of Commerce and is a Chartered Professional Accountant and a Fellow of CPA Ontario. He received an Honorary LLD from Queen's University and is a Fellow of the Institute of Corporate Directors.
In September 2013, Mr. O'Neill received the ICAO Award of Outstanding Merit, the highest honour from CPA Ontario.
Mr. O'Neill is the non-executive Chairman of The Bank of Nova Scotia's Board of Directors. He is also a director of Adecco S.A., Bell Canada, and Loblaw Companies Limited.
Back to Board members