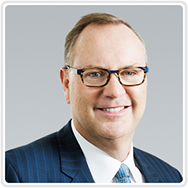 George Cope
Ontario, Canada
Mr. Cope leads Canada's largest communications company with a strategy of unparalleled investment and innovation in broadband networks and Wireless, TV, Internet and Media growth services. Focused on leading growth in Canadian broadband and delivering sustainable value to shareholders, Bell's goal is to be recognized by customers as Canada's leading communications company.
A 2018 Canadian Business Hall of Fame inductee and Canada's Outstanding CEO of the Year in 2015, Mr. Cope has earned a reputation as a strategic leader in Canadian communications and as a builder of high performance teams in public-company chief executive roles over the past 30 years. Appointed President and CEO of BCE and Bell Canada in July 2008, Mr. Cope also led the launch of the Bell Let's Talk initiative, the largest-ever corporate commitment to Canadian mental health and now one of the country's most prominent community investment campaigns.
A graduate of the Ivey School of Business at Western University (HBA '84), Mr. Cope was named Ivey Business Leader of the Year in 2013 and serves on the school's advisory board. He has been awarded honourary doctorates by his alma mater and the University of Windsor, was Chair of United Way Toronto's record-breaking 2013 campaign, and received the Queen's Diamond Jubilee Medal for his work on Bell Let's Talk. Mr. Cope was appointed a Member of the Order of Canada in 2014.
Mr. Cope serves as a Director of Bank of Montreal and as a Director of the Business Council of Canada.
Back to Board members