Bell Media generated revenue and adjusted EBITDA growth in 2016, driven by the national expansion of TMN, continued growth in CraveTV and growth in outdoor advertising, even as operating costs grew due to increased costs for sports broadcast rights and content investments that support TV and on-demand programming.
Key elements of relevant strategic imperatives

2016 PROGRESS
Maintained CTV's #1 ranking as the most-watched network in Canada for the 15th year in a row, and continued to lead with a majority of the top 20 programs nationally in all key demographics
Launched TMN as a national pay TV service and became the sole operator of HBO Canada
Launched CraveTV direct to consumers as a standalone product available to all Canadians with an Internet subscription. We continued to grow the viewership and scale of our streaming video service, surpassing one million subscribers in 2016

As of October 24, 2016, both new and returning SHOWTIME programs debut on CraveTV at the same time as their U.S. broadcast premieres, bolstering the amount of exclusive, first-run programming on CraveTV
Streamed CraveTV's first ever original series, LETTERKENNY, which had the biggest debut of any series on CraveTV since the service launched in 2014 and has eclipsed its own Season 1 record with the launch of Season 2 on Christmas Day
Concluded a deal with MGM to license the iconic James Bond Catalogue, spanning more than 50 years and every 007 actor
Made CraveTV available for in-app purchase on Apple TV, enabling customers to subscribe directly from their iTunes account

Launched iHeartRadio, North America's fastest growing digital audio service, to the public, providing Canadians with instant access to all of Bell Media's 105 radio stations across the country plus more than 100 additional exclusive, digital streaming channels featuring every musical genre as well as news/talk, sports and comedy
Accelerated 4K Ultra HD production and broadcasting with a growing number of live event and sports broadcasts in 4K

TSN became the first broadcaster to produce a live 4K Ultra HD broadcast in North America with the Toronto Raptors vs. Boston Celtics basketball game on January 20, 2016.
CTV's broadcast of the 2016 Juno Awards was the first live awards show in North America to be produced in 4K
TSN's five national feeds featured several Toronto Raptors, Toronto Maple Leafs and Ottawa Senators games in 4K, as well as The Masters and the UEFA Champions League Final
The iHeartRadio MuchMusic Video Awards was filmed and broadcast in 4K
Discovery Canada's premium video streaming service Discovery GO offered a growing inventory of titles available in 4K
All new TV series commissioned for Bell Media's networks are produced in 4K

Extended a broadcast agreement with the IIHF to 2023. TSN and RDS hold exclusive multimedia rights for the IIHF Ice Hockey World Championship.
Concluded a multi-title, multi-year exclusive streaming deal with Warner Bros. International Television for the Canadian market that delivers some of the most-watched shows to CraveTV
Expanded a licensing agreement with Viacom International Media Networks to make Comedy Central original programming and library of scripted and unscripted series and specials available across multiple platforms in Canada, including CraveTV
Concluded a licensing agreement with CBS Studios International to be the exclusive home for the new STAR TREK series in Canada. The series will premiere on CTV and then move to Space for the duration of its run, and will also become available on CraveTV
Launched a food and lifestyle specialty channel featuring the established Gusto brand and its exclusive portfolio of original Canadian programming, all in 4K. Gusto features cooking, home design, fashion, travel and lifestyle programming
Acquired Métromédia, allowing Astral OOH to expand its advertising assets in the public transit market
Astral OOH secured advertising rights for both in-terminal and non-terminal concessions across Toronto Pearson International Airport, becoming Canada's airport advertising leader with a presence in six Canadian international airports, including Halifax Stanfield, Montréal-Pierre Elliott Trudeau, Québec City Jean Lesage, Ottawa Macdonald-Cartier and Vancouver International.
2017 FOCUS
Maintain strong audience levels and ratings across all TV and radio properties
Reinforce industry leadership in conventional TV, pay TV, sports media and radio

In January 2017, we concluded a multi-year media rights extension with Major League Soccer, making Bell Media Canada's exclusive English-language broadcaster of MLS

Grow viewership and scale of CraveTV on-demand TV streaming service
Develop in-house production and content creation for distribution and use across all platforms and screens
Expand live and on-demand content through TV Everywhere services
Build on our OOH leadership position in Canada

In January 2017, we acquired Cieslok Media, which specializes in large-format outdoor advertising in key urban areas, allowing Astral OOH to expand its digital presence with 120 high-profile displays in Vancouver, Edmonton, Calgary, Montréal and Toronto, including Canada's largest multimedia billboards at Yonge-Dundas Square

Grow French media properties
Leverage cross-platform and integrated sales and sponsorship

2016 PROGRESS
Executed on labour savings from workforce reductions undertaken in 2015
2017 FOCUS
Continue to execute on labour savings from workforce reductions
Financial performance analysis
2016 PERFORMANCE HIGHLIGHTS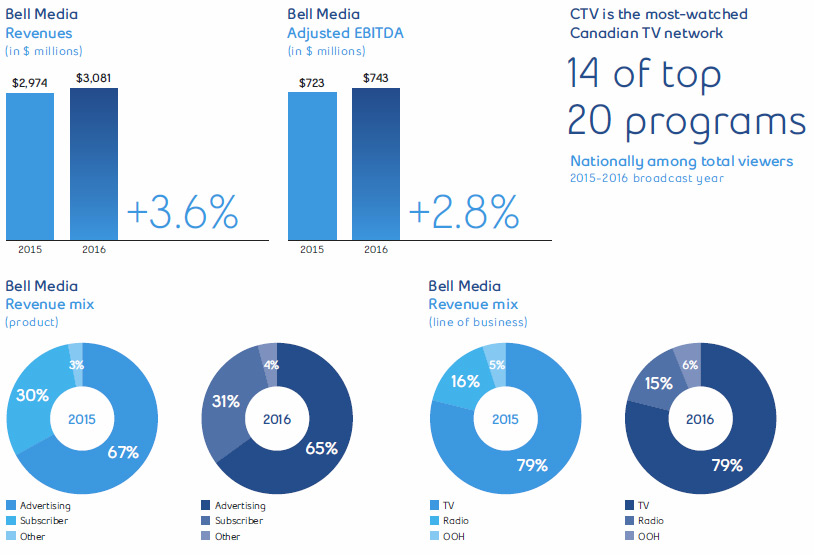 BELL MEDIA RESULTS
REVENUES
| | | | | | | | | |
| --- | --- | --- | --- | --- | --- | --- | --- | --- |
| | 2016 | | 2015 | | $ CHANGE | | % CHANGE | |
| Total external revenues | 2,685 | | 2,635 | | 50 | | 1.9 | % |
| Inter-segment revenues | 396 | | 339 | | 57 | | 16.8 | % |
| Total Bell Media revenues | 3,081 | | 2,974 | | 107 | | 3.6 | % |
Bell Media operating revenues increased by 3.6% in 2016, compared to the previous year, driven by higher subscriber revenues, offset in part by lower advertising revenues.
Subscriber revenues were up in 2016, compared to last year, mainly due to Bell Media's expansion of TMN into a national pay TV service in March 2016, higher revenues from CraveTV driven by rate increases combined with the favourable impact of our direct-to-consumer launch in January 2016 and the growth from our TV Everywhere GO products.
Advertising revenues decreased in 2016, compared to 2015, reflecting:
Lower conventional TV advertising revenues due to a soft advertising market, the non-recurrence of revenues generated in the second half of last year from the 2015 Federal Election and the shift in advertising dollars to the principal broadcaster of the Rio 2016 Summer Olympic Games
A decline in radio advertising revenues driven by market softness
This was partly offset by:
An increase in OOH advertising revenues as a result of the Métromédia acquisition in January 2016 and the favourable impact of new contract wins in 2016
OPERATING COSTS AND ADJUSTED EBITDA
| | | | | | | | | |
| --- | --- | --- | --- | --- | --- | --- | --- | --- |
| | 2016 | | 2015 | | $ CHANGE | | % CHANGE | |
| Operating costs | (2,338 | ) | (2,251 | ) | (87 | ) | (3.9 | %) |
| Adjusted EBITDA | 743 | | 723 | | 20 | | 2.8 | % |
| Adjusted EBITDA margin | 24.1 | % | 24.3 | % | | | (0.2 | %) |
Bell Media operating costs increased by 3.9% in 2016, compared to last year, driven by higher content costs related to sports broadcast rights, the TMN national expansion and continued ramp-up in CraveTV content, as well as by an increase in expenses associated with the Métromédia acquisition and newly awarded contracts in OOH. This was mitigated in part by lower labour costs as a result of the 2015 workforce reduction initiative.
Bell Media adjusted EBITDA increased by 2.8% in 2016, compared to the previous year, as a result of higher revenues and lower labour costs, partially offset by higher content and programming costs.
BELL MEDIA OPERATING METRICS
CTV maintained its #1 ranking as the most-watched network in Canada for the 15th year in a row, and continued to lead with a majority of the top 20 programs nationally in all key demographics
Bell Media's English specialty and pay TV properties reached 83% of all Canadian English specialty and pay TV viewers on an average weekly basis in 2016. Discovery channel continued to have the top entertainment specialty position in full day audience levels, among the key viewers aged 25 to 54.
In Québec, Bell Media maintained its leadership position in the French specialty market, reaching 78% of French-language TV viewers in the average week. Three of the top five specialty channels among the key viewers aged 25 to 54 were Bell Media properties (RDS, Super Écran and Canal D).
Bell Media continued to rank first in digital media among Canadian broadcast and video network competitors, with 18.2 million unique visitors per month, reaching 60% of the digital audience
Bell Media remained Canada's top radio broadcaster, reaching 17.1 million listeners who spent 77 million hours tuned in each week during 2016
Astral AOOH is a key player in the market with an offering of five innovative product lines and more than 30,000 advertising faces located coast to coast, from Halifax to Vancouver, and strategic sites in Montréal, Ottawa, Toronto, Vancouver, Calgary and Edmonton
Competitive landscape and industry trends
COMPETITIVE LANDSCAPE
The Canadian media industry is highly competitive, with competitors having significant scale and financial resources. In recent years, there has been increased consolidation of traditional media assets across the Canadian media landscape. The majority of players have become more vertically integrated to better enable the acquisition and monetization of premium content. Global aggregators have also emerged and are competing for both content and viewers.
Bell Media competes in the TV, radio and OOH advertising markets:
TV: The TV market has become increasingly fragmented and this trend is expected to continue as new services and technologies increase the diversity of information and entertainment outlets available to consumers
Radio: Competition within the radio broadcasting industry occurs primarily in discrete local market areas among individual stations
OOH: The Canadian OOH advertising industry is fragmented, consisting of a few large companies as well as numerous smaller and local companies operating in a few local markets
Consumers continue to shift their media consumption towards digital and online media, mobile devices and on-demand content. This has caused new business models to emerge and advertisers to shift more of their spending to digital and online rather than traditional media. In addition, the number of competitors has increased as more digital and online media companies, as well as large global companies, enter the market.
Access to live sports and other premium content has become even more important for acquiring and retaining audiences that in turn attract advertisers and subscribers. Ownership of content and/or long-term agreements with content owners has, therefore, also become increasingly important to media companies.
Competitors
TV
Conventional Canadian TV stations (local and distant signals) and specialty and pay channels, such as those owned by Corus Entertainment Inc. (Corus), Rogers, Québecor Media Inc. (Québecor), Canadian Broadcasting Corporation (CBC)/Société Radio-Canada (SRC) and Groupe V
U.S. conventional TV stations and specialty channels
OTT streaming providers such as Netflix and Amazon Prime Video
Video-sharing websites such as YouTube
RADIO
Large radio operators, such as Rogers, Corus, Cogeco and Newcap Inc. (Newcap) that also own and operate radio station clusters in various local markets
Radio stations in specific local markets
Satellite radio provider SiriusXM
Music streaming services such as Spotify, Apple Music and Google Play Music
Music downloading services such as Apple's iTunes Store
Other media such as newspapers, local weeklies, TV, magazines, outdoor advertising and the Internet
OOH ADVERTISING
Large outdoor advertisers, such as Jim Pattison Broadcast Group (Pattison), Outfront Media, Québecor, Dynamic and Clear Channel Outdoor
Numerous smaller and local companies operating a limited number of display faces in a few local markets
Other media such as TV, radio, print media and the Internet
Canadian market share

INDUSTRY TRENDS
TECHNOLOGY AND CONSUMER HABITS TRANSFORMING THE WAY TV IS DELIVERED
Technology used in the media industry continues to evolve rapidly, which has led to alternative methods for the distribution, storage and consumption of content. These technological developments have driven and reinforced changes in consumer behaviour as consumers seek more control over when, where and how they consume content. For example, consumer electronics innovations have enabled consumers to view content on TVs, computers, tablets, smartphones and other mobile electronic devices. The number of Canadian users who are connected to the Internet through their TVs is growing as connection becomes easier and more affordable. Changes in technology and consumer behaviour have resulted in a number of challenges for content aggregators and distributors. These technological developments may disrupt traditional distribution platforms by enabling content owners to provide content directly to distributors and consumers, thus bypassing traditional content aggregators.
GROWTH OF ALTERNATIVES TO TRADITIONAL LINEAR TV
Consumers have improved access to online entertainment and information alternatives that did not exist a few years ago. While traditional linear TV was the only way to access entertainment programming in the past, many consumers now watch TV in non-traditional ways for at least a portion of their viewing. In particular, today's viewers are consuming more content online, watching less scheduled programming live, time-shifting original broadcasts through PVRs, viewing more TV on mobile devices, and catching up on past programming on-demand. In addition, many consumers are spending considerable time viewing online alternatives to traditional TV. This is evident in the growing number and popularity of OTT video services like Netflix and Amazon Prime. To date, these OTT services have largely complemented existing TV services. Media companies are evolving their content and launching their own solutions to better compete with these non-traditional offerings through services such as Bell Media's CraveTV on-demand TV streaming service and authenticated TV Everywhere services such as CTV GO, TSN GO, RDS GO, Discovery GO and TMN GO.
ESCALATING CONTENT COSTS AND SHIFTS IN ADVERTISING
Viewership and usage trends suggest that online and mobile Internet video consumption is increasing rapidly. Changing content consumption patterns and growth of alternative content providers could exert downward pressure on advertising revenues for traditional media broadcasters. However, premier content, live sports and special events should continue to draw audiences and advertisers, which is expected to result in pricing pressure on future broadcasting rights. Growing interest in 4K content could also drive additional programming acquisition and production costs. Additionally, while access to premium content has become increasingly important to media companies in attracting viewers and advertisers, there is now increased competition for these rights from global competitors, including Netflix and Amazon Prime Video. This has resulted in higher TV program rights costs, which is a trend that is expected to continue into the future.
Business outlook and assumptions
2017 OUTLOOK
Bell Media's financial results in 2017 are expected to be positively impacted by the incremental contribution from the national expansion of our English-language pay TV service (TMN) in the first quarter of 2016, further growth in CraveTV and higher outdoor advertising revenue at Astral OOH from contract wins and the acquisition of Cieslok Media in January 2017. These factors are anticipated to offset higher content costs to secure TV programming, continued CraveTV investment and the financial impact of TV cord shaving and cord cutting. We also intend to continue carefully managing costs by leveraging assets, achieving productivity gains and pursuing operational efficiencies across all of our media properties, while continuing to invest in premium content across all screens and platforms.
While the advertising market is expected to remain soft in 2017, we anticipate that the strength of our programming, strong outdoor advertising growth supported by numerous contract wins in 2016 and the acquisition of Cieslok Media, as well as the recapture of advertising revenue following a shift in Q3 2016 to the main broadcaster of the Rio 2016 Summer Olympic Games, will offset some advertising pressure including the impact of the CRTC's decision to eliminate simultaneous substitution for the NFL Super Bowl. Subscriber fee revenues are projected to increase, driven by CraveTV subscriber growth and a full-year contribution from the national expansion of TMN, which should help moderate potential declines in specialty TV due to the industry-wide introduction of TV unbundling in 2016.
In conventional TV, we intend to leverage the strength of our market position to continue offering advertisers, both nationally and locally, premium opportunities to reach their target audiences. Success in this area requires that we focus on a number of factors, including: successfully acquiring highly-rated programming and differentiated content; building and maintaining strategic supply arrangements for content across all screens and platforms; and producing and commissioning high-quality Canadian content, including market-leading news.
Our sports specialty TV offerings are expected to continue to deliver premium content and exceptional viewing experiences to our viewers. Investment in 4K content, combined with the integration of our digital platforms, are integral parts of our strategy to enhance viewership and engagement. Contractual price increases for strategic sports properties, along with planned new investments, are the principal factors driving continued increases in sports rights costs. We will also continue to focus on creating innovative high-quality productions in the areas of sports news and editorial coverage.
In non-sports specialty TV, audiences and advertising revenues are expected to be driven by investment in quality programming and production, including the recent launch of our new food and lifestyle channel, Gusto. As part of our objective to drive revenue growth, we intend to capitalize on our leading position in key specialty services to improve both channel strength and channel selection.
In pay TV, we will continue to leverage our investments in premium content (including HBO and SHOWTIME) in order to attract subscribers.
In our French-language pay and specialty services, we will continue to optimize our programming to increase our appeal to audiences.
In radio, we intend to leverage the strength of our market position to continue offering advertisers, both nationally and locally, premium opportunities to reach their target audiences. We also plan to leverage our recently-launched iHeartRadio digital service in Canada to showcase content from our 105 licensed radio stations and more than 100 curated music streams. Additionally, in conjunction with our local TV properties, we will continue to pursue opportunities that leverage our promotional capabilities, provide an expanded platform for content sharing, and offer synergistic co-location and efficiencies.
In our OOH operations, we plan to leverage the strength of our products and recent contract wins to provide advertisers with premium opportunities in key Canadian markets. We will also continue to seek new opportunities in digital markets, including integrating and leveraging our recent Cieslok Media acquisition.
ASSUMPTIONS
Higher year-over-year revenue, reflecting further CraveTV subscriber growth, TMN's national expansion that began in March 2016, and growth in outdoor advertising supported by acquisitions and new contract wins
Operating cost growth driven by higher TV programming and sports broadcast rights costs, as well as continued investment in CraveTV content
Continued scaling of CraveTV
Ability to successfully acquire and produce highly rated programming and differentiated content
Building and maintaining strategic supply arrangements for content across all screens and platforms
Increased revenue generation from monetization of content rights and Bell Media properties across all platforms
TV unbundling and growth in OTT viewing expected to result in moderately lower subscriber levels for many Bell Media TV properties
No material financial, operational or competitive consequences of changes in regulations affecting our media business
Stronger economic growth that drives increased advertiser demand and spending, particularly in the key automotive, entertainment equipment, telecommunications and consumer goods sectors
Higher audience levels from strong ratings being maintained across all TV and radio properties, as well as from securing multi-platform rights
Investing in the best content, including more in-house productions
This section discusses certain principal business risks specifically related to the Bell Media segment. For a detailed description of the principal risks that could have a material adverse effect on our business, refer to section 9, Business risks.
AGGRESSIVE COMPETITION AND REGULATORY CHANGES

RISK

The intensity of competitive activity from traditional TV services, as well as from new technologies and alternative distribution platforms such as unregulated OTT content offerings, video on demand, personal video platforms and video services over mobile devices and the Internet, in combination with regulations that require all BDUs to make TV services available à la carte

POTENTIAL IMPACT

Adverse impact on the level of audience acceptance for Bell Media's TV services and on Bell Media's revenue streams

ADVERTISING REVENUE UNCERTAINTY

RISK

Advertising is heavily dependent on economic conditions and viewership, as well as on our ability to grow alternative advertising media such as digital and OOH platforms in the context of a changing and fragmented advertising market

POTENTIAL IMPACT

Economic uncertainty reduces advertisers' spending

Loss of advertising revenue as a result of the failure to capture our share of the changing and fragmented advertising market

RISING CONTENT COSTS AND ABILITY TO SECURE KEY CONTENT

RISK

Rising content costs, as an increasing number of domestic and global competitors compete for the same content, and the ability to secure key content to drive revenues and subscriber growth

POTENTIAL IMPACT

Rising programming costs could require us to incur unplanned expenses, which could result in negative pressure on adjusted EBITDA

Our inability to acquire popular programming content could adversely affect Bell Media's viewership and subscription levels and, consequently, advertising and subscription revenues