5.0 BUSINESS SEGMENT ANALYSIS - 5.1 Bell Wireless
5 Business segment analysis
In 2016, we delivered industry-leading financial performance through disciplined postpaid customer acquisition and retention, while achieving higher ARPU through increased smartphone adoption that drove accelerated mobile data usage.
Key elements of relevant strategic imperatives

2016 PROGRESS
Acquired 35% and 37% of total new postpaid gross and net activations, respectively, among the three national wireless carriers, while achieving leading service revenue, ARPU and adjusted EBITDA growth of 5.7%, 3.8% and 6.2%, respectively
Expanded the number of smartphone users at the end of 2016 to 83% of our total postpaid subscribers, up from 78% at the end of 2015
Increased the number of postpaid subscribers on our LTE network to 81% of our total postpaid subscribers, up from 68% at the end of 2015
Expanded our smartphone and tablet lineup with 30 new devices, including the iPhone 7 and 7 Plus from Apple, the Samsung Galaxy S7 and S7 edge, Google's Pixel and Pixel XL and the LG G5, adding to our extensive selection of 4G LTE and LTE-A capable devices
Launched VoLTE technology in Ontario, Atlantic Canada, parts of Québec and British Columbia, Yellowknife and Whitehorse for Bell customers with compatible smartphones. VoLTE enables faster call set up times, HD voice quality and the ability to switch seamlessly between voice and video during calls
Launched Roam Better International roaming feature that gives customers access to specialized rates while traveling, providing unlimited voice and text messages and an additional dedicated 100 MB of data usage for $10 a day in over 110 destinations across Europe, the Americas, Asia and the Middle East, Australia and South Africa
Launched a new portfolio of products and support services to make mobile communications more accessible for customers with speech, cognitive, physical, hearing and vision related disabilities, including the Doro 824 and 824C smartphones for customers with moderate visual needs, the Mobile Accessibility screen reader app to assist blind and low vision users, and Tecla by Komodo, a portable and hands free device that enables customers with physical upper body limitations to easily use smartphones and tablets without touching the screen
2017 FOCUS
Profitably grow our wireless postpaid subscriber base, while maintaining market share momentum of incumbent postpaid subscriber activations
Continue to increase ARPU
Offer the latest handsets and devices in a timely manner to enable customers to benefit from ongoing technological improvements by manufacturers and from faster data speeds to optimize the use of our services
Continue to increase the number of postpaid smartphone subscribers using our 4G LTE and LTE-A networks
Expand VoLTE technology coverage areas and broaden rollout to more supported devices
Accelerate new revenue streams by continuing to drive the commercialization of IoT services and applications

2016 PROGRESS
Expanded our 4G LTE wireless network to reach 97% of the Canadian population coast to coast
Continued the rollout of our Dual-band LTE-A wireless network, providing service to 73% of the Canadian population at data speeds of up to 260 Mbps (expected average download speeds of 18 to 74 Mbps). In addition, Tri-band LTE-A wireless service, enabled by aggregating PCS, AWS-1 and 700 MHz spectrum, that delivers mobile data speeds of up to 335 Mbps (expected average download speeds of 25 to 100 Mbps), was launched in a number of cities and areas, including in Halifax, Fredericton, Moncton, Saint John, Sydney, St. John's, Toronto, Hamilton, Oakville, London, Kitchener-Waterloo, Niagara Falls, Muskoka Lakes, Sudbury, Sarnia, Trois-Rivières and Chicoutimi
Bell's 4G LTE wireless network was ranked as the fastest mobile LTE network in Canada by PCMag
According to Nielsen Consumer Insights, more Canadians chose Bell as having the best mobile network in Canada
Conducted the first Canadian trials of 5G mobile technology in collaboration with Nokia Corporation, leveraging spectrum in the 73 GHz range to achieve sustained data speeds more than six times faster than top 4G mobile speeds now available in Canada
2017 FOCUS
Complete our 4G LTE wireless network build to 99% of the Canadian population and manage wireless network capacity
Expand LTE-A coverage to reach approximately 83% of the Canadian population
Increase LTE-A speeds up to 560 Mbps in select areas through four-carrier aggregation (expected average download speeds of 41 to 166 Mbps)
Increase small cell deployment and in-building coverage to increase urban densification

2016 PROGRESS
The CCTS received 18% fewer complaints about Bell and Virgin Mobile between August 1, 2015 and July 31, 2016 than during the equivalent period of the previous year, continuing the steady decline in Bell and Virgin Mobile complaints since July 2013
Reduced customer calls to our service centres by 4 million in 2016 due to more self-serve online transactions by customers and overall operational improvements. Online self-serve visits, infoviews and transactions totalled more than 190 million, an increase of 30 million over 2015.
2017 FOCUS
Continue to invest in customer service initiatives to simplify complexity for all customers, including billing
Further reduce the total volume of customer calls to our call centres
Further improve customer satisfaction scores
Achieve better consistency in customer experience
Continue to improve customer personalization

2016 PROGRESS
Delivered cost savings from ongoing service improvements
2017 FOCUS
Capture operating cost and capital expenditure synergies from the integration of MTS following the completion of the acquisition by BCE
Deliver cost savings from ongoing service improvements
Financial performance analysis
2016 PERFORMANCE HIGHLIGHTS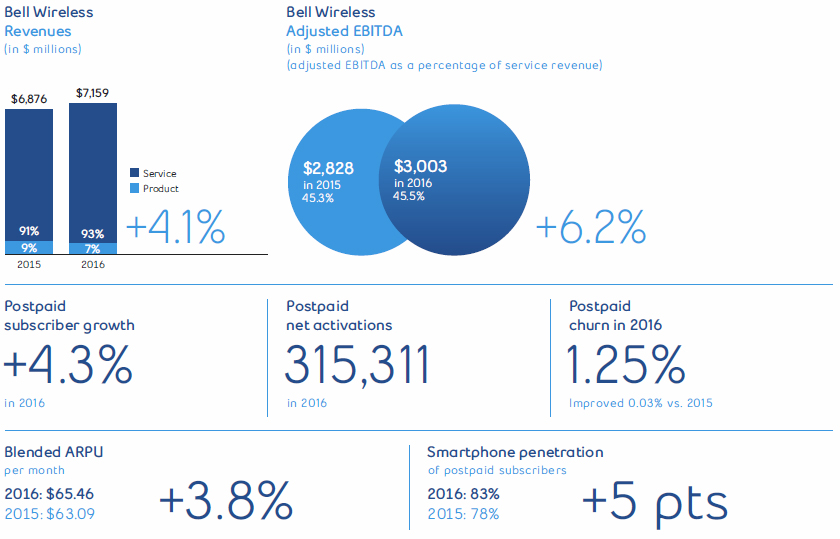 BELL WIRELESS RESULTS
REVENUES
| | | | | | | | | |
| --- | --- | --- | --- | --- | --- | --- | --- | --- |
| | 2016 | | 2015 | | $ CHANGE | | % CHANGE | |
| Service | 6,602 | | 6,246 | | 356 | | 5.7 | % |
| Product | 515 | | 590 | | (75 | ) | (12.7 | %) |
| Total external revenues | 7,117 | | 6,836 | | 281 | | 4.1 | % |
| Inter-segment revenues | 42 | | 40 | | 2 | | 5.0 | % |
| Total Bell Wireless revenues | 7,159 | | 6,876 | | 283 | | 4.1 | % |
Bell Wireless operating revenues grew by 4.1% in 2016, compared to last year, as a result of higher service revenues, partly offset by lower product revenues.
Service revenues grew by 5.7% in 2016, compared to last year, driven by a larger postpaid subscriber base along with blended ARPU growth. The increase in blended ARPU reflected higher average monthly access rates due to the continued shift by customers from three-year plans to two-year plans, as well as greater smartphone penetration and a growing base of postpaid LTE and LTE-A customers in our subscriber mix which continued to drive growth in data consumption. The year-over-year growth in service revenues was moderated by lower wireless voice revenues, due mainly to increased adoption of all-inclusive rate plans, and the ongoing substitution for data applications.
Product revenues decreased by 12.7% in 2016, compared to last year, primarily due to greater promotional offers as a result of a very competitive marketplace, as well as a fewer number of device upgrades, moderated in part by higher gross activations and a greater proportion of more expensive smartphone devices in our sales mix
OPERATING COSTS AND ADJUSTED EBITDA
| | | | | | | | | |
| --- | --- | --- | --- | --- | --- | --- | --- | --- |
| | 2016 | | 2015 | | $ CHANGE | | % CHANGE | |
| Operating costs | (4,156 | ) | (4,048 | ) | (108 | ) | (2.7 | %) |
| Adjusted EBITDA | 3,003 | | 2,828 | | 175 | | 6.2 | % |
| Total adjusted EBITDA margin | 41.9 | % | 41.1 | % | | | 0.8 | % |
| Adjusted EBITDA margin (service revenues) | 45.5 | % | 45.3 | % | | | 0.2 | % |
Bell Wireless operating costs increased 2.7% in 2016, compared to last year, as a result of:
Higher customer retention spending mainly attributable to greater promotional pricing in a very competitive marketplace coupled with a greater proportion of more expensive premium smartphone devices in our upgrade mix. This increase was partially offset by lower year-over-year subsidized upgrade volumes as 2015 was impacted by the double cohort which drove greater activity in the marketplace.
Increased subscriber acquisition costs driven by higher year-over-year gross activations, higher sales of more expensive smartphones, greater promotional pricing due to a very competitive marketplace and a larger proportion of postpaid gross activations in our activation mix
Higher bad debt expense generated by increased revenues
Higher network operating costs driven by LTE and LTE-A network expansion and increased usage
Increased payments to other carriers resulting from higher data usage volume
These factors were offset partly by labour savings driven by lower call volumes to customer service centres.
Bell Wireless adjusted EBITDA was up 6.2% in 2016, compared to last year, as the growth in operating revenues more than offset the greater investment in customer retention and higher subscriber acquisition costs. This resulted in a modest increase to adjusted EBITDA margin, based on wireless service revenues, of 45.5% in 2016 compared to 45.3% achieved last year.
BELL WIRELESS OPERATING METRICS
| | | | | | | | | |
| --- | --- | --- | --- | --- | --- | --- | --- | --- |
| | 2016 | | 2015 | | CHANGE | | % CHANGE | |
| Blended ARPU ($/month) | 65.46 | | 63.09 | | 2.37 | | 3.8 | % |
| Gross activations | 1,654,882 | | 1,600,147 | | 54,735 | | 3.4 | % |
| Postpaid | 1,408,030 | | 1,338,141 | | 69,889 | | 5.2 | % |
| Prepaid | 246,852 | | 262,006 | | (15,154 | ) | (5.8 | %) |
| Net activations | 223,041 | | 127,203 | | 95,838 | | 75.3 | % |
| Postpaid | 315,311 | | 265,369 | | 49,942 | | 18.8 | % |
| Prepaid | (92,270 | ) | (138,166 | ) | 45,896 | | 33.2 | % |
| Blended churn % (average per month) | 1.44 | % | 1.51 | % | | | 0.07 | % |
| Postpaid | 1.25 | % | 1.28 | % | | | 0.03 | % |
| Prepaid | 3.13 | % | 3.32 | % | | | 0.19 | % |
| Subscribers | 8,468,872 | | 8,245,831 | | 223,041 | | 2.7 | % |
| Postpaid | 7,690,727 | | 7,375,416 | | 315,311 | | 4.3 | % |
| Prepaid | 778,145 | | 870,415 | | (92,270 | ) | (10.6 | %) |
| Cost of acquisition (COA) ($/subscriber) | 494 | | 467 | | (27 | ) | (5.8 | %) |
Blended ARPU of $65.46 increased by 3.8% in 2016 compared to last year. The increase was driven by growth in postpaid ARPU as a result of a greater percentage of customers on higher-rate two year plans, along with a greater mix of postpaid customers with smartphones and other data devices in our total subscriber base, resulting in greater data consumption from e-mail, web browsing, social networking, text messaging, mobile TV, picture and video messaging, as well as entertainment services such as video streaming, music downloads and gaming. The higher speeds enabled by the continued expansion of our 4G LTE and LTE-A networks also drove greater data consumption which further contributed to the growth in blended ARPU. This was moderated by the impact of richer plans with higher data usage thresholds, unlimited local and long distance calling and a greater mix of shared plans.
Total gross wireless activations increased by 3.4% in 2016, compared to last year, reflecting a higher number of postpaid gross activations, while prepaid gross activations declined year over year.
Postpaid gross activations increased by 5.2% in 2016, compared to last year, reflecting the continued effectiveness of our promotional activities despite ongoing competitive pressures and a maturing wireless market
Prepaid gross activations decreased by 5.8% in 2016, compared to last year, due to our continued focus on postpaid customer acquisitions
Smartphones as a percentage of postpaid subscribers was 83% at December 31, 2016 compared to 78% at the end of the same period last year.
Blended wireless churn improved by 0.07% in 2016, compared to the prior year, driven by both lower postpaid and prepaid churn. The improvement was mainly attributable to a greater percentage of postpaid subscribers in our total subscriber base compared to last year, as postpaid customers typically have a lower churn rate than prepaid customers, and also reflected the favourable impact of our ongoing investment in customer retention.
Postpaid churn improved by 0.03% in 2016 to 1.25%, compared to 2015, due to greater activity in the marketplace last year as a result of the double cohort that began in June 2015. Our ongoing investment in customer retention and improved customer service also contributed to the improvement in churn.
Prepaid churn improved by 0.19% in 2016, compared to last year, to 3.13%, as a result of fewer customer deactivations compared to 2015
Postpaid net activations increased by 18.8% in 2016, compared to last year, due to higher gross activations offset partly by higher customer deactivations.
Prepaid net customer losses improved by 33.2% in 2016, compared to last year, driven by fewer customer deactivations, partially offset by lower gross activations.
Wireless subscribers totalled 8,468,872  at December  31, 2016, representing an increase of 2.7% since the end of 2015. The proportion of Bell Wireless customers subscribing to postpaid service increased to 91% in 2016 from 89% in 2015.
COA per gross activation increased year over year by $27 to $494 in 2016, reflecting the impact of a higher proportion of postpaid customers in our activation mix, combined with higher handset prices due to the sale of more expensive premium smartphones and a weak Canadian dollar, as well as greater promotional offers driven by a highly competitive market.
Retention costs as a percentage of service revenue increased to 13.2% in 2016 compared to 12.6% in 2015. The increase in retention costs in 2016 was mainly attributable to the ongoing shift to more expensive smartphone models in our upgrade mix and greater promotional pricing driven by a very competitive market, offset in part by a lower number of subsidized upgrades in 2016 given that 2015 was impacted by the double cohort which drove greater activity in the marketplace.
Competitive landscape and industry trends
COMPETITIVE LANDSCAPE
The wireless market is the largest sector of the Canadian telecommunications industry, representing 49% of total revenues, and is currently growing at a mid-single digit rate annually.
There are over 30 million wireless subscribers in Canada. The market is highly competitive among three well-established national competitors as well as a number of regional competitors. Rogers holds the largest share by virtue of its legacy global system for mobile communications (GSM) network. However, Bell has had significant success winning subscribers as well as the largest proportion of industry revenue and adjusted EBITDA growth since 2009, helped by the launch of our HSPA+, 4G LTE and LTE-A networks, expanded retail distribution, the purchase of Virgin Mobile, a refreshed brand and improved customer service.
In March 2016, the Western Canada-based cable TV company, Shaw Communications Inc. (Shaw), completed its previously announced acquisition of WIND Mobile, effectively making Shaw the fourth wireless carrier in British Columbia, Alberta and Ontario. Shaw rebranded WIND Mobile as Freedom Mobile in November 2016. Vidéotron Ltée (Vidéotron) continues to operate as a regional facilities-based wireless service provider in Québec, and Eastlink in Atlantic Canada. These cable TV-based wireless providers, in addition to provincial carriers in Manitoba and Saskatchewan, represent fourth carriers in their respective markets.
Canada's wireless penetration was approximately 83% at the end of 2016, compared to 116% for the U.S. and as high as 180% in certain countries in Europe. Canada's wireless sector is expected to continue growing at a steady pace for the foreseeable future, driven by the increasing usage of data services, the ongoing adoption of more capable smartphones and tablets and the further expansion of LTE-A network service enabled by the aggregation of multiple channels of wireless spectrum.
Large facilities-based national wireless service providers Rogers and TELUS Corporation (TELUS)
Smaller facilities-based wireless service provider Freedom Mobile(1), which currently provides service in Toronto, Calgary, Vancouver, Edmonton and Ottawa, as well as in several communities in southwestern Ontario
Regional facilities-based wireless service providers Vidéotron, which provides service in Montréal and other parts of Québec; Saskatchewan Telecommunications Holding Corporation (SaskTel), which provides service in Saskatchewan; MTS Mobility(2), which provides service in Manitoba; and Eastlink, which launched service in Nova Scotia and Prince Edward Island in February 2013
Mobile virtual network operators (MVNOs), who resell competitors' wireless networks, such as PC Mobile
Canadian wireless market share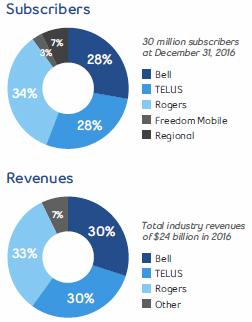 KEY WIRELESS METRICS – SHARE FOR NATIONAL CARRIERS(3)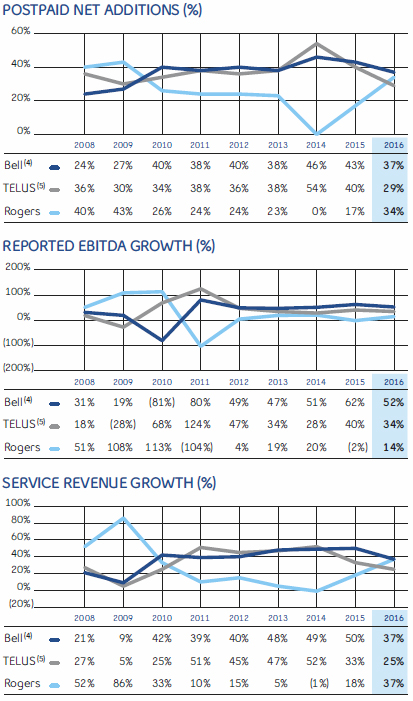 Shaw completed its acquisition of WIND Mobile on March 1, 2016 and rebranded the service as Freedom Mobile in November 2016.
(2)
BCE expects to complete the acquisition of MTS on March 17, 2017. See section 1.3, Key corporate developments, for more details.
(3)
Percentages may not add to 100 due to rounding.
(4)
Bell metrics shown include Bell Aliant Inc. as of 2015.
(5)
TELUS metrics shown include Public Mobile Inc. as of 2015.
INDUSTRY TRENDS
ACCELERATING DATA CONSUMPTION
Wireless data growth continues to be driven by the ongoing adoption of smartphones and tablets, and associated data plans. The demand for wireless data services is expected to continue to grow, due to ongoing investment in faster network technologies, such as 4G LTE and LTE-A, that provide a richer user experience, a larger appetite for mobile connectivity and social networking, greater selection of smartphones and tablets, as well as increasing adoption of shared plans with multiple devices by families. Greater customer adoption of data services, including mobile TV, data roaming for travel, mobile commerce, mobile banking, and other IoT applications in the areas of retail and transportation (connected car, asset tracking, and remote monitoring) should also contribute to the growth. In the consumer market, IoT is projected to be a future growth area for the industry as wireless connectivity on everyday devices, from home automation to cameras, becomes ubiquitous.
NEED FOR MORE WIRELESS SPECTRUM AND CARRIER AGGREGATION
Fast growth in mobile data traffic is increasingly putting a strain on wireless carriers' networks and their ability to manage and service this traffic. Industry Canada's 700 MHz, Advanced Wireless Services-3 (AWS-3), and 2500 MHz spectrum auctions that concluded in 2014 and 2015 provided wireless carriers with prime spectrum to roll out faster next-generation wireless networks and build greater capacity. Furthermore, carrier aggregation is a technology currently being employed by Canadian wireless carriers (and which is expected to be used more extensively in the future) that allows for multiple spectrum channels to be used together, thereby significantly increasing capacity and data transfer rates.
GREATER SPENDING ON CUSTOMER RETENTION
As wireless penetration in Canada increases further, together with a growing number of off-contract subscribers and a continued high level of competitive intensity, even greater focus will be required to improve customer service, enhance existing service offerings and spend on upgrading more customers to new devices. In particular, as a result of the Wireless Code, which has limited wireless contract terms to two years from three years previously, a higher level of transactional market activity is expected as a result of a growing number of customers who will be eligible to renew their plans or change carriers. However, as the number of customer contract migrations from three-year to two-year contracts slows down, ARPU growth is expected to moderate.
Business outlook and assumptions
2017 OUTLOOK
We expect continued revenue growth driven by a greater number of postpaid subscribers and higher ARPU. We expect ARPU to continue to increase, but at a slower pace, as the market continues to mature, driven by the flow-through of access rate increases implemented in January 2016, higher-rate plan pricing for bring-your-own-device (BYOD) plans, a larger proportion of higher-rate plans in the revenue mix reflecting increased customer adoption of larger data buckets, accelerated data usage, and further growth in the proportion of postpaid subscribers in our overall customer base as we focus on maintaining our incumbent net additions market share in a disciplined and cost-conscious manner.
We will seek to achieve higher revenues from data growth, through the use of our HSPA+, 4G LTE and LTE-A networks, higher demand for services such as web browsing, music and video streaming and community portals such as Facebook and YouTube, as well as nascent services including mobile commerce and other IoT applications. Our intention is to introduce these new services to the market in a way that balances innovation with profitability.
We plan to deliver adjusted EBITDA growth in 2017 from continued solid revenue growth, which should be partly offset by higher subscriber acquisition and retention spending consistent with a sustained high level of competitive market activity.
ASSUMPTIONS
Maintain our market share of incumbent wireless postpaid subscriber activations
Continued adoption of smartphone devices, tablets and data applications, as well as the introduction of more 4G LTE devices and new data services
Higher subscriber acquisition and retention spending, driven by higher handset costs and more customer device upgrades, reflecting a higher number of off-contract subscribers due to earlier expiries under two-year contracts
Higher blended ARPU, driven by a higher postpaid smartphone mix, increased data consumption on 4G LTE and LTE-A networks, and higher access rates from price increases
Completion of the LTE network buildout to 99% of the Canadian population and expansion of the LTE-A network coverage to approximately 83% of the Canadian population
Ability to monetize increasing data usage and customer subscriptions to new data services
Ongoing technological improvements by handset manufacturers and from faster data network speeds that allow customers to optimize the use of our services
No material financial, operational or competitive consequences of changes in regulations affecting our wireless business
Increasing Canadian wireless industry penetration
Increasing customer adoption of smartphones, tablets and other 4G LTE devices to increase mobile data usage
Greater number of postpaid customers on our 4G LTE and LTE-A networks
Customer usage of new data applications and services
This section discusses certain principal business risks specifically related to the Bell Wireless segment. For a detailed description of the principal risks that could have a material adverse effect on our business, refer to section 9, Business risks.
REGULATORY ENVIRONMENT

RISK

Greater regulation of wireless services (e.g. more stringent regulation of wholesale roaming rates, additional mandated access to wireless networks, limitations placed on future spectrum bidding, and a more stringent Wireless Code for retail services)

POTENTIAL IMPACT

Greater regulation could limit our flexibility, influence the market structure, improve the business positions of our competitors and negatively impact the financial performance of our wireless business

AGGRESSIVE COMPETITION

RISK

The intensity of competitive activity from incumbent wireless operators, newer wireless entrants, non-traditional players and resellers

POTENTIAL IMPACT

Pressure on our adjusted EBITDA, ARPU, churn, COA and retention would likely result if competitors aggressively increase discounts for handsets and price plans, offer shared plans based on sophisticated pricing requirements or offer other incentives, such as new data plans or multi-product bundles, to attract new customers

MARKET MATURITY

RISK

Slower subscriber growth and smartphone penetration due to higher Canadian wireless penetration

POTENTIAL IMPACT

A maturing wireless market could challenge subscriber growth and put pressure on the financial performance of our wireless business