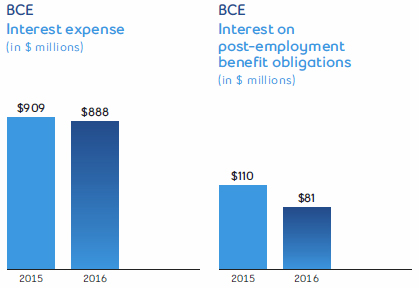 INTEREST EXPENSE
Interest expense in 2016 decreased by $21 million, compared to 2015, as a result of lower average interest rates, partly offset by higher average debt levels.
INTEREST ON POST-EMPLOYMENT BENEFIT OBLIGATIONS
Interest on our post-employment benefit obligations is based on market conditions that existed at the beginning of the year. On January 1, 2016, the discount rate was 4.2% compared to 4.0% on January 1, 2015.
In 2016, interest expense decreased by $29 million, compared to last year, due to a lower post-employment benefit obligation.
The impacts of changes in market conditions during the year are recognized in other comprehensive (loss) income (OCI).