4.8 Depreciation and amortization
4.8 Depreciation and amortization
The amount of our depreciation and amortization in any year is affected by:
How much we invested in new property, plant and equipment and intangible assets in previous years
How many assets we retired during the year
Estimates of the useful lives of assets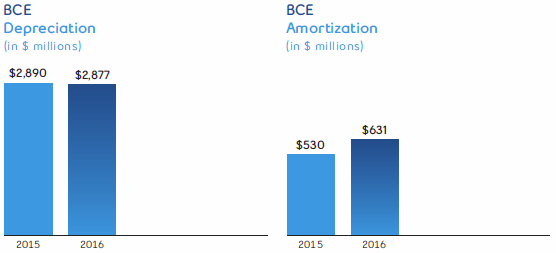 DEPRECIATION
Depreciation in 2016 decreased by $13 million, compared to 2015, due to an increase in the estimate of useful lives of certain assets as a result of our ongoing annual review process, partly offset by a higher depreciable asset base as we continued to invest in our broadband and wireless networks as well as our IPTV service. The changes to useful lives have been applied prospectively, effective January 1, 2016, as described in section 10.1, Our accounting policies – Critical accounting estimates and key judgments.
AMORTIZATION
Amortization in 2016 increased by $101 million compared to 2015 due mainly to a higher asset base.