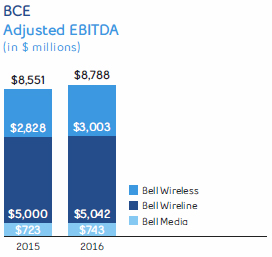 | | | | | | | | | |
| --- | --- | --- | --- | --- | --- | --- | --- | --- |
| | 2016 | | 2015 | | $ CHANGE | | % CHANGE | |
| Bell Wireless | 3,003 | | 2,828 | | 175 | | 6.2 | % |
| Bell Wireline | 5,042 | | 5,000 | | 42 | | 0.8 | % |
| Bell Media | 743 | | 723 | | 20 | | 2.8 | % |
| Total BCE adjusted EBITDA | 8,788 | | 8,551 | | 237 | | 2.8 | % |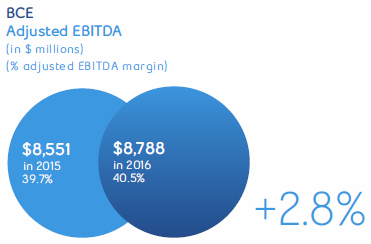 BCE
BCE's adjusted EBITDA was 2.8% higher in 2016, compared to prior year, driven by favourable year-over-year contributions from all three of our segments.
BCE's adjusted EBITDA margin increased by 0.8% to 40.5% in 2016, compared to 2015, resulting from growth in wireless, Internet, TV and media services revenue, disciplined cost containment at Bell Wireline, and savings from workforce reductions at Bell Media. This was moderated by the ongoing erosion in our traditional voice and legacy data services, greater wireless subscriber acquisition and customer retention spending and higher content and programming costs in our Bell Media and Bell Wireline segments.
BELL WIRELESS
Bell Wireless adjusted EBITDA grew by 6.2% in 2016, compared to 2015, reflecting growth in service revenues driven by a larger postpaid customer base and higher blended ARPU, partly offset by increased operating costs. This resulted in slightly higher year-over-year adjusted EBITDA margin, based on service revenues, of 45.5% in 2016 compared to 45.3% achieved in 2015.
BELL WIRELINE
Bell Wireline adjusted EBITDA increased by 0.8% in 2016, compared to last year, led by revenue growth from our Internet and TV businesses, disciplined cost containment, and lower post-employment benefit expense, tempered by the ongoing loss of higher-margin voice and legacy data service revenues, and the continued, but moderating, pressure in our business markets revenues.
BELL MEDIA
Bell Media adjusted EBITDA increased by 2.8% in 2016, compared to last year, as higher revenues along with labour reduction initiatives more than offset the increase in content and programming costs.