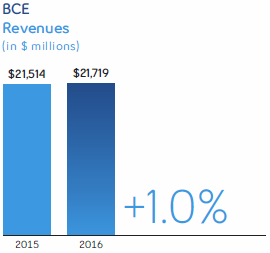 | | | | | | | | | |
| --- | --- | --- | --- | --- | --- | --- | --- | --- |
| | 2016 | | 2015 | | $ CHANGE | | % CHANGE | |
| Bell Wireless | 7,159 | | 6,876 | | 283 | | 4.1 | % |
| Bell Wireline | 12,104 | | 12,258 | | (154 | ) | (1.3 | %) |
| Bell Media | 3,081 | | 2,974 | | 107 | | 3.6 | % |
| Inter-segment eliminations | (625 | ) | (594 | ) | (31 | ) | (5.2 | %) |
| Total BCE operating revenues | 21,719 | | 21,514 | | 205 | | 1.0 | % |
BCE
Total operating revenues for BCE grew by 1.0% in 2016, compared to last year, as a result of solid growth from both our Bell Wireless and Bell Media segments, offset in part by a decline in our Bell Wireline segment. This was comprised of service revenues of $20,090 million, an increase of 1.7% compared to 2015, and product revenues of $1,629 million, a decline of 7.2% year over year.
BELL WIRELESS
Bell Wireless operating revenues were up 4.1% in 2016, compared to 2015, primarily due to service revenue growth of 5.7%, driven by a larger postpaid customer base coupled with the growth in blended ARPU. The year-over-year increase in blended ARPU was driven by the adoption of higher rate plans as customers continued to shift from three-year to two-year contracts, increased data usage from greater smartphone penetration and a growing base of postpaid LTE and LTE-A customers, which was moderated in part by the continued decline in voice revenues. Product revenues decreased by 12.7% in 2016, mainly as a result of greater promotional offers in a highly competitive marketplace, as well as a fewer number of device upgrades, moderated by a higher number of postpaid gross activations and a greater proportion of premium smartphone devices in our activation and upgrade mix.
BELL WIRELINE
Bell Wireline operating revenues decreased by 1.3% in 2016, compared to last year, attributable to the ongoing erosion in our traditional voice and legacy data revenues in part reflecting the impact of continued slow economic growth in our business markets, the sale of a call centre subsidiary in September 2015, as well as lower revenues in our wholesale market, driven by significantly lower revised interim rates set by the CRTC for aggregated wholesale high-speed Internet access services. Higher acquisition and retention discounts in our residential market resulting from intense competitive pressures from cable operators, along with subscriber base declines in satellite TV, also contributed to the decrease in operating revenues. This was mitigated in part by the continued growth of Internet and IPTV subscribers, along with higher retail household ARPU, as well as the acquisition of Q9 in the fourth quarter of 2016.
BELL MEDIA
Bell Media operating revenues increased by 3.6% in 2016, compared to last year, due to higher subscriber revenues driven by Bell Media's expansion of TMN into a national pay TV service in March 2016, combined with increased revenues from CraveTV, our streaming service, and our TV Everywhere Go products. The growth in operating revenues was moderated by lower advertising revenues due to market softness in TV and radio, the non-recurrence of revenues generated in the second half of last year from the 2015 federal election, and the shift in advertising dollars to the principal broadcaster of the Rio 2016 Summer Olympic Games. The year-over-year decrease in advertising revenues was moderated by higher OOH advertising revenues primarily due to the Métromédia acquisition in January 2016 and new contract wins in 2016.