1.4 Capital markets strategy
1.4 Capital markets strategy
We seek to deliver sustainable shareholder returns through consistent dividend growth. That objective is underpinned by continued growth in free cash flow, a healthy level of ongoing capital investment in the business, a strong balance sheet and an investment-grade credit profile.
Dividend growth and payout policy

On February 2, 2017, we announced a 5.1%, or 14 cent, increase in the annualized dividend payable on BCE's common shares for 2017 to $2.87 per share from $2.73 per share in 2016, starting with the quarterly dividend payable on April 15, 2017. This represents BCE's 13th increase to its annual common share dividend, representing a 97% increase, since the fourth quarter of 2008.
The dividend increase for 2017 is consistent with BCE's common share dividend policy of a target payout between 65% and 75% of free cash flow. Our objective is to seek to achieve dividend growth while maintaining our dividend payout ratio(1) within the target range and balancing our strategic business priorities. BCE's dividend payout policy and the declaration of dividends are subject to the discretion of the BCE board of directors (BCE Board or Board) and, consequently, there can be no guarantee that BCE's dividend policy will be maintained or that dividends will be increased or declared.
We have a strong alignment of interest between shareholders and our management's equity-based long-term incentive compensation plan. The vesting of performance share units depends on the realization of our dividend growth policy, while stock options reflect our objective to increase the share price for our shareholders.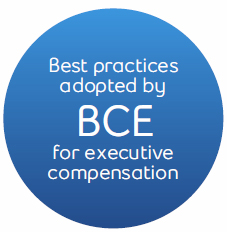 Stringent share ownership requirements
Emphasis on pay-at-risk for executive compensation
Double trigger change-in-control policy
Anti-hedging policy on share ownership and incentive compensation
Clawbacks for the President and CEO and all Executive Vice-Presidents as well as all option holders
Caps on all supplemental executive retirement plans (SERPs) and annual bonus payouts, in addition to mid-term and long-term incentive grants
Vesting criteria fully aligned to shareholder interests
Our dividend payout policy allows BCE to retain a high level of excess cash. Consistent with our capital markets objective to deliver sustainable shareholder returns through dividend growth while maintaining appropriate levels of capital investment, investment-grade credit ratings and considerable overall financial flexibility, we deploy excess cash in a balanced manner.
Uses of excess cash include, but are not limited to:
Voluntary contributions to BCE's defined benefit (DB) pension plans to improve the funded position of the plans and help minimize volatility of future funding requirements
Financing of strategic acquisitions and investments (including wireless spectrum purchases) that support the growth of our business
Debt reduction
Share buybacks through normal course issuer bid (NCIB) programs
In 2016, BCE's excess cash of $921 million, up 11.0% from $830 million in 2015, was directed towards a voluntary contribution to BCE's DB pension plans, the national expansion of TMN at Bell Media, and various acquisitions that support our strategic imperatives, including Q9.
Total shareholder return performance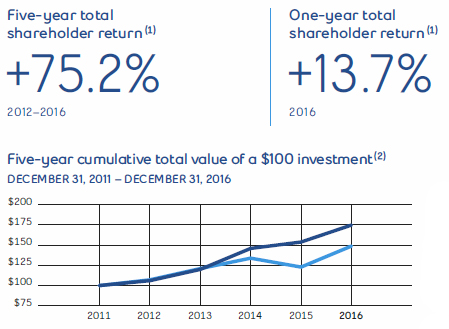 This graph compares the yearly change in the cumulative annual total shareholder return of BCE common shares against the cumulative annual total return of the S&P/TSX Composite Index(3), for the five-year period ending December 31, 2016, assuming an initial investment of $100 on December 31, 2011 and the quarterly reinvestment of all dividends.
| | |
| --- | --- |
| (1) | The change in BCE's common share price for a specified period plus BCE common share dividends reinvested, divided by BCE's common share price at the beginning of the period. |
| (2) | Based on BCE's common share price on the TSX and assumes the reinvestment of dividends. |
| (3) | As the headline index for the Canadian equity market, the S&P/TSX Composite Index is the primary gauge against which to measure total shareholder return for Canadian-based, TSX-listed companies. |
BCE's balance sheet is underpinned by considerable liquidity and an investment-grade credit profile, providing the company with a solid financial foundation and a high level of overall financial flexibility. BCE is well-positioned with an attractive long-term debt maturity profile and minimal near-term requirements to repay medium-term note (MTN) debentures. We continue to monitor the capital markets for opportunities where we can further reduce our cost of debt and our cost of capital. We seek to proactively manage financial risk in terms of currency exposure of our U.S. dollar-denominated purchases, as well as equity risk exposure under BCE's long-term equity-based incentive plans and interest rate and foreign currency exposure under our various debt instruments. We also seek to maintain investment-grade credit ratings with stable outlooks.
ATTRACTIVE LONG-TERM DEBT MATURITY PROFILE

Average term of Bell Canada's MTN debentures: 9.4 years

Average after-tax cost of MTN debentures: 3.33%

$350 million to $2,225 million of MTN debentures maturing annually over the next five years

STRONG LIQUIDITY POSITION

$0.9 billion available under our $3.5 billion multi-year committed credit facilities

$500 million accounts receivable securitization available capacity

$853 million cash and cash equivalents on hand at the end of 2016

FAVOURABLE CREDIT PROFILE

Long-term debt credit rating of BBB (high) by DBRS Limited (DBRS), Baa 1 by Moody's Investors Services Inc. (Moody's) and BBB+ by Standard & Poor's Ratings Services (Canada) (S&P), all with stable outlooks
The committed amount under Bell Canada's unsecured committed credit facilities was increased from $3.0 billion to $3.5 billion in December 2016, providing us with additional financing flexibility.
Bell Canada successfully accessed the capital markets in February 2016 and August 2016, raising a combined total of $2.25 billion in gross proceeds from the issuance 10-year and five-year MTN debentures. The August 2016 issuance of 10-year and five-year MTN debentures, which carry annual interest rates of 2.9% and 2.0%, respectively, represented the lowest coupon rates ever achieved by Bell Canada on any MTN issuance, reducing our after-tax cost of outstanding public debenture debt to 3.33% (4.56% on a pre-tax basis). The net proceeds of the 2016 offerings were used for the repayment of MTN debentures, to fund the acquisition of Q9 and for general corporate purposes.
In September 2016, Bell Canada renewed its MTN program, enabling it to offer up to $4 billion of MTN debentures from time to time until October 20, 2018. The MTN debentures will be fully and unconditionally guaranteed by BCE. Consistent with past practice, the MTN program was renewed to continue to provide Bell Canada with financial flexibility and efficient access to the Canadian and United States (U.S.) capital markets.
As a result of financing a number of strategic acquisitions made since 2010, including CTV Inc., Astral Media Inc. (Astral), MLSE, Bell Aliant Inc. and Q9, Bell Media's move to expand TMN into a national pay TV service and become the sole operator of HBO Canada, voluntary pension plan funding contributions to reduce our pension solvency deficit, wireless spectrum purchases, and the incremental debt that was assumed as a result of the privatization of Bell Aliant Inc., our net debt(1) leverage ratio(1) has, as shown in the table below, increased above the limit of our internal target range of 1.75 to 2.25 times adjusted EBITDA. That ratio is expected to improve over time and return within the net debt leverage ratio target range through growth in free cash flow and applying a portion of excess cash to the reduction of BCE's indebtedness.
As a result of a low after-tax cost of debt, owing to the consistent decline in interest rates over the past several years, our adjusted EBITDA to net interest expense ratio(1) has risen to its best level since 2010 at 9.31 times adjusted EBITDA. This is significantly above our internal target range of greater than 7.5 times adjusted EBITDA, providing good predictability in our debt service costs and protection from interest rate volatility for the foreseeable future.
| | | |
| --- | --- | --- |
| BCE CREDIT RATIOS | INTERNAL TARGET | DECEMBER 31, 2016 |
| Net debt leverage ratio | 1.75–2.25 | 2.57 |
| Adjusted EBITDA to net interest expense ratio | >7.5 | 9.31 |