We report the results of our operations in three segments: Bell Wireless, Bell Wireline and Bell Media. We describe our product lines by segment below, to provide further insight into our operations.
Our products and services
Bell Wireless
SEGMENT DESCRIPTION
Provides integrated digital wireless voice and data communications products and services to residential and business customers across Canada
Includes the results of operations of Bell Mobility Inc. (Bell Mobility) and wireless-related product sales from our wholly-owned subsidiary, national consumer electronics retailer, The Source (Bell) Electronics Inc. (The Source)
OUR NETWORKS AND REACH
We hold licensed national wireless spectrum, with holdings across various spectrum bands, totalling more than 4,500 million Megahertz (Mhz) per Population (MHz-pop), corresponding to a weighted-average of approximately 135 MHz-pop of spectrum across Canada.
The vast majority of our cell towers are connected by fibre, the latest in network infrastructure technology, for a more reliable connection.
We have deployed and operate a number of leading nationwide wireless broadband networks compatible with global standards that deliver high-quality and reliable voice and high-speed data services to virtually all of the Canadian population.
Fourth Generation (4G) Long-term Evolution (LTE) network launched in September 2011:

Provides mobile Internet data access speeds as fast as 150 megabits per second (Mbps) (typical speeds of 12 to 40 Mbps)
Covered 97% of the Canadian population coast to coast at December 31, 2016
Expansion of our LTE services supported by continued re-purposing of wireless spectrum to increase capacity and coverage
In-building coverage improvements to deliver a stronger LTE signal
Reverts to the High-speed packet access plus (HSPA+) network outside LTE coverage area, ensuring continuity of service
Supports international roaming in more than 100 destinations

LTE Advanced (LTE-A) network service launched in February 2015:

Dual-band LTE-A provides mobile Internet data access speeds as fast as 260 Mbps (expected average download speeds of 18 to 74 Mbps)
Tri-band LTE-A delivers speeds of up to 335 Mbps when using compatible devices (expected average download speeds of 25 to 100 Mbps)
Covered 73% of the Canadian population at December 31, 2016

HSPA+ network launched in November 2009:

Provides high-speed mobile access of up to 21 Mbps in most areas (typical speeds of 3.5 to 8 Mbps), and as high as 42 Mbps in areas with dual cell capability when using compatible devices (typical speeds of 7 to 14 Mbps)
Covered over 98% of the Canadian population coast to coast at December 31, 2016
Supports international roaming in more than 230 destinations

National third generation (3G) code division multiple access (CDMA) network, which we began decommissioning in 2014. The decommissioning is expected to be substantially completed in 2018.
Largest wireless fidelity (Wi-Fi) network across Canada:

Approximately 4,000 public Wi-Fi hotspots at participating McDonald's, Tim Hortons and Chapters/Indigo retail outlets across Canada, in addition to thousands of Wi-Fi networks managed through our business markets team at enterprise customer locations.

Approximately 2,500 retail points of distribution across Canada, including approximately 1,400 Bell-branded stores and The Source locations, Glentel-operated stores (WIRELESSWAVE, Tbooth wireless and WIRELESS etc.) as well as other third-party dealer and retail locations.
OUR PRODUCTS AND SERVICES
Voice and data plans: available on either postpaid or prepaid options, providing fast web access, social networking, messaging (text, picture and video), the latest mobile applications and a host of call features
Extensive selection of devices: including leading 4G LTE and LTE-A smartphones and tablets
Mobile Internet: Turbo Stick, Turbo Hub and mobile Wifi (MiFi) devices
Mobile TV: over 40 live and on-demand channels on smartphones and tablets
Travel: roaming services with other wireless service providers in more than 230 destinations worldwide, LTE roaming in over 100 destinations, Travel Passes and Roam Better International feature
Voice and Video over LTE (VoLTE): next generation of voice and video calling with faster call set up times, high-definition (HD) voice quality and ability to switch seamlessly between voice and video during calls
Internet of Things (IoT) solutions: fleet management, asset management, digital signage, wireless point-of-sale, remote monitoring, telematics
Mobile business solutions: push-to-talk, workforce management, worker safety, dispatch solutions, mobile device management
Bell Wireline
SEGMENT DESCRIPTION
Provides data, including Internet access and IPTV, local telephone, long distance, as well as other communications services and products to residential, small and medium-sized business and large enterprise customers, primarily in Ontario, Québec and the Atlantic provinces, while satellite TV service and connectivity to business customers are available nationally across Canada. We also offer competitive local exchange carrier (CLEC) services in Alberta and British Columbia
Includes the results of our wholesale business, which buys and sells local telephone, long distance, data and other services from or to resellers and other carriers, and the wireline operations of Northwestel Inc. (Northwestel), which provides telecommunications services in Canada's Northern Territories
Includes wireline-related product sales from The Source
OUR NETWORKS AND REACH
Extensive local access network in Ontario, Québec and the Atlantic provinces, as well as in Canada's Northern Territories
Largest fibre network in Canada, spanning over 196,000 Kilometres (km)
Broadband fibre network, consisting of fibre-to-the-node (FTTN) and fibre-to-the-premise (FTTP) locations, covering 8.3 million homes and businesses in Ontario, Québec and the Atlantic provinces
Largest Internet protocol (IP) multi-protocol label switching footprint of any Canadian provider, enabling us to offer business customers a virtual private network (VPN) service for IP traffic and to optimize bandwidth for real-time voice and TV
Largest data centre footprint in Canada with 27 locations in seven provinces, enabling us to offer data centre co-location and hosted services to business customers across Canada
Approximately 1,400 Bell-branded stores and The Source locations across Canada
OUR PRODUCTS AND SERVICES
RESIDENTIAL
TV: Bell Fibe TV (our IPTV service) and direct-to-home (DTH) satellite TV provide extensive content options with HD and 4K Resolution (4K) Whole Home personal video recorder (PVR), 4K Ultra HD programming and on-demand content. Our IPTV service also offers consumers innovative features, including the Fibe TV app, Fibe TV on Apple TV, Restart, Trending, access to CraveTV and Netflix and complete wireless set-up
Internet: high-speed Internet access through fibre optic broadband technology or digital subscriber line (DSL) with a wide range of options, including Home Hub all-in-one modem and Wi-Fi router, unlimited usage, a comprehensive suite of security solutions and mobile Internet. Our fibre optic Internet service, marketed as Fibe Internet, offers speeds up to 50 Mbps with FTTN or 1 Gigabit per second (Gbps) with FTTP.
Home Phone: local telephone service, long distance and advanced calling features
NextGen Home Security: a digital Internet-based service available in select locations in Atlantic Canada, providing home security and monitoring with next-generation automation capabilities, including remote management via web portal and mobile devices, appliance controls, and secure video monitoring
Bundles: multi-product bundles of TV, Internet and voice services with monthly discounts
BUSINESS
IP-based services: business Internet, IP VPN, point-to-point data networks and global network solutions
Business service solutions: hosting and cloud services, managed services, professional services and infrastructure services that support and complement our data connectivity services
Voice and unified communications: IP telephony, local and long distance, web and audio conferencing and e-mail solutions
Bell Media
SEGMENT DESCRIPTION
Canada's premier content creation company with leading assets in TV, radio, OOH advertising and digital media
Revenues are derived primarily from advertising and subscriber fees

Conventional TV revenue is derived from advertising
Specialty TV revenue is generated from subscription fees and advertising
Pay TV revenue is received from subscription fees
Radio revenue is generated from advertising aired over our stations
OOH revenues are generated from advertising
Digital media revenues are generated from advertising
OUR ASSETS AND REACH
TV
30 conventional TV stations, including CTV, Canada's highest-rated TV network based on viewership
30 specialty TV channels, including TSN, RDS, Canada's leading French-language specialty channel based on viewers aged 25-54, and Discovery, Canada's leading entertainment specialty channel based on viewers aged 25-54
Four national pay TV services, including The Movie Network (TMN) and Super Écran
RADIO
105 licensed radio stations in 54 markets across Canada
OOH ADVERTISING
Network of more than 30,000 advertising faces in British Columbia, Alberta, Ontario, Québec and Nova Scotia
DIGITAL MEDIA
More than 200 websites and over 30 apps
BROADCAST RIGHTS
Sports: Bell Media has secured long-term media rights to many of the key sports properties that are most important to Canadians, and is the official Canadian broadcaster of the Super Bowl, Grey Cup and International Ice Hockey Federation (IIHF) World Junior Championship. Bell Media's slate of live sports coverage also includes the Toronto Maple Leafs, Montréal Canadiens, Winnipeg Jets and Ottawa Senators, Canadian Football League (CFL), National Football League (NFL), National Basketball League (NBA), Major League Soccer (MLS), Fédération Internationale de Football Association (FIFA) World Cup events through to 2026, Season of Champions Curling, Major League Baseball (MLB), Premier League, Union of European Football Associations (UEFA) Champions League, UEFA Europa League, golf's major championships, Monster Energy NASCAR Cup Series, Formula 1, Formula E, Grand Slam Tennis, Ultimate Fighting Championship (UFC), National Collegiate Athletic Association (NCAA) March Madness and more.
HBO: long-term agreement to deliver all current-season, past-season and library HBO programming in Canada exclusively on our linear, on-demand and over-the-top (OTT) platforms
SHOWTIME: long-term content licensing and trademark agreement for past, present and future SHOWTIME-owned programming
iHeartRadio: exclusive partnership for digital and streaming music services in Canada
OTHER ASSETS
50% interest in Dome Productions Partnership, one of North America's leading providers of sports and other event production and broadcast facilities
OUR PRODUCTS AND SERVICES
Varied and extensive array of TV programming to broadcast distributors across Canada
Advertising on our TV, radio, OOH, and digital media properties to both local and national advertisers across a wide range of industry sectors
CraveTV subscription on-demand TV streaming service offering a large collection of premium content in one place, including HBO and SHOWTIME programming, on set-top boxes (STBs), mobile devices and online. CraveTV is offered through a number of Canadian TV providers and is available directly to all Canadian Internet subscribers as an OTT service.
TV Everywhere services, including CTV GO, Discovery GO, TMN GO, TSN GO, and RDS GO which provide live and on-demand content delivered over mobile and Wi-Fi networks to smartphones, tablets and computers
Mobile TV service with live and on-demand access to content from our conventional TV networks, CTV and CTV Two, BNN, TSN, RDS, Comedy and other brands in news, sports and entertainment. This mobile content is offered on commercial terms to all Canadian wireless providers.
Other BCE investments
BCE also holds investments in a number of other assets, including:
a 28% indirect equity interest in MLSE, a sports and entertainment company that owns several sports teams as well as real estate and entertainment assets in Toronto
a 50% indirect equity interest in Glentel, a Canadian-based dual-carrier, multi-brand mobile products distributor
an 18.4% indirect equity interest in entities that operate the Montréal Canadiens Hockey Club and the Bell Centre in Montréal
a 50% indirect equity interest in the Argos
EMPLOYEES
At the end of 2016, our team included 48,090 employees dedicated to driving shareholder return and improving customer service.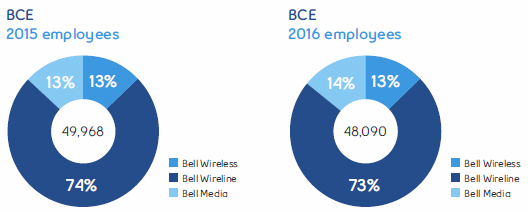 The total number of BCE employees at the end of 2016 decreased by 1,878 employees compared to the end of 2015, due primarily to workforce reductions across our Bell Wireline and Bell Wireless segments attributable to normal attrition, retirements and productivity improvements.
Approximately 44% of total BCE employees are represented by labour unions.
BELL CODE OF BUSINESS CONDUCT
The ethical business conduct of our people is core to the integrity with which we operate our business. The Bell Code of Business Conduct sets out specific expectations and accountabilities, providing employees with practical guidelines to conduct business in an ethical manner. Our commitment to the Code of Business Conduct is renewed by employees each year in an ongoing effort to ensure that all employees are aware of, and adhere to, Bell's standards of conduct.