Improve
customer
service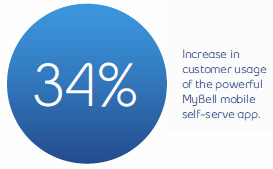 Bell is transforming the service experience by simplifying the way we interact with our customers across a full range of communications services.
With close to 21 million customer connections – more than any other communications company in Canada – our strategy to improve satisfaction includes investing $850 million since 2012 in better tools and training for our call centre representatives and field technicians, improving our online self-serve tools and processes, and helping to ensure customers are connected faster.
Simplifying the customer experience
We appreciate that every customer's time is valuable. That's why Bell developed innovative new tools like Manage Your Appointment in 2016 that not only lets customers confirm their service call, but also provides key information including the technician's name and approximate arrival time. In addition, technicians can now access a customer's account history directly on their mobile device, further reducing the time it takes to connect to our services.
In 2016 Bell technicians arrived right on time for 97% of appointments, helping to drive a record 95% customer satisfaction rate. Our investments in service, along with process improvements in installation, mean we can reach customers faster with most service appointments now scheduled within 2 days of placing an order.
Business customers also benefited from service enhancements. By improving dispatch processes, we were able to deliver same day service for small businesses 73% of the time by the end of 2016, a 98% improvement since 2014. Because it's crucial for our business customers to get up and running quickly, Bell has dedicated pages on Bell.ca for small business and enterprise clients, connecting customers directly to one of Bell's specially trained business experts.
A simpler self-serve experience
As Canadians increasingly manage their services and pay their bills over a mobile device, our enhanced self-serve options give our customers more control over their accounts than ever before.
Users of the MyBell app can access a redesigned and simplified bill any time, track their data use, pay a bill or change account features, including travel add-ons like Roam Better.
For Mobility customers, Bell revamped our entire welcome strategy from the time of sale to beyond the first bill in order to make sure customers have the easiest way to get the right information at the right time.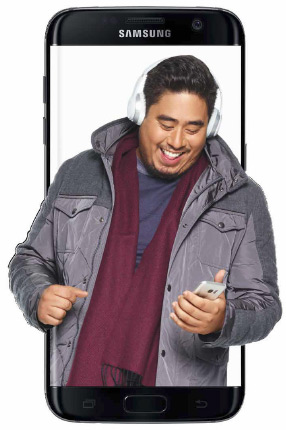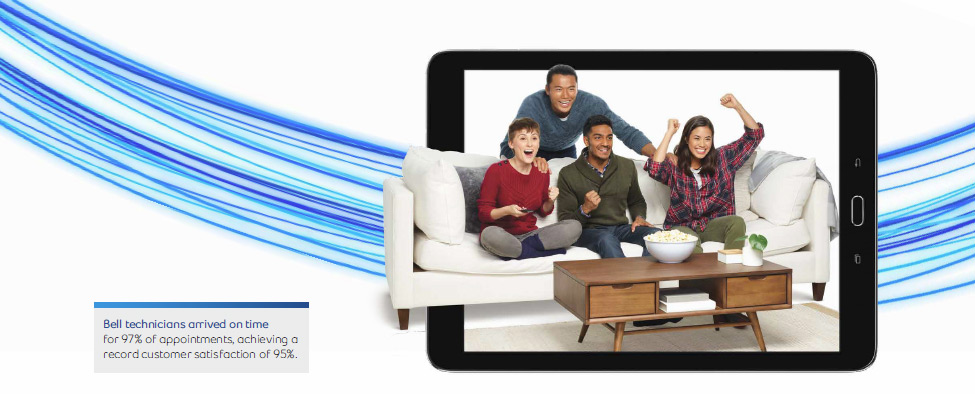 This covers everything from an in-store checklist to the Bell Mobility Interactive tour – a customized video for new wireless customers explaining their first bill, how to check usage, and how to add new features.
These innovations are generating positive results. Transactions on our MyBell app increased 34% compared to last year while the volume of calls to our service centres fell by 4 million.
This not only reduces the costs of serving a growing customer base, it also enables our representatives to spend more time with the customers who call in.
A further measure of our progress is a reduction of complaints lodged with the federal Commissioner for Complaints for Telecommunications Services (CCTS). After a steady decline in complaints in each of the last 3 years, in 2016, complaints to CCTS about Bell fell 18%.
Meeting the needs of all our customers
Bell has taken steps over the past several years to make it easier for Canadians with physical, speech, cognitive, hearing, and vision-related challenges to access our advanced communications products and services. In 2016, we upgraded our Accessibility Services Centre on Bell.ca, with improved navigation when using screen readers and keyboards. The site meets internationally recognized Web Content Accessibility Guidelines and also features a new mobile device selector, making it easier to find devices with specific accessibility features such as hearing aid compatibility and screen magnification.
There's also the Mobile Accessibility app, a screen reader app to assist low-vision and blind users that's complimentary for all Bell Mobility customers with an Android device. To support Canadians who are deaf or hard of hearing, Bell introduced a dedicated wireless rate plan that eliminates unnecessary voice minutes.
Bell has invested approximately $25 million in accessibility initiatives such as Text with 9-1-1 service, enabling customers with speech or hearing impairment to communicate with emergency services, and Video Relay Service (VRS), which facilitates real-time sign-language interpretation of telephone conversations.
Expanding our reach
Bell is continuing to expand and enhance our network of retail outlets which includes about 1,400 Bell-branded stores and The Source locations across the country, plus several hundred locations of Glentel, 50% owned by Bell, operating under such brands as WIRELESSWAVE and WAVE SANS FIL.
With highly trained front-line retail staff and ongoing enhancements to store design, including a recent upgrade to the accessories section at Bell's flagship store at the Toronto Eaton Centre, our retail customer experience is unparalleled.
Improving customer service is critical to achieving Bell's goal of being recognized by customers as Canada's leading communications company. Our results show that customers are embracing our online self-serve and mobile apps, making fewer calls to our service centres and are more satisfied than ever before. We're committed to building on our strong service momentum in 2017.