Expand
media
leadership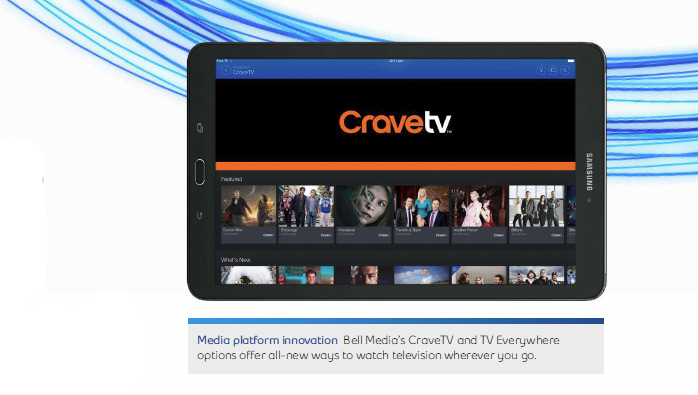 Bell Media is leveraging the scale of its cross-country media assets, innovation in emerging media platforms, and the best content from Canada and around the world to break new ground in multimedia communications.
The largest media company in Canada and an important part of communities nationwide, Bell Media operates the country's widest range of broadcasting and other media assets: Canada's largest private TV broadcaster with 30 conventional stations including CTV, the most-watched network in the country; 34 specialty and pay TV channels; 105 radio stations in 54 markets across the nation, tuned in by 17.1 million listeners for 77 million hours a week; the leading Canadian digital media properties, including TSN.ca and CTV.ca; and Astral Out of Home, with more than 30,000 advertising faces in strategic locations across Canada.
For the 13th straight fall season, CTV was the #1 network among total viewers and all key adult demographics with 10 of the top 20 programs, more than all other competing networks combined, and Canada's top newscast: CTV National News with Lisa LaFlamme.
Bell Media's specialty and pay TV properties were reaching 83% of English specialty and pay TV viewers in the average week at year end, with 12 of the top 20 programs among key adult viewers. TSN, Discovery (the top entertainment specialty channel in primetime), Space and Bravo all ranked in the top 10 English-language specialty channels. Bell Media also launched Gusto in 2016, its first food and lifestyle specialty channel featuring an exclusive portfolio of original Canadian programming.
Committed to delivering the pay TV programming Canadians want the most, Bell Media became the sole provider of HBO Canada in 2016 and expanded the reach of The Movie Network (TMN) pay TV service nationally. We also partnered with 20th Century Fox to deliver first-run theatrical movies for TMN subscribers, and with Warner Brothers to stream many of the year's most-popular shows on CraveTV.
With a strong Québec presence, we also remain the leader in French-language specialty and pay TV, reaching 78% of all French-language TV viewers in the average week. We operate 5 of the top 10 French specialty and pay channels among key viewers: the RDS sports network, Canal D, Super Écran, Canal Vie and Z.
Sports programming continues to outperform across Bell Media's conventional and specialty TV, radio and digital platforms. In the last quarter of 2016, total primetime viewership for TSN was up 11% over last year as more viewers tuned in Toronto Raptors, NFL and CFL games. The Major League Soccer (MLS) playoffs featuring Toronto FC produced the 3 most-watched MLS games in Canadian TV history, with 1.3 million viewers for the final game. TSN extended its broadcast deal with MLS in 2016 for another 5 years.
The annual IIHF World Junior Championship is a traditional Canadian favourite on TSN and RDS, and 17.2 million individual Canadians – nearly 50% of the population – tuned in to watch coverage during the international hockey tournament's 11 days.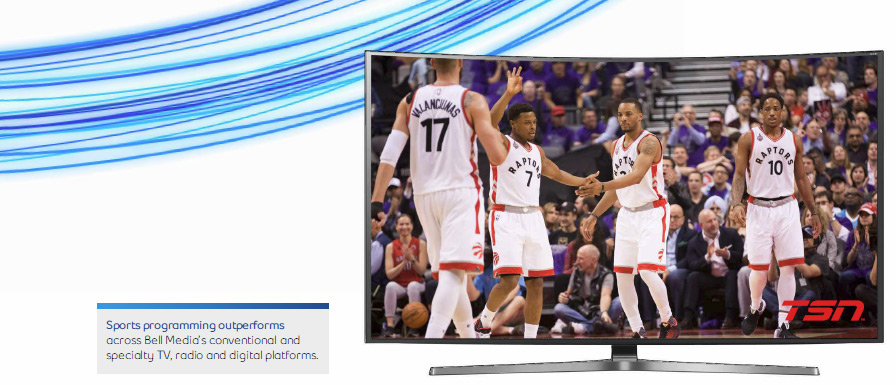 As with many segments of Canada's communications industry, the media landscape is changing dramatically as evolving technologies enable consumers to explore new viewing and listening options.
Bell Media has embraced the innovation opportunity with Canada's fast-growing video streaming service, CraveTV, and our TV Everywhere options, including CTV GO, TSN GO, RDS GO, Discovery GO and TMN GO, providing live and on-demand television content on smartphones, tablets and computers.
CraveTV's mix of much-loved shows from major studios and original Canadian content such as the hugely popular LETTERKENNY series is continuing to accelerate growth of the streaming service. Initially launched through multiple TV providers in 2014, CraveTV became available to all Canadians with an Internet connection in 2016, driving the subscriber base to more than one million during the year. We also made CraveTV available as an app for Apple TV viewers.
iHeartRadio Canada
In October 2016, Bell Media brought the highly successful iHeartRadio brand to Canada. Our digital iHeartRadio Canada service offers instant access to all of Bell Media's 105 radio stations across the country.
The free iHeartRadio Canada digital app adds more than 100 exclusive streaming channels featuring every musical genre as well as news/talk, sports and comedy offerings. By year end, the iOS and Android apps had been downloaded more than 600,000 times.
Astral Out of Home expansion
Astral Out of Home continued to expand its reach in 2016, beginning with the acquisition in January of Métromédia, which specializes in outdoor and digital advertising in Montréal subway stations, on city buses and in parking lots. The Astral team also won the exclusive rights to digital advertising at Toronto Pearson Airport, giving Bell a significant presence in 6 of Canada's largest international airports.
And in early 2017, Bell Media acquired Cieslok Media, a Canadian heavyweight in large-format outdoor advertising with 120 high-profile displays – including the country's biggest multimedia billboards at Yonge-Dundas Square in Toronto.
Bell Media excellence recognized
Bell Media's commitment to excellence in programming earned Bell Media and its partners 37 Canadian Screen Awards, alongside Bell Media's role in 19 film category wins.
Our ongoing leadership in creating and developing original Canadian content was reflected in awards for CTV National News with Lisa LaFlamme (best national news), CTV Vancouver (best local news), 19-2 (best drama), The Amazing Race Canada (best reality/competition series), Degrassi (best children's or youth series) and The Marilyn Denis Show (best talk).
TSN received more awards than any sports broadcaster, including best live sports event for the FIFA Women's World Cup.