Accelerate wireless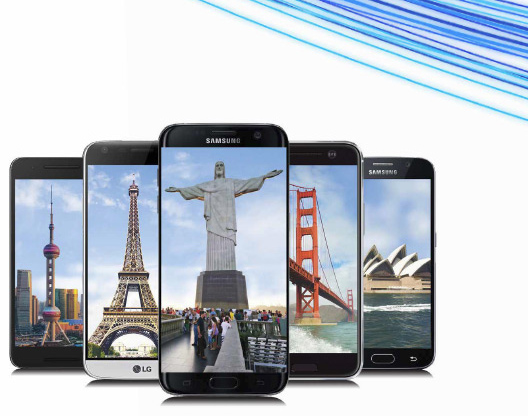 The fastest-ranked LTE network in the country took Bell wireless to the top of an intensely competitive mobile marketplace in 2016, leading the industry in net new postpaid customers, average revenue per customer, and growth in service revenue and adjusted EBITDA.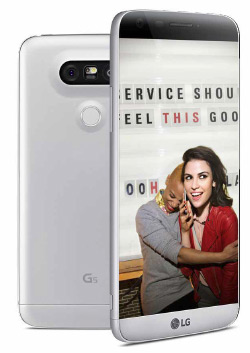 Top networks, product innovation and a focus on service are all critical to Bell's leadership in the Canadian wireless marketplace. Distribution strength is also key to growth and Bell operates approximately 1,400 Bell-branded stores and The Source locations across every province and territory, significantly more than our competitors.
At Bell, Virgin Mobile and The Source stores, plus hundreds of WIRELESSWAVE, WIRELESS etc. and Tbooth wireless locations operated by Glentel, customers have their choice of the latest generation of smartphones from Apple, Samsung, HTC, ZTE, Motorola, Google, BlackBerry, Novatel, Sony, Sonim, LG and Alcatel. Our customers can also access a wide variety of tablets and other devices designed for data services, including machine-to-machine (M2M) communications for business applications.
This sales and support network is backed up by a national customer care team enabled in 2016 by significant investments in IT support systems, training, simplified billing and our increasingly popular MyBell mobile self-serve app – which recorded more than 2.7 million transactions in 2016.
As the digital world becomes increasingly interconnected, our mobile customers are depending on their devices more than ever, and wherever they may travel.
In 2015, we introduced the popular Roam Better feature, which includes unlimited talk and text plus 100 MB of data per day for just $5 a day when in the US.
In 2016, we made Roam Better available for only $10 a day in 110 of the most popular destinations across Europe, the Caribbean, Bahamas, Bermuda, Mexico, Central and South America, Asia, Oceania, South Africa and the Middle East. Bell has our customers covered in more locations than any other Canadian competitor.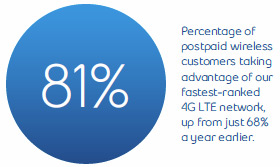 Bell Wireless delivered very strong financial results based on significant growth in new subscribers and ever-increasing mobile data usage as Canadians turn to their smartphones to manage their social interactions, finances, work and entertainment.
In 2016, we won the leading market share of net new postpaid subscribers among the top 3 competitors. For the full year, we added 315,311 net new postpaid customers, an 18.8% increase over the previous year. At the end of 2016, we served 7,690,727 postpaid customers, up 4.3% over 2015, and 8,468,872 including prepaid services.
At year end, 83% of our postpaid subscribers were using smartphones, up from 78% at the start of the year. Similarly, 81% were taking advantage of the faster speeds of our expanding 4G LTE networks, up from just 68% a year earlier.
With the outstanding speeds of our 4G LTE and LTE-A networks, Bell customers can unlock the full potential of their smartphones.
This has propelled wireless data use – up 37% in 2016 – for everything from texting, gaming and Web browsing to watching live programming on more than 40 channels offered by Bell Mobile TV.
As recently as 5 years ago, Bell's blended ARPU (combining both prepaid and postpaid customers) was approximately $5 a month lower than that of our nearest large competitor. By the end of 2016, we were generating higher usage and consequently more revenue per subscriber than either of our largest competitors.
Overall in 2016, Bell's wireless revenue growth of 4.1% and adjusted EBITDA growth of 6.2%, even in the face of intense competitive discounting and promotional efforts, led the Canadian industry.
As wireless continues to be the primary driver of growth in communications in Canada and globally, Bell is staying well ahead with ongoing network development and innovation.
For example, we successfully tested 5G wireless technology with Nokia in 2016, a first in Canada, achieving speeds more than 6 times faster than those available today. Expected to be commercially available in 4 to 6 years, 5G provides more capacity for mobile broadcast video and IoT applications, including connected vehicles and city-wide IoT solutions.