Message from the president and CEO
MESSAGE FROM THE PRESIDENT & CEO
Bell in the vanguard
of Canada's broadband
communications revolution
Bell continued to build on our position as Canada's broadband communications leader in 2016. We are investing in the most advanced networks and service innovations to lead in the marketplace and ensure Canada's competitiveness in a global digital economy, while delivering consistent dividend growth to you, the shareholders who have invested in Bell's broadband strategy.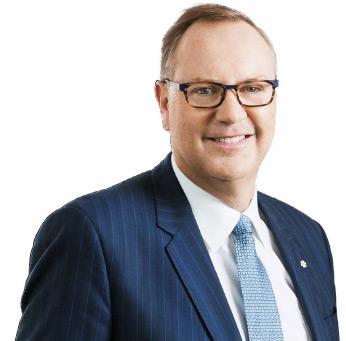 Each day and around the clock, the Bell team works to deliver world-class network performance, exclusive new products and an enhanced service experience to Canadians in every province and territory. In a highly competitive and fast changing communications sector, Bell continues to set the pace through our dedication to a clear goal – for Bell to be recognized by customers as Canada's leading communications company.
To achieve our goal, Bell executes a strategy focused on delivering the best wireless, TV, Internet and media growth services in the most timely and efficient manner possible, an approach framed by our 6 Strategic Imperatives:
Invest in broadband networks and services
Accelerate wireless
Leverage wireline momentum
Expand media leadership
Improve customer service
Achieve a competitive cost structure
Ours is a strategy that reflects both the challenges of our dynamic industry and the clear opportunities for innovation and growth in Canadian communications. And the Bell team is delivering.
Innovation first with Bell
A growing Gigabit Internet footprint delivering the fastest access speeds to consumers and businesses, and an LTE wireless network ranked as the fastest in Canada and significantly faster than US networks. Exclusive Fibe TV features like Restart and Trending, and innovations like the first wireless Whole Home PVR, the Fibe TV app and Apple TV connectivity. Compelling Canadian content and the most-loved TV and radio channels. A network of all-Canadian data hosting centres able to take on global heavyweights like Microsoft and Google, further strengthened in 2016 with the addition of Q9 Networks.
These are the kinds of leading innovations delivered by Bell's broadband investment strategy. In 2016, we achieved outstanding usage growth in Internet and wireless data, driven in large part by the surging use of video across our networks on multiple consumer and business platforms. Our significant lead in IPTV technology versus our cable competitors continued to propel our revolutionary Fibe TV service in the marketplace, while the popularity of Canada's video streaming service, CraveTV from Bell Media, further accelerated.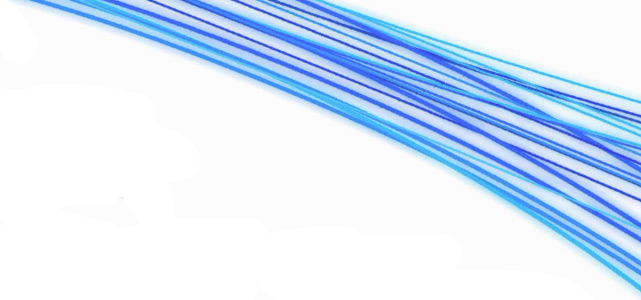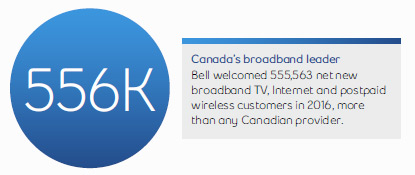 Behind these millions of glowing screens lie the high-speed, high-capacity Bell networks that are on par with the best in the world. With access to the latest technology available from around the globe and a commitment to be in the vanguard of broadband product development in Canada, our capital expenditures in network infrastructure and R&D reached $3.77 billion in 2016. Bell is connecting communities at speeds never experienced before, fuelling Canadian innovation, and creating jobs in the digital economy.
Backed by continuous improvement in service and support, including high levels of satisfaction with our technician teams, Bell's network leadership enabled us to outperform in the marketplace with unprecedented broadband growth. More than 240,000 net new Fibe TV and Internet customers and over 315,000 net postpaid wireless subscribers joined Bell in 2016.
Coupled with accelerating usage across our segments and a careful eye on operating costs, especially in slower-growth traditional lines of business, this leadership in the marketplace is enabling Bell to deliver the financial performance necessary to fuel our broadband infrastructure plans, return value to shareholders and invest in the community.
We look forward to rolling out our Fibe and LTE services in Manitoba now that our acquisition of MTS is set to close in March 2017 following the receipt of final federal regulatory approvals. It's an acquisition that gains Bell more than 700,000 broadband wireless, Internet and IPTV customers in Manitoba, and we look forward to welcoming many more as Bell MTS delivers the best in broadband to a province poised for growth.
Bell MTS plans to invest $1 billion over the next 5 years to bring Gigabit Fibe Internet, Fibe TV and our award-winning LTE wireless network to major centres like Winnipeg and Brandon, to traffic corridors and small towns throughout the province, and to remote locations such as the burgeoning eco-tourism destination of Churchill, also known as the Polar Bear Capital of the World.
The Bell Let's Talk initiative
Bell is renowned for our corporate responsibility leadership, including our commitments to environmental sustainability, diversity and community investment. Our high-profile mental health initiative Bell Let's Talk continues to break new ground in the fight against the stigma around mental illness while supporting better care and access, new research and leadership in workplace mental health.
Our 7th Bell Let's Talk Day in January 2017 set all-new records for engagement across communications platforms in Canada and worldwide this year. New social media options helped to increase this year's total messages of support to almost 132 million, further stimulating the national conversation about mental health while driving unprecedented new Bell funding for Canadian mental health programs.
Thank you
I would like to extend my thanks to Bell's talented national team for their commitment to our customers, shareholders and communities, and to our Chair Gordon Nixon and the BCE Board of Directors for their invaluable support and guidance.
Thank you to our customers and shareholders for believing in Bell and the straightforward strategy of network, service and operational leadership that has transformed your company into Canada's fastest growing broadband communications provider.
As we celebrate Canada's 150th anniversary, and Bell's role in our nation's growth and prosperity as we mark our 137th, we will continue to focus on creating value for all stakeholders. We're building a solid foundation for ongoing progress as we bring the next generation of communications to Canadians everywhere. We greatly appreciate your support.

George A. Cope
President and Chief Executive Officer
BCE Inc. and Bell Canada