Message from the chair of the board
MESSAGE FROM THE CHAIR OF THE BOARD
Broadband leadership
driving growth today,
and into the future
As BCE reports on a year of strong operational and financial progress in 2016, it is clear that our industry landscape has evolved in new and challenging ways since the beginning of Bell's broadband transformation 8 years ago.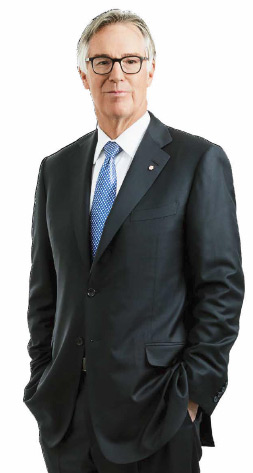 New technologies, changing consumer tastes and growing competition in wireless, TV, Internet and media services are revolutionizing the ways we communicate with each other, and how companies large and small interact with their customers, partners and supply chains.
The demand for faster Internet access continues to accelerate and wireless usage grows by leaps and bounds, as consumers and business users take full advantage of broadband video across platforms, and the power of social media in personal, public and professional realms. The growth in online commerce is driving new business models in every part of the economy, while the emerging Internet of Things (IoT) is creating a machine-to-machine world of communication.
Bell's next-generation networks lead the way
Bell is clearly ready to lead the way with a broadband growth and innovation strategy that has re-energized both our company and industry. Bell has the scale to deliver world-class communications networks and services across our vast country, and a skilled and seasoned team fully dedicated to delivering the benefits of our leadership strategy to all stakeholders.
Building on a legacy of technological leadership and service innovation since 1880, Bell's advanced fibre and wireless networks continued to be the foundation of our success in 2016. And as we continue to outpace our competitors in capital investment in infrastructure, R&D and exclusive new services, our award-winning networks will continue to be the driver of our competitive leadership going forward as the world of digital communication continues to evolve.
Financial strength, shareholder value
Bell achieved all its financial guidance targets in 2016, with solid revenue and adjusted EBITDA growth and strong free cash flow generation, all of which support Bell's capital investment objectives and our ability to return value to you.
We announced a 5.1% increase in the BCE annualized common share dividend in February 2017, to $2.87 per share from the $2.73 announced the year before. This is the 13th such dividend increase since the end of 2008 and the 9th consecutive year in which BCE has declared a dividend increase of at least 5%. Our objective to deliver sustainable dividend growth is a core focus for our company. BCE's total shareholder return of 251% since 2008 has outperformed competitive peers here and across North America and significantly outpaced the S&P/TSX Composite Index.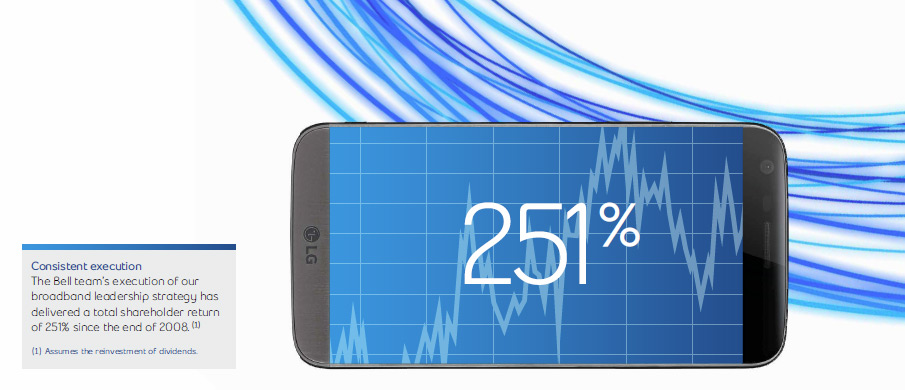 The highest levels of corporate governance and financial prudence underpin BCE's capital markets strategy. Our healthy balance sheet is supported by investment-grade credit metrics and strong liquidity, and our defined benefit pension plans are well funded and attractively positioned should interest rates rise.
In 2016, we raised a combined total of $2.25 billion in gross proceeds from the issuance of 10-year and 5-year medium-term note (MTN) debentures, achieving the lowest-ever financing rate on any MTN issuance by Bell Canada and significantly reducing our after-tax cost of outstanding MTN debenture debt. We also made a voluntary $400 million contribution to BCE's defined benefit pension plans, reducing our future pension obligations and enhancing our financial flexibility to invest in our broadband growth strategy.
Changes to your Board
I have been honoured to lead the BCE Board as Chair since April 2016, and am grateful for the support and insight of my predecessor, Thomas O'Neill, and my fellow Directors.
This includes Ronald Brenneman, a distinguished member of the Board who will be retiring at our Annual General Meeting. On behalf of the Board and all shareholders, I thank Ron for his wise counsel and dedication to our company as a Director since 2003, Chair of the Management Resources and Compensation Committee, and a member of the Pension Fund Committee.
I am also pleased to announce the nomination of Karen Sheriff to the Board. A highly successful leader who will add deep experience in the Canadian communications industry to our Board, Karen served as CEO of Bell Aliant and most recently Q9 Networks. Recognized numerous times as an exemplary executive and one of Canada's most influential women leaders, Karen will be an outstanding addition to your Board.
On behalf of the Board and shareholders, I would like to thank our President and CEO George Cope and the Bell team for successfully navigating our complex and fast-changing sector with a winning strategy and unparalleled execution in the marketplace. We look forward to welcoming Manitoba Telecom Services (MTS) and implementing the Bell strategy in a province poised for growth and ready for the significant enhancement of its broadband communications infrastructure that Bell MTS will bring.
As Chair of the Board, it is my privilege to serve you as Bell moves forward as Canada's broadband leader. We are committed to remaining at the forefront of communications innovation and growth, transforming our business to stay ahead while continuing to deliver for our shareholders, customers, employees and communities.
I am honoured to be part of the team writing the next chapters in Bell's long and distinguished history. Thank you for your support.

Gordon M. Nixon
Chair of the Board
BCE Inc.