Financial and operational highlights
FINANCIAL AND OPERATIONAL HIGHLIGHTS
Leading network investments
drive Bell growth services
| | |
| --- | --- |
| | The enduring builder of Canada's communications infrastructure since 1880, Bell is now investing in the next generation of high-capacity broadband networks that power the growth services of today: wireless, Internet, TV and media. |
| | | | |
| --- | --- | --- | --- |
| BCE SUBSCRIBERS (MILLIONS)* | | | |
| | 2016 | 2015 | Growth |
| Wireless | 8.5 | 8.2 | +2.7% |
| High-speed Internet | 3.5 | 3.4 | +1.9% |
| Television | 2.7 | 2.7 | +0.2% |
| Total growth services | 14.7 | 14.4 | +2.0% |
| Local telephone services | 6.3 | 6.7 | -6.4% |
| Total subscribers | 20.9 | 21.1 | -0.7% |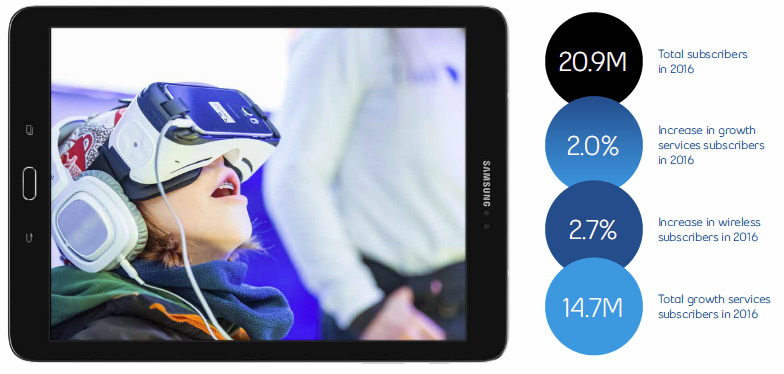 * Rounding in numbers may affect total figures presented.
BELL'S ONGOING TRANSFORMATION: 2008–2016
Advanced networks have transformed Bell into Canada's broadband communications leader, now setting the pace in wireless, Internet, TV and media growth. Together, these high-demand growth services accounted for 82% of Bell revenue in 2016, up from 81% a year earlier and just 64% in 2008.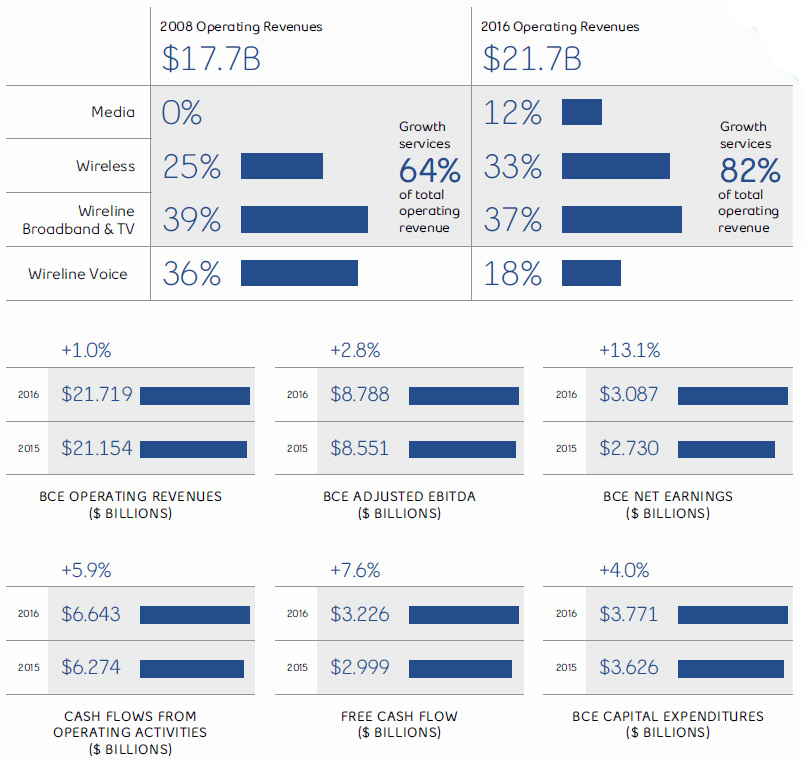 For more information, please refer to section 7 of the MD&A – Selected Annual and Quarterly information, pp. 85 to 89.