Bell Let's Talk:
Record engagement in
Canada's mental health cause

Bell Let's Talk fights the stigma around mental illness while funding mental healthcare, research and workplace initiatives across Canada.
Bell's initiative is having a direct and positive impact on perceptions of mental illness, reflected in recent data from Nielsen outlining that most Canadians are more aware of mental health issues than 6 years ago and think that progress is being made.
Significantly, 82% of Canadians (and 88% of young people) believe attitudes towards mental illness have changed for the better, up from 70% last year. At the same time, 72% (76% of young people) believe stigma has been reduced, up from just 57% the year before.
Canadians everywhere join the fight against the stigma
Reducing the stigma around mental illness is critical to making progress in mental health, because too many who struggle won't seek the help they need because of fear or embarrassment. Bell Let's Talk Day has played a key role in growing both awareness and action by sparking a renewed cross-Canada mental health conversation each year.
Bell Let's Talk Day 2017 on January 25 achieved all-new records for engagement in the national mental health discussion – 131,705,010 social media interactions and texts, mobile calls and long distance calls by Bell customers.
Because Bell donates 5 cents for each interaction on Bell Let's Talk Day at no extra charge to participants, our funding for Canadian mental health grew by $6,585,250.50. Added to the results of the previous 6 Bell Let's Talk Days plus Bell's original $50-million anchor donation, Bell's total funding commitment is now $86,504,429.05 – well on the way to our target of at least $100 million in 2020.
Social media interaction on Bell Let's Talk Day almost tripled in 2017 thanks to the addition of Snapchat and Instagram support, on top of Twitter and Facebook. #BellLetsTalk was once again the top Twitter trend in Canada and worldwide, and the new Bell Let's Talk Snapchat geofilter was the social media platform's most-used filter ever in Canada for one day.
Again on Bell Let's Talk Day, political leaders, royalty, sports heroes, corporations and competitors, entertainers and other celebrities embraced the cause, driving unprecedented social media engagement from millions of fans in Canada and around the world.
More than 20,000 student-athletes at 54 universities helped lead the Bell Let's Talk Day conversation on campuses, and more than 100 university sports games across the country were part of the campaign.
Student-athletes also led the charge on Canada's largest-ever Thunderclap, the social media crowdspeaking platform that allows a single message to be shared en masse. With 5,479 people registered and a social reach of 6,003,469, the Bell Let's Talk Day Thunderclap was the biggest ever for mental health worldwide.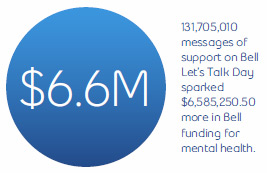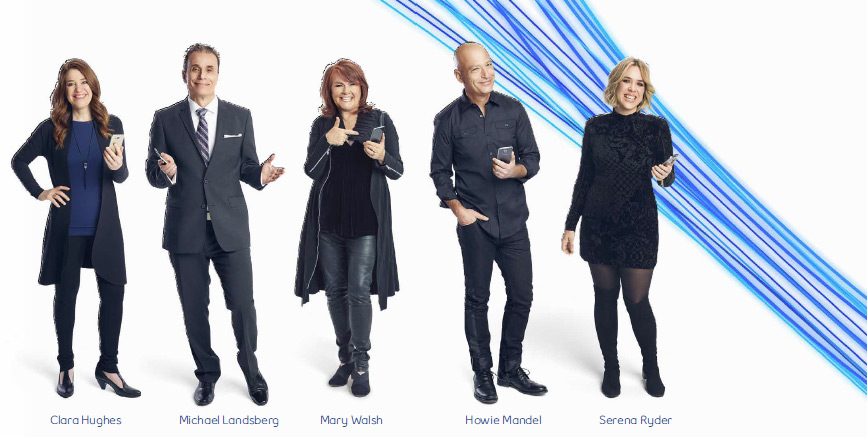 The Bell Let's Talk team thanks the hundreds of Canadian corporations, hospitals and universities, governments, the Canadian Armed Forces, professional sports teams and associations, community and mental health partners, chambers of commerce, and schools, colleges and universities that joined the conversation on Bell Let's Talk Day through events, promotions and advertising, social media, newsletters and websites.
Bell Let's Talk funding at work
While Bell Let's Talk Day is the highest-profile part of the initiative, Bell's funding helps move Canada's mental health forward every day of the year.
Bell Let's Talk has supported hundreds of organizations in every region of the country since 2010, which have in turn provided direct mental health assistance to at least 1.5 million Canadians.
This includes front-line organizations supporting mental health at the community level. The Bell Let's Talk Community Fund announced grants of $5,000 to $25,000 for 72 more community groups all around Canada in 2016, bringing the total number of groups supported by the Fund since it was launched in 2011 to 345.
Bell extended its $1 million partnership with the True Patriot Love Foundation in 2016 for another 4 years, supporting mental health services for Canadian Armed Forces members, their families and veterans.
Bell Let's Talk supports research projects and improved access to care at major healthcare institutions and universities. In 2016, Bell donated $1 million to renew the Bell Canada Mental Health and Anti-Stigma Research Chair at Queen's University, including the re-appointment of Dr. Heather Stuart, inaugural holder of the world's first anti-stigma research chair, for another 5 years.
A new $250,000 donation to McGill University's Montréal Neurological Institute and Hospital is funding the development of online resources focused on the mental health needs of multicultural communities.
Funding from Bell Let's Talk is accelerating government support for mental health initiatives. A $1 million gift to Strongest Families Institute is being matched by all 4 Atlantic provinces to improve mental health services for about 2,000 children.
A $300,000 Bell Let's Talk donation to improve access to care at 2 health foundations in Québec's Lanaudière region is being matched by the government of Québec.
As part of its multi-year, $1 million fund for Canada's Northern territories, Bell Let's Talk has also committed $250,000 for a counter-suicide safeTALK program to be delivered by Nunavut's Embrace Life Council.
Bell Let's Talk is supporting the integration of mental health training in standard and emergency first aid courses with a $150,000 donation to St. John Ambulance. Available nationally next year, the courses will be offered in workplaces, hospitals, schools and communities and teach participants what to do in an emergency, including how to recognize high-risk situations and when to escalate a mental health situation to professionals.