6 Strategic Imperatives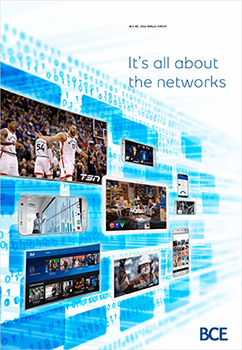 We have one goal: To be recognized by customers as Canada's leading communications company.
Bell continued to build on our position as Canada's broadband communications leader in 2016. We are investing in the most advanced networks and service innovations to lead in the marketplace and ensure Canada's competitiveness in a global digital economy, while delivering consistent dividend growth to you, the shareholders who have invested in Bell's broadband strategy.
Each day and around the clock, the Bell team works to deliver world-class network performance, exclusive new products and an enhanced service experience to Canadians in every province and territory. In a highly competitive and fast changing communications sector, Bell continues to set the pace through our dedication to a clear goal – for Bell to be recognized as Canada's leading communications company.
To achieve our goal, Bell executes a strategy focused on delivering the best wireless, TV, Internet and media growth services in the most timely and efficient manner possible, an approach framed by our 6 Strategic Imperatives:
Ours is a strategy that reflects both the challenges of our dynamic industry and the clear opportunities for innovation and growth in Canadian communications.  And the Bell team is delivering.
| | |
| --- | --- |
| | Bell continues to provide Canadians with the newest TV and Internet innovations and the exclusive business services that make Bell #1 in broadband wireline communications in Canada. |
Fibe TV remained Canada's fastest growing TV service in 2016 as more subscribers embraced the unmatched quality and exclusive services of the country's best television experience, enhancing Bell's lead as Canada's #1 television provider.
Bell continued to unveil more of the exclusive television features that have made Fibe TV so popular, including the availability of the powerful Fibe TV app on Apple TV. Bell continued to prove itself as an innovator on a global scale by announcing the world's first fully wireless IPTV service with Fibe TV.
The Fibe Wireless 4K personal video recorder (PVR) enables faster install times and gives customers the flexibility to place their TVs anywhere in the home without extra wires or cables. Offering the largest recording capacity despite its small size, the Fibe Wireless 4K PVR offers up to 150 hours of 4K recording capacity, integrated 4K Netflix, and is ready for high dynamic range (HDR), the next evolution in broadcast technology. Fibe TV customers also gained the opportunity to Own with Fibe, enabling them to purchase On Demand movies and enjoy them as many times as they want.
Available to TV subscribers across the country and to any Canadian with an Internet connection, Bell Media's unique CraveTV streaming service surpassed 1 million subscribers in 2016. Offering original Canadian content like the hit comedy series LETTERKENNY and thousands of hours of critically acclaimed programming from HBO, SHOWTIME and more of the biggest names in entertainment, CraveTV was growing as fast by the end of 2016 as it did at its launch in December 2014.
In 2016, the Internet outpaced TV to become the #1 connection for Canadians, with 50% of users streaming video at least once a day. To support fast-growing Internet usage and an explosion in the number of connected devices, Bell's broadband fibre footprint expanded to reach approximately 8.3 million homes and businesses in 2016, providing the fastest broadband speeds and reliable technology necessary to support customer demands and the needs of Canada's growing digital economy.
With 2016 Internet net additions of 85,099, Bell continues to lead the way in Internet services with 3,476,562 high-speed subscribers, the most of any provider in Canada. Bell continued to focus on providing unique value to Internet customers with the Home Hub 3000 residential gateway, the most powerful home Wi-Fi service in Canada, supporting multiple devices simultaneously with total throughput capacity of up to 1 Gigabit. The average number of connected devices per home has more than doubled since 2013 and data usage by Bell Internet customers continues to climb – by 34% in 2016.
Virgin Mobile also introduced Home Internet in Ontario and Québec as a competitively priced high-speed option for youth and value-oriented customers, providing download speeds up to 25 Mbps and upload speeds up to 10 Mbps.
Canada's business communications leader
2016 brought the expansion of Bell Total Connect to the small business sector, reflecting Bell's commitment to enable the success of Canadian entrepreneurs and innovators. Small businesses in Québec and Ontario can now benefit from the full suite of next-generation business communications services used by the largest enterprises, including seamless switching between mobile devices and desk phones, making it easy to work remotely and still maintain your business identity for outgoing calls. Bell Business Markets closed 2016 with all 7 major Canadian banks running critical communications services on Bell's unparalleled networks.
We also expanded Canada's largest network of data centres by acquiring all remaining equity in Q9 Networks, further enabling Bell Business Markets' leadership in data hosting services and cloud solutions. Bell became the first Canadian provider to offer businesses access to Microsoft Azure ExpressRoute through Bell's secure cloud connection, providing faster access, better reliability and unmatched security to enterprise customers.
Bell also entered an exclusive partnership with IBM as the only Canadian carrier to offer IBM MobileFirst for iOS apps, boosting the efficiency and productivity of mobile iOS devices for business users.
To learn more, refer to BCE's 2016 Annual Report.