6 Strategic Imperatives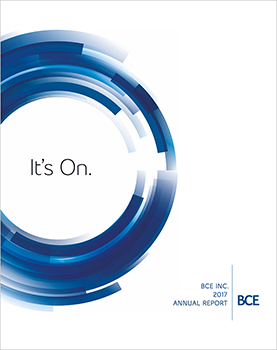 It's all about leadership.
Bell's strategy is to lead the Canadian communications industry in the scale and performance of broadband networks, in developing innovative, compelling services and content, and in making strategic acquisitions to capture emerging opportunities.
Building on our leadership position in broadband communications services, we generated historic growth in 2017. Once again, we invested more than any competitor in the most advanced networks and service innovations to lead in the marketplace and ensure Canada's competitiveness in a global digital economy, while creating consistent dividend growth forthe shareholders who have invested in Bell's broadband strategy.
Each day and around the clock, the Bell team works to deliver world-class network performance, exclusive new products and an enhanced service experience to Canadians in every province and territory. In the highly competitive and fast changing communications sector, Bell continues to set the pace through our dedication to one clear goal – for Bell to be recognized as Canada's leading communications company.
The best wireless, TV, Internet and media services continue to account for most of Bell's growth. But the actions taken in each and every line of Bell's business are all framed by our 6 Strategic Imperatives:
This strategy reflects both the challenges of our dynamic industry and the clear opportunities for innovation and growth in Canadian communications. And the Bell team is delivering.
| | |
| --- | --- |
| | Bell's fast fibre networks are speeding growth in broadband Internet and TV services in the home, supporting the delivery of fully integrated connectivity, data and managed services for business, and enabling innovation in new sectors from the Connected Home to the Smart City. |
Confirming Bell's reputation as Canada's provider of the most advanced communications products for the home, Fibe TV and Fibe Internet continued to deliver new innovations available from no one else.
We launched Fibe Alt TV, a new way to watch television on multiple screens with no need for a traditional television subscription, installation or set-top box.  Accessed through the feature-packed Fibe TV app, Alt TV lets you watch up to 500 channels on laptops, smartphones, tablets and Apple TV.
It's another television first from Canada's #1 TV provider. Offering access to the superior television experience and the most channels, Fibe TV introduced  exclusive features like Restart and Trending and the Fibe TV app that lets you access your content across multiple platforms. We're taking Fibe TV further, announcing that we will leverage innovation partner Ericsson's cloud-based MediaFirst platform to power the next generation of Fibe TV and Alt TV services, offering viewers an even more personalized and seamless experience.
Exclusive Whole Home Wi-Fi
Fibe Internet delivers fast and reliable service at up to Gigabit speeds, and we continue to enhance the broadband experience with new services. Bell recently became the first company in Canada to bring smart and fast Wi-Fi to every room in the house with Bell Whole Home Wi-Fi.
Linked with the cloud-based networking intelligence of the exclusive Home Hub 3000, Bell Whole Home Wi-Fi smart technology learns how, when and where households use their Wi-Fi capable devices and ensures everyone in the home receives the strongest signal and fastest speed available. The Bell Wi-Fi mobile app enables customers to manage their entire home network remotely, including parental control over every Wi-Fi connected device.
Fibe is a catalyst of growth, winning customers because of its speed, reliability and exclusive services and increasing Home Phone retention too as households increasingly opt for the full Bell bundle.
We connected more than 3.7 million homes and businesses with direct fibre to the premises and a total fibre footprint of 9.2 million locations including fibre to the neighbourhood service. In 2017, Bell MTS introduced Fibe TV to Manitoba and rolled out Gigabit Fibe Internet service to more than 20 communities large and small throughout the province.
The future of business communications
Our unmatched fibre connectivity is also key to the transformation of Bell Business Markets from delivering legacy network services to providing fully integrated data hosting, cloud computing and managed services.
With the integration of Q9 Networks, Bell now operates 28 data centres in 8 provinces, and in 2017 expanded our portfolio of web security solutions for enterprise customers with the addition of Akamai's leading-edge web performance, media delivery and cloud security products.
High capacity fibre is driving new connectivity and data management opportunities in the home and across entire urban centres.
Our Business Markets and Mobility teams are working together to implement the first Smart City platform across Kingston, Ontario, which will offer city staff a consolidated view and analysis of connected city services to improve operating efficiencies and deliver improved services for residents, businesses and visitors.
Our Residential and Small Business group is aligning our new AlarmForce assets with our existing security and monitoring services, Bell Aliant NextGen Home Security and AAA Security, a Bell MTS company, as we move into the Connected Home. The most trusted name in residential communications, Bell is ready to deliver next-generation home automation services to customers throughout Atlantic Canada, Manitoba, Ontario and Québec.
To learn more, refer to BCE's 2017 Annual Report.