6 Strategic Imperatives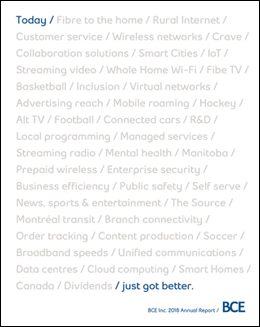 Today just got better
Outstanding gains in wireless, steady growth in broadband Internet and TV, and stable performance in a fast-changing media marketplace underpinned strong BCE financial results in 2018, supporting our strategy to lead in broadband investment and innovation while delivering steady dividend growth for our shareholders.
The fastest Internet. Lucky Mobile. Crave. Gigabit wireless. Alt TV. Enterprise cloud solutions. Wireless Home Internet. Connected Cars, Smart Homes and Smart Cities. These are just some of the Bell service innovations that make today better for our consumer, business and government customers across the country. Bell has the scale necessary to deliver the world's best communications technologies throughout the country, a key factor enabling Canadians and our business community to participate fully in an increasingly global marketplace.
In fact, Bell invests more in new network infrastructure and Canadian communications R&D than any other company. Our focus on bringing Canadians the best in broadband supports our country's technological leadership on a global scale, while giving Bell the competitive edge to succeed in Canada's dynamic communications industry.
Actions taken in each and every line of Bell's business are all framed by our 6 Strategic Imperatives:
This strategy reflects both the challenges of our dynamic industry and the clear opportunities for innovation and growth in Canadian communications. And the Bell team is delivering.
| | |
| --- | --- |
| | Canada's best mobile network welcomed the most new net wireless customers of any provider in 2018, while our ongoing focus on expanding our wireless reach, speed and quality led to another year of industry firsts from Canada's mobile innovation leader. |
With our superior network, the leading line-up of the top smartphones and unparalleled retail distribution reach, Bell gained the largest share of new postpaid and prepaid customers in the Canadian industry in 2018, with 479,811 net additions in the year bringing our total wireless customer base to more than 9.6 million.
The high speed, quality and other advantages of Bell LTE attracted customers who want a better network that lets them do more with their mobile devices. With increasing data usage and higher customer satisfaction, Bell's superior mobile network ensured the industry's highest monthly blended ABPU (average billing per user) and continued reductions in customer churn throughout the year, even in the face of heightened competition and larger data plans that pressured overall industry revenue.
Lucky Mobile
Bell has re-energized the prepaid wireless business with Lucky Mobile, the low-cost wireless service that expanded to all 10 provinces in 2018. It was Bell's first year of positive prepaid subscriber growth in a decade as the Lucky Mobile brand broke through to gain the most net new customers in the Canadian prepaid segment.
We introduced 38 new devices in 2018, including Samsung's Galaxy Note series, LG's G7, as well as Google's Pixel 3 and Pixel 3 XL and Apple's most advanced iPhone XS, iPhone XS Max and iPhone XR, and the Apple Watch Series 4. Bell was the only carrier in Canada and just one of 11 worldwide at Apple's launch to offer Dual SIM capability that provides customers with the convenience of having 2 phone numbers on a single device.
Bell maintains the largest retail distribution network of any wireless provider in the country with Bell, Virgin Mobile and Lucky Mobile stores and kiosks, Canada's largest tech retailer The Source, and Glentel's extensive number of Wirelesswave,  Tbooth wireless and Wireless etc. locations.
Mobile service innovation
In addition to supporting Bell's major Smart City platform projects, our wireless segment is delivering smart IoT technologies as we build the framework for a 5G future of connected cities, cars, homes and businesses.
We partnered with Echologics to deliver an IoT Smart City solution for the City of Medicine Hat in Alberta to wirelessly monitor the city's water pipeline network to help reduce water loss. We teamed with Icicle Technologies to provide food manufacturers across the country with a remote tracking and monitoring solution to enhance food safety.
Superior Propane implemented a national fuel tank monitoring solution from Bell for its business and residential customers.  Using thousands of IoT sensors from Bell IoT partner Otodata, the solution provides Superior Propane with a centralized view of its tank operations across the country. A new partnership with BeWhere and Trak-iT introduced Fleet Freedom, Canada's first integrated fleet management and asset tracking solution, delivered exclusively over Bell's LTE-M network.
Bell was also the first to enable built-in Wi-Fi hotspots in Ford and Lincoln vehicles with Bell's Connected Car Built ln service, providing on-the-go connectivity for up to 10 devices at a time and enabling data sharing across customer smartphone plans.
Public safety communications
Bell Mobility was awarded a contract by the Government of Manitoba to replace the province's aging public safety communications service with a new digital 2-way mobile radio system for first responders. To be built over the next 3 years, the system will be owned and operated by Bell. We are completing an upgrade of the public safety radio service in Québec City with deployment planned in 2019.