6 Strategic Imperatives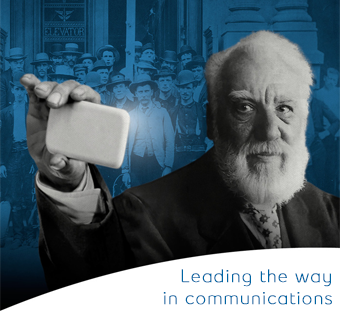 We have one goal: To be recognized by customers as Canada's leading communications company.
To achieve that goal, Bell is making significant investments in developing and delivering the most innovative communications and media services to Canadians across any screen they choose: television, smartphone, tablet and computer. In that way, we will continue to create value for our shareholders and rewarding careers for our team members, while ensuring we have the financial strength to fulfill our Bell Let's Talk charitable commitment to mental health and multiple sponsorship programs across the country.
Our goal is focused around 6 Strategic Imperatives:
By executing these imperatives, we will continue to achieve our primary business objectives to profitably expand our customer base and grow revenues, operating income, free cash flow and return on our invested capital. 
| | |
| --- | --- |
| | 2015 was a milestone year for Bell Wireline, defined by advances in broadband technology and product innovations that have dramatically reshaped the communications services that Bell delivers to millions of residential and business customers today. |
Fibe: a new revolution in TV
A major driver of customer and revenue growth, Bell Fibe TV and FibreOP TV in Atlantic Canada were the top 2 TV services in Canada last year, and made Bell the largest provider of television service across the country with 2.7 million total customers.
Next-generation innovation has been key to Fibe's popularity and Bell continued to lead in this fast-changing sector with new features that no competitor can match:
Fibe TV app – the first of its kind in the world, the app brings the Fibe TV experience to smartphones and tablets with 300 channels at home, 170 channels on mobile and more than 20,000 hours of on-demand programming.
Restart, a popular new feature lets customers rewind and watch shows from the beginning or up to 30 hours after they started.
Trending, another Fibe exclusive that highlights the 5 most-watched English or French language Shows in Canada at any given time.
Direct access to the full Netflix catalogue of on-demand and original content from the Fibe TV set-top box.
Bell continued to set the pace early in 2016 by introducing the Fibe TV 4K Whole Home PVR, the most advanced on the market.
Canada's Internet leader
At a time when Canadians increasingly view broadband Internet service as the most valuable connection in the home, Bell solidified its position as the largest Internet provider in the country with 3.4 million subscribers, an increase of 3.5% over 2014. Bell gained more net new Internet customers in 2015 than any other company in Canada, and more than all our major competitors combined.
That growth was propelled by investment in broadband network capacity expansion and the next evolution in Internet service – Gigabit Fibe. Designed to meet the growing data demands of Canadians at home and at work, Gigabit Fibe delivers the fastest available Internet with download speeds of up to 940 Mbps, with plans to increase to 1,000 Mbps (1 gigabit per second) or faster in 2016, as equipment evolves to support these speeds.
Market-leading growth in Bell Internet and TV services coupled with operating cost reductions across our wireline groups drove positive adjusted EBITDA and cash flow growth in 2015, and contributed to maintaining an industry-leading adjusted EBITDA margin.
Innovations for business
The #1 choice for business customers in Canada, Bell offered an expanding range of products and services for organizations of all sizes. We continued to invest in the country's largest network of 27 data centres with major expansions in Montréal and St. John's and a new centre in Saint John.
Connected by our leading broadband fibre networks, Bell data centres deliver secure managed hosting and cloud solutions to business and government without the high costs of maintaining in-house facilities.
In 2015, the new Bell Control Centre offered a secure cloud-based platform, enabling companies to securely manage network connected devices over Bell's 4G LTE wireless network.  Investments in next-generation networks continued in 2016 when Bell announced a partnership with IBM to enhance the Bell Business Cloud, giving companies a seamless and secure way to connect to the IBM Cloud.
To learn more, refer to BCE's 2015 Annual Report.