6 Strategic Imperatives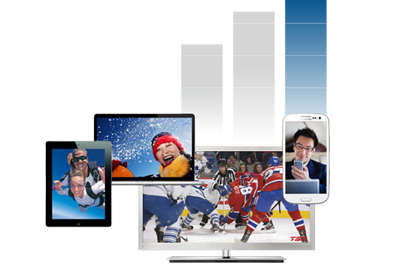 We have one goal: To be recognized by customers as Canada's leading communications company.
To achieve that goal, Bell is making significant investments in developing and delivering the most innovative communications and media services to Canadians across any screen they choose: television, smartphone, tablet and computer. In that way, we will continue to create value for our shareholders and rewarding careers for our team members, while ensuring we have the financial strength to fulfill our Bell Let's Talk charitable commitment to mental health and multiple sponsorship programs across the country.
Our goal is focused around 6 Strategic Imperatives:
By executing these imperatives, we will continue to achieve our primary business objectives to profitably expand our customer base and grow revenues, operating income, free cash flow and return on our invested capital. 
Expand media leadership 
This new imperative reflects the game-changing $3.2 -billion acquisition of CTV in 2011 and the creation of a new business unit, Bell Media, which has the mandate to leverage BCE's investments in broadband networks and deliver the content Canadians most want across 4 screens: television, smartphone, tablet and computer.
Bell Media includes a broad range of assets led by CTV, Canada's #1 television network, and CTV Two. It also manages 30 specialty channels, including BNN – Business News Network, Discovery Channel, Much, MTV, The Comedy Network, SPACE, and TSN and RDS. 
CTV consistently reported top audience ratings in all seasons in 2011, holding a majority of the top 20 programs nationally among all viewers. 
Bell Media also offers Canada's top English and French-language specialty channels and more than 30 radio stations, including TSN Radio 1050 Toronto, TSN Radio 990 Montreal and TSN Radio 1290 in Winnipeg as well as Bell's popular Sympatico.ca portal. 
Among its innovations, Bell Media provides the best mobile media available in the Canadian industry including live broadcasts of the NHL, the Super Bowl and a huge variety of live or on-demand programming from TSN, RDS, BNN, MTV and The Comedy Network. 
As part of the purchase, Bell implemented a package potentially worth about $240 million to support the development of independently produced Canadian programming including dramas, documentaries, new media and extended news across Western Canada.
Bell augmented sports content leadership – which already included an ownership position in the Montréal Canadiens – with an investment in joint ownership of Canada's largest sports and entertainment company, Maple Leaf Sports and Entertainment (MLSE) in a deal expected to close in 2012. MLSE includes the Toronto Maple Leafs, Toronto Raptors, Toronto Marlies, Toronto FC and major real estate and entertainment assets such as the Air Canada Centre and the Maple Leaf Square condominium and commercial complex.
To learn more, refer to BCE's 2012 Annual report.