6 Strategic Imperatives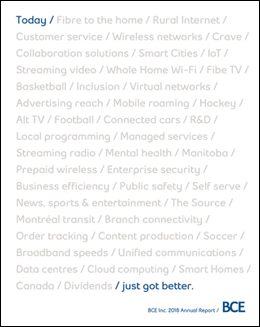 Today just got better
Outstanding gains in wireless, steady growth in broadband Internet and TV, and stable performance in a fast-changing media marketplace underpinned strong BCE financial results in 2018, supporting our strategy to lead in broadband investment and innovation while delivering steady dividend growth for our shareholders.
The fastest Internet. Lucky Mobile. Crave. Gigabit wireless. Alt TV. Enterprise cloud solutions. Wireless Home Internet. Connected Cars, Smart Homes and Smart Cities. These are just some of the Bell service innovations that make today better for our consumer, business and government customers across the country. Bell has the scale necessary to deliver the world's best communications technologies throughout the country, a key factor enabling Canadians and our business community to participate fully in an increasingly global marketplace.
In fact, Bell invests more in new network infrastructure and Canadian communications R&D than any other company. Our focus on bringing Canadians the best in broadband supports our country's technological leadership on a global scale, while giving Bell the competitive edge to succeed in Canada's dynamic communications industry.
Actions taken in each and every line of Bell's business are all framed by our 6 Strategic Imperatives:
This strategy reflects both the challenges of our dynamic industry and the clear opportunities for innovation and growth in Canadian communications. And the Bell team is delivering.
| | |
| --- | --- |
| | Bell's next-generation all-fibre network is delivering leading broadband Internet, TV and Smart Home services to Canadian consumers and bold new solutions for businesses, including leading innovations in the fast-growing Internet of Things (IoT) sector. |
Bell took broadband leadership to the next level in 2018 by expanding our all-fibre network to 4.6 million homes and commercial locations across 7 provinces.
Our advanced fibre network enabled Bell to build on our position as Canada's #1 provider of both TV and Internet services in 2018. Consumers are demanding increasing Internet speeds and capacity, and Bell delivered by attaining the highest overall Internet speed index ever recorded in Canada by PCMag, scoring 30% better than our nearest competitor in the Fastest ISPs of 2018: Canada report.
Bell Residential and Small Business took its lead in Internet speed further in August, launching 1.5 Gigabit Internet service, the fastest available to the home in Canada. We're also bringing smart and fast Wi-Fi to every room in the home with Whole Home Wi-Fi, the first to adapt to household usage patterns and to ensure all devices achieve the fastest speeds possible – and it can all be managed remotely with the new Bell Wi-Fi mobile app.
Bell's advanced Internet service is also a driver of growth for Alt TV, Canada's first app-based live TV streaming service that requires no traditional set-top box and is available across Amazon, Apple and Google viewing platforms. Alt TV is another example of Bell Fibe TV innovation, which has enabled continued Bell television subscriber growth in an era of new technology choices and increasing global competition for viewers.
Offering the most TV channels and on-demand content on any screen, the Fibe TV app introduced Download & Go to enable customers to download their recordings to their mobile devices to watch on the go, even without an Internet connection. Bell MTS significantly expanded the availability of Fibe TV in Manitoba, and became the first TV provider in the province to offer live 4K TV programming.
Bell Smart Home
Bell has quickly staked a leadership position in the connected home marketplace with the launch of the Bell Smart Home brand. Executed through strategic acquisitions, including AlarmForce Industries, and leveraging our scale in residential services, retail distribution, installation and customer service, Bell's entry into the smart home market provides a range of monitoring, security and automation services to customers in the Atlantic region, Québec, Ontario and Manitoba.
Business communications leader
Accelerating performance by Bell Business Markets reflects both a strengthening economy and the growth of Bell's superior broadband technology, enterprise data products and range of business services solutions. With the country's largest network of 28 state-of-the-art data centres, Bell remains the leader in offering Canadian businesses the most advanced hosting and cloud computing facilities to support their operations.
Business innovations include the launch of Bell's Virtual Network Services platform, the first of its kind, offering enterprise customers a catalogue of on-demand network functions that reside securely in Bell's private cloud hardware.
Bell was awarded a multi-year contract to operate Alberta's SuperNet, a government-led initiative providing broadband connectivity to schools, hospitals, libraries and Internet service providers in communities throughout the province. With our acquisition of Calgary-based Axia NetMedia, Bell now connects 429 rural and urban Alberta centres to SuperNet.
Bell's network leadership has also been key to implementing the Smart City platform, which combines innovative IoT technology from Bell and partners with broadband fibre and mobile connectivity to improve municipal operational efficiency and enhance city services. Bell is a partner in Smart City initiatives with the Ontario cities Kingston, Markham, Orillia and St. Catharines; Medicine Hat, Alberta; Whitehorse, Yukon; and St. John's, Newfoundland and Labrador.
To support the growing number of businesses and governments employing IoT technology, Bell introduced Canada's first managed security service to help protect their applications from evolving cyber threats.