6 Strategic Imperatives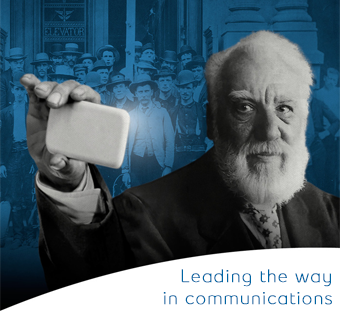 We have one goal: To be recognized by customers as Canada's leading communications company.
To achieve that goal, Bell is making significant investments in developing and delivering the most innovative communications and media services to Canadians across any screen they choose: television, smartphone, tablet and computer. In that way, we will continue to create value for our shareholders and rewarding careers for our team members, while ensuring we have the financial strength to fulfill our Bell Let's Talk charitable commitment to mental health and multiple sponsorship programs across the country.
Our goal is focused around 6 Strategic Imperatives:
By executing these imperatives, we will continue to achieve our primary business objectives to profitably expand our customer base and grow revenues, operating income, free cash flow and return on our invested capital. 
| | |
| --- | --- |
|   | Building on its #1 position in conventional TV, specialty channels, pay TV, radio and digital media in 2015, Bell Media signed blockbuster entertainment and sports content partnerships, delivered new ways for Canadians to watch and listen, and earned significant recognition for leadership in news, sports and entertainment broadcasting in both English and French. |
Bell Media's lead in Canadian multimedia is built on providing the richest possible collection of information and entertainment to Canadians with cutting-edge broadcast innovation.
Bell Media became the exclusive operator of HBO Canada with a historic agreement covering the entire HBO library of current and past programming. The agreement includes Bell Media distribution rights for linear TV broadcast as well as on-demand and over-the-top platforms, and a partnership to produce original content. With sole rights to HBO content in Canada, Bell Media also expanded The Movie Network into Western and Northern Canada to become a national pay TV service.
In another landmark Canadian first signed in 2015, Bell Media reached an exclusive agreement with CBS to bring the vast SHOWTIME catalogue to Canada. Hundreds of hours of past, present, and future SHOWTIME programming will now be available across Bell Media platforms in both English and French.
In music, an exclusive new partnership will bring iHeartRadio's popular digital streaming service, featuring content from Bell Media's national radio network, to Canada. Much Digital Studios is a multi-channel network capitalizing on the creativity of Canadian and international YouTube artists to drive a new vision for the Much brand.
Leading sports content
With live sports a key part of Bell Media's strategy, TSN and RDS also secured new broadcast rights and extensions for numerous world-class properties, including the FIFA World Cup through to 2026, The Masters, French Open, and FIBA world championship basketball tournaments. Bell Media is also the primary broadcast partner with CBC for the Olympic Games through 2024.
TSN and RDS extended their exclusive media rights to all Canadian Football League games, including the Grey Cup, across linear TV, digital properties and TSN Radio stations in Toronto, Ottawa, Montréal, Vancouver, Winnipeg, Edmonton, and Hamilton. In 2015, Bell made a strategic investment to add the CFL's Toronto Argonauts to its significant sports holdings in Maple Leafs Sports and Entertainment (MLSE) and the Montréal Canadiens.
Our live-sports strategy is leading to record audiences, including the most watched FIFA Women's World Cup in history, when Canada hosted the tournament in 2015. Bell Media also delivered the biggest sports events to Canadian fans with coverage of Super Bowl 50 and the 2016 NBA All-Star Weekend in Toronto. Since expanding to 5 national feeds, TSN has nearly doubled the number of live events it broadcasts to approximately 2,400, breaking more than 20 audience records along the way.
The 2015 World Juniors gold medal game became the most-watched telecast in Canadian specialty TV history with 7 million viewers, and January 2015 became the second most-watched month in the network's 30-year history – behind only the Vancouver 2010 Olympic Winter Games.
Bell Media's French-language specialty and pay channels delivered a record 164 new programs in 2015. Investments of $57 million in independent, Québec-based productions enabled the creation of approximately 1,000 hours of original, high-quality French-language TV content.
No other broadcaster attracts as many Canadians with its specialty programming in French and English. Bell Media reaches 82% of all French-language TV viewers in the average week, operating 4 of the 5 top channels – Canal D, RDS, Super Écran and Canal Vie.
We reached 83% of English-language TV viewers, with leading specialty channels like Discovery, which had more programs in the Top 10 than any other Canadian entertainment specialty network in 2015, and CTV, the most-watched conventional network for the 14th straight year.
CTV had more Top 10, Top 20 and Top 30 shows than all other Canadian TV networks combined in 2015. Our original production, The Amazing Race Canada, remained the most-watched summer program in the country for the third straight year.
Bell Media radio reached approximately 17 million listeners each week in 2015, making us Canada's top radio broadcaster. Astral Out of Home continued to grow its reach with new advertising partnerships in 2015 with the Halifax, Vancouver, and Ottawa international airports and the Québec City transit system, and further expanded its reach with the acquisition of Métromédia in early 2016.
Broadcast innovation
TSN produced the first 4K Ultra HD production of a live event – a Toronto Raptors vs. Boston Celtics game – in North America. In addition to setting the pace in 4K sports broadcasting with Raptors, Toronto Maple Leafs and Ottawa Senators games, Bell Media's Discovery GO also began streaming select titles, including the groundbreaking original series How Hard Can it Be? in 4K. Discovery Canada announced its first original scripted drama, Frontier, is being shot in 4K for broadcast later in 2016 as part of Bell Media's expanding library of UHD (Ultra High Definition) content.
We extended the already popular CraveTV direct to consumers in January 2016, offering thousands of hours of the best in TV entertainment to all of Canada's more than 11 million Internet subscribers for $7.99 a month. CraveTV continues to expand its catalogue with more distribution agreements with Canadian TV providers, its first original series – Letterkenny – and the addition of new titles from major Hollywood studios, including Warner Bros., Disney ABC, 20th Century Fox, and NBCUniversal.
Bell Media and our partners received 53 awards at the 2015 Canadian Screen Awards – including for Lisa LaFlamme who for the second year in a row was named Best National News Anchor. We were also honoured with 12 awards for original French programming productions at the 30th annual Gala des Prix Gémeaux.
To learn more, refer to BCE's 2015 Annual Report.