6 Strategic Imperatives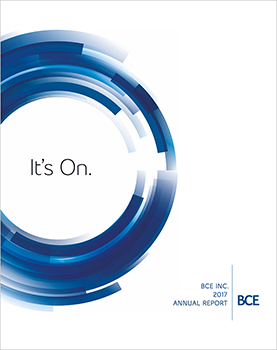 It's all about leadership.
Bell's strategy is to lead the Canadian communications industry in the scale and performance of broadband networks, in developing innovative, compelling services and content, and in making strategic acquisitions to capture emerging opportunities.
Building on our leadership position in broadband communications services, we generated historic growth in 2017. Once again, we invested more than any competitor in the most advanced networks and service innovations to lead in the marketplace and ensure Canada's competitiveness in a global digital economy, while creating consistent dividend growth forthe shareholders who have invested in Bell's broadband strategy.
Each day and around the clock, the Bell team works to deliver world-class network performance, exclusive new products and an enhanced service experience to Canadians in every province and territory. In the highly competitive and fast changing communications sector, Bell continues to set the pace through our dedication to one clear goal – for Bell to be recognized as Canada's leading communications company.
The best wireless, TV, Internet and media services continue to account for most of Bell's growth. But the actions taken in each and every line of Bell's business are all framed by our 6 Strategic Imperatives:
This strategy reflects both the challenges of our dynamic industry and the clear opportunities for innovation and growth in Canadian communications. And the Bell team is delivering.
| | |
| --- | --- |
| | Bell Media is meeting the challenges of a fast-evolving media industry by creating new and innovative content, expanding its new digital viewing platforms and growing its advertising solutions to build on its leadership in conventional, pay and specialty TV channels, radio and digital media. |
Growing international competition and fast-evolving technologies have impacted traditional models in Canadian media, including TV advertising revenue.  Bell Media has the scale, the brands and the creative talent to ensure its position as Canada's premier multimedia company going forward.
Canadians find their favourite television programs on CTV and Bell Media's pay and specialty channels. CTV aired 7 of the country's top 10 fall shows, including #1 comedy The Big Bang Theory, #1 drama The Good Doctor and #1 Canadian series The Indian Detective, and is now the most-watched television network in the country for 16 straight years.
Bell Media operates top-rated entertainment specialty channels, including Space, Comedy, Bravo and Discovery in English and Canal D, Canal Vie and Z in French.
In 2017, we set new viewing records with The Handmaid's Tale on Bravo and Star Trek Discovery on Space – the biggest premiere in Canadian specialty channel history.
By the end of 2017, TSN had regained its position as Canada's top sports channel and the #1 specialty channel overall, driven by big audiences for the 105th Grey Cup and the MLS Cup – won by MLSE teams the Toronto Argonauts and Toronto FC – as well as expanded broadcast and digital rights as the NFL's exclusive broadcast partner in Canada.  RDS also maintained its position as the top French-language sports network.  As official regional broadcasters of the Montréal Canadiens, Ottawa Senators and Winnipeg Jets, TSN and RDS expanded English and French language NHL coverage to 191 and 119 regular season games respectively; both networks also signed a multi-year exclusive media rights extension with NASCAR.
Growing digital platforms
Growing 22% to approximately 1.3 million subscribers at the end of 2017, the CraveTV streaming service continues to win new fans. Canadians are signing up to see hit CraveTV exclusive series Letterkenny, first-run Showtime programs like Billions and The Affair, and recently added blockbuster HBO series such as Game of Thrones, Girls and The Leftovers.
In addition to our more than 17 million local listeners to Bell Media radio stations each week, Canadians are tuning into our radio stations nationwide using the enhanced iHeartRadio Canada app, featuring more than 1,000 live radio stations, 10,000 podcasts and availability on additional platforms including Apple Watch, Apple CarPlay, Android Wear, Android Auto and Sonos.
They're also using our TV Everywhere GO apps to watch Bell Media news, sports and movies anywhere. In 2017, TMN, HBO Canada and The Movie Network Encore launched an offline viewing feature on the GO platform allowing subscribers to download movies and series on their iOS and Android devices for playback without an Internet connection.
Bell Media is now extending its digital reach further with the new SnackableTV app, featuring short clips from HBO, Comedy Central and other channels plus exclusive new short form content including a Letterkenny extension.
Out-of-home advertising unit Astral strengthened its position by acquiring Cieslok Media and adding its 120 large format advertising displays – including the massive screens at Toronto's downtown Yonge-Dundas Square – to Astral's existing inventory of more than 31,000 digital screens, billboards and other formats.
Astral also launched 2 new superboards at Toronto's Pearson International Airport that are viewed 800,000 times daily and a unique programmatic self-serve platform that enhances the ability of clients to target specific audiences through large format digital displays.
Content creation and partnerships
Bell Media Studios, our in-house and independent production arm, enabled 45 new and returning Canadian series and specials for the 2017-18 season, representing a total investment of more than $900 million in original English and French-language content. This includes the acclaimed CTV drama Cardinal and Long Time Running, the Tragically Hip documentary that debuted at the Toronto International Film Festival (TIFF) in September.
The Launch goes international
Another key original production is The Launch, Bell Media's new music competition series developed with Scott Borchetta of Big Machine Label Group. During its inaugural season, the show released 6 original songs by emerging Canadian artists that were streamed more than 5 million times in January and February alone. Sony Pictures Television has signed on to distribute the show internationally and produce a version of The Launch for the UK market.
Bat Out Of Hell The Musical
Bell Media's first live theatre production rolled into Toronto's Ed Mirvish Theatre in October after a successful debut in London's West End that wowed audiences and critics alike. Extended twice due to popular demand, the initial North American run of Bat Out Of Hell The Musical wrapped up at the end of January and the show is back on the international circuit with a new program at the Dominion Theatre in London.
Bell Media has also announced strategic partnerships with Wow Unlimited Media to produce children and youth programming, Bloomberg Media to enhance business and financial reporting and analysis with the new BNN Bloomberg, and Lionsgate to bring the Starz pay TV brand to Canada, joining HBO and Showtime as exclusives in Canada.
To learn more, refer to BCE's 2017 Annual Report.