6 Strategic Imperatives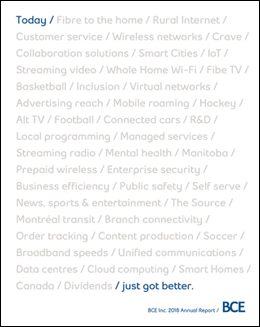 Today just got better
Outstanding gains in wireless, steady growth in broadband Internet and TV, and stable performance in a fast-changing media marketplace underpinned strong BCE financial results in 2018, supporting our strategy to lead in broadband investment and innovation while delivering steady dividend growth for our shareholders.
The fastest Internet. Lucky Mobile. Crave. Gigabit wireless. Alt TV. Enterprise cloud solutions. Wireless Home Internet. Connected Cars, Smart Homes and Smart Cities. These are just some of the Bell service innovations that make today better for our consumer, business and government customers across the country. Bell has the scale necessary to deliver the world's best communications technologies throughout the country, a key factor enabling Canadians and our business community to participate fully in an increasingly global marketplace.
In fact, Bell invests more in new network infrastructure and Canadian communications R&D than any other company. Our focus on bringing Canadians the best in broadband supports our country's technological leadership on a global scale, while giving Bell the competitive edge to succeed in Canada's dynamic communications industry.
Actions taken in each and every line of Bell's business are all framed by our 6 Strategic Imperatives:
This strategy reflects both the challenges of our dynamic industry and the clear opportunities for innovation and growth in Canadian communications. And the Bell team is delivering.
| | |
| --- | --- |
| | Bell strives to operate as cost efficiently as possible in the dynamic and capital-intensive Canadian communications industry, managing legacy lines of business as we focus on broadband growth opportunities to deliver consistent financial performance in a highly competitive marketplace. |
A focus on achieving a competitive cost structure is fundamental to every decision Bell makes. Strategic cost management is central to delivering on our broadband investment and innovation strategy, maximizing value for our customers and continuing to return value to shareholders.
Team members across every business segment are focused on innovative approaches to increase productivity and cost efficiency in our delivery of network and service innovations to consumers and business customers. These include the continued integration of strategic acquisitions, efficiencies in wireless connectivity and business solutions from the ongoing rollout of our all-fibre network, and new self-serve options that are reducing customer service costs.
Cost discipline supported increases in adjusted EBITDA and relatively stable margin performance, despite customer retention and acquisition spending pressures in an increasingly competitive marketplace for wireless and wireline, and higher costs in our media segment for premium TV programming. Cost discipline is a key factor in our wireline segment's ability to maintain a North American industry leading margin as we effectively manage revenue declines in our wireline voice and other legacy services.
Enhancements to customer self-serve options available through the MyBell mobile app and online at MyBell.ca continue to decrease costs by significantly reducing the volume of service calls to our contact centres. Customers visited our self-serve channels 104 million times and completed 13.4 million transactions in 2018.
Bell is highly effective at integrating strategic acquisitions into our national operations, enabling significant cost savings in network, customer service, marketing and corporate services. In 2018, BCE reduced management positions by approximately 700, which will deliver annualized cash savings of approximately $75 million, reflecting the operational synergies realized from our MTS, AlarmForce Industries, Axia NetMedia and other acquisitions.
A focus on environmental responsibility is also delivering  significant savings. Bell has reduced electricity consumption in our national operations by more than 30,000 Megawatt hours, and reduced fuel consumption across our service fleet by more than 500,000 litres through the use of telematics systems and eco-driving practices such as limiting idling.
Bell Canada raised $1.5 billion in gross proceeds by issuing 7-year and 10-year medium-term note (MTN) debentures, and US$1.15 billion in gross proceeds from 30-year notes, lowering our after-tax cost of outstanding publicly issued debt securities to 3.1% and increasing the average term to maturity to approximately 11 years.
BCE also made a $240 million voluntary pension plan contribution that further reinforced the solvency position of BCE's defined benefit (DB) pension plans and reduced the amount of our future pension obligations.