6 Strategic Imperatives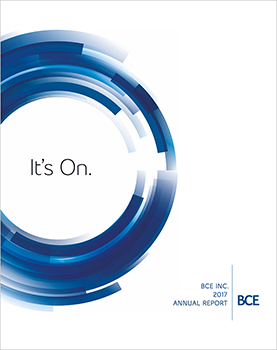 It's all about leadership.
Bell's strategy is to lead the Canadian communications industry in the scale and performance of broadband networks, in developing innovative, compelling services and content, and in making strategic acquisitions to capture emerging opportunities.
Building on our leadership position in broadband communications services, we generated historic growth in 2017. Once again, we invested more than any competitor in the most advanced networks and service innovations to lead in the marketplace and ensure Canada's competitiveness in a global digital economy, while creating consistent dividend growth forthe shareholders who have invested in Bell's broadband strategy.
Each day and around the clock, the Bell team works to deliver world-class network performance, exclusive new products and an enhanced service experience to Canadians in every province and territory. In the highly competitive and fast changing communications sector, Bell continues to set the pace through our dedication to one clear goal – for Bell to be recognized as Canada's leading communications company.
The best wireless, TV, Internet and media services continue to account for most of Bell's growth. But the actions taken in each and every line of Bell's business are all framed by our 6 Strategic Imperatives:
This strategy reflects both the challenges of our dynamic industry and the clear opportunities for innovation and growth in Canadian communications. And the Bell team is delivering.
| | |
| --- | --- |
|   | Bell's investments in our service teams and technologies, coupled with our best networks and exclusive services, are delivering a better customer experience at every level, supporting strong increases and customer satisfaction. |
As the nation's #1 communications brand and largest service provider, Bell has built a long legacy of service to our customers – beginning with 2,100 subscribers at the end of 1880 and growing to more than 22 million wireless, residential and business customer connections in every region of the country today.
As Canada's largest provider of TV and Internet, the fastest-growing in wireless, and the primary supplier of broadband services to business and government, Bell is investing and innovating to achieve the highest standards of customer service across our business segments.
We introduced a new approach to technical support for wireless customers with the launch of Same Day/Next Day smartphone repairs, continued to enhance our online and mobile selfservice tools, and improved technology support for the more than 2,000 new field technicians hired in 2017 to support the rollout of our broadband fibre services.
Bell field techs make almost 8,000 customer installation and service calls each day and enhanced training and tools help ensure the best results for our customers on every visit. In 2017, we introduced Technician Dossier, which combines customer and technical information from multiple systems for fast access on technicians' mobile devices for improved diagnosis of technical issues and higher install success rates.
We've further empowered customers through the Manage Your Appointment tool. In 2017, customers took advantage of the service more than 800,000 times to access real-time information including details on dispatched technicians and their estimated arrival time.
These innovations helped reduce residential Fibe TV installation time by 9% and repair truck rolls by 16% in 2017 for fibre to the home customers. Customer satisfaction with our technicians has reached an all-time high of 95%.
Bell makes it simpler for customers to manage their services, add or switch features and efficiently resolve issues.  MyBell.ca and the MyBell app managed more than 16.2 million self-serve transactions in 2017, up 15% from the year before. With new features like data usage tools, the MyBell app now has a 4-star rating on the Apple App Store.
We've improved service for business customers with the 2017 launch of a new national service centre in Fredericton to support enterprise and government customers. The site brings together quality assurance, security services, and development and project management support for Bell Business Markets customers nationwide. Our service to business customers was recognized in 2017 with Frost & Sullivan's Best Practices Award.
Overall our dedication to service improvement is delivering results. The most recent annual report of the federal Commission for Complaints for Telecom-television Services (CCTS) shows that Bell's overall share of complaints made by communications customers nationally continues to decline each year and by a higher rate than our major competitors.
To learn more, refer to BCE's 2017 Annual Report.