6 Strategic Imperatives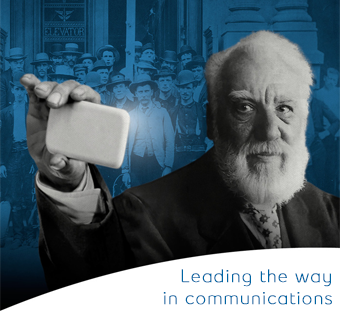 We have one goal: To be recognized by customers as Canada's leading communications company.
To achieve that goal, Bell is making significant investments in developing and delivering the most innovative communications and media services to Canadians across any screen they choose: television, smartphone, tablet and computer. In that way, we will continue to create value for our shareholders and rewarding careers for our team members, while ensuring we have the financial strength to fulfill our Bell Let's Talk charitable commitment to mental health and multiple sponsorship programs across the country.
Our goal is focused around 6 Strategic Imperatives:
By executing these imperatives, we will continue to achieve our primary business objectives to profitably expand our customer base and grow revenues, operating income, free cash flow and return on our invested capital. 
| | |
| --- | --- |
|   | Throughout 2015, Bell continued to focus on improved customer service as a key competitive differentiator in all lines of business and across all markets. |
Making customer self-serve even easier
Bell online systems have become an increasingly essential customer service tool, supporting more than 160 million online self-serve visits, customer views and transactions in 2015 – an increase of 9 million over 2014.
In 2015, we launched a completely redesigned bill for Bell residential customers, making it simpler to follow any changes from month to month. The new, streamlined online bill is easy to read and offers personalized interactive features, including historical data usage trends. We've also made it much easier to use online self-serve and added new Internet usage notifications to give customers more control over their online data consumption.
On the Mobility side, we introduced personalized videos explaining to new customers what to expect on their bill, how to check their usage and change features, and how to use MyBell.ca and the MyBell mobile app.
For small business customers, we significantly improved the ordering experience, with new call centre tools reducing ordering times by 60%.
With ongoing enhancement to our self-serve tools like MyBell.ca and the MyBell app in 2015, the ease with which customers can now use online tools to manage virtually every aspect of their accounts is dramatically reducing the need for calls to Bell service centres, which are down 6 million in just the last year.
Overall, calls to Bell are down 37% – a reduction of 28 million calls – since 2011.
We've invested heavily in new and innovative tracking and scheduling technology and it's paying off by ensuring our technicians get to the customer in record time.
In the last 4 years, we've cut Bell Fibe TV installation times by 30% – 10% in 2015 alone. In the last year, Bell delivered service within a 2-hour appointment window to more than 600,000 customers, 7 times more than a year earlier. And in 2015,  we extended 2-hour service windows to Internet and Home Phone repairs.
We also increased Same Day completion for both residential and business customers by 24% over 2014.
During the very busy summer move period in Québec, our technicians connected a record number of customers to Bell services within 2 days of ordering. On July 1 alone, more than 2,000 technicians were on the road and serving Bell customers to meet our service delivery commitments.
Our Bell Business Markets, Field Services and Network teams also stepped up to meet the exceptional demand during the federal election campaign in the fall, setting up 220 returning stations within 5 days. We also reduced the IP VPN provisioning time for business customers by 12 days in 2015.
And in another move forward for service, we introduced evening appointments for small business customers and delivered repair service more often on the same day.
But just as important as improving response times, we've also seen significant improvement in customer satisfaction with our technicians. Despite the high demand and the complexity of work involved with Fibe technology, 92% of Bell customers were highly satisfied with the quality of installation and repair service provided by technicians, compared to 85% in 2011.
It's our customers doing the talking
Over the last 5 years Bell has invested more than $850 million in service improvements and the results are clear, not just in what our customers are telling us, but in what they're telling the world.
We asked Bell Mobility customers if they would recommend Bell to people they know. The result was a Net Promoter Score improvement of 14% over 2014, for a total increase of 55% since 2011. And our leading-edge Bell Fibe TV and Bell Aliant FibreOP TV were the top two TV services most recommended by customers in Canada in 2015.*
Positive service improvement was also noted by J.D. Power. In 2015, J.D. Power reported that Virgin Mobile provided the "Highest Ranked Purchase Experience among Wireless Providers" in Canada.**
Across Bell Mobility, investments in sales associate training, store designs and purchasing systems continue to enhance the customer experience and make the buying process even faster and more efficient.
We're also starting to see traction in improved results with the Commissioner for Complaints for Telecommunications Services (CCTS). Its most recent report showed a 2% reduction in Bell customer issues between August 2014 and July 2015. Bell's own tracking shows that with our significant investments to improve customer service, including new training programs and projects like our enhanced customer invoices, we saw a 17% reduction in CCTS-level complaints in 2015, and are on track for further improvement in 2016.
To learn more, refer to BCE's 2015 Annual Report.
---
*  Nielsen Consumer Insights fi dings published in Customer Interaction Metric study (October 2015)
** Virgin Mobile received the highest numerical score in the proprietary J.D. Power 2015 Canadian Wireless Purchase Experience StudySM. Study based on responses from 5,120 consumers, includes 8 wireless providers, and measures opinions of consumers who purchased a wireless product or service within the last 12 months. Proprietary study results are based on experiences and perceptions of consumers surveyed October 2014-March 2015. Your experiences may vary. Visit jdpower.com