6 Strategic Imperatives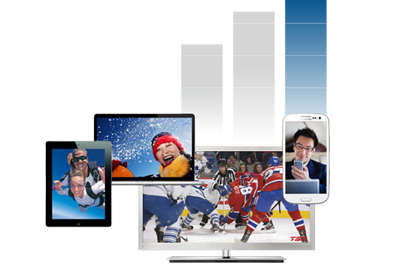 We have one goal: To be recognized by customers as Canada's leading communications company.
To achieve that goal, Bell is making significant investments in developing and delivering the most innovative communications and media services to Canadians across any screen they choose: television, smartphone, tablet and computer. In that way, we will continue to create value for our shareholders and rewarding careers for our team members, while ensuring we have the financial strength to fulfill our Bell Let's Talk charitable commitment to mental health and multiple sponsorship programs across the country.
Our goal is focused around 6 Strategic Imperatives:
By executing these imperatives, we will continue to achieve our primary business objectives to profitably expand our customer base and grow revenues, operating income, free cash flow and return on our invested capital. 
Accelerate wireless 
Investment and innovation have always been part of Bell's wireless history, but we are accelerating both of these advantages more than ever. Bell continuously improves our wireless networks, enhances our leading product line-up and broadens our unmatched mobile TV and live sports programming to meet the demand for innovation in an intensely competitive industry. 
To power our wireless growth, Bell's 4G LTE (Long-Term Evolution) network is continually expanding to more urban areas and enabling the fastest speeds possible and HD quality TV and video to mobile device users. We have also continued to improve our HSPA+ network – already the best in the country – so that it now covers 97% of the population. In addition, our HSPA+ Dual Cell technology now covers 70% of the HSPA+ footprint, effectively doubling the network's data transfer speed.
As a result, Bell attracted more postpaid new customers than the other two major carriers in 2011. Most of them bought high-revenue-generating smartphones which now represent just under half of our postpaid subscriber base, an increase of more than 70% in one year. 
To help customers make the most of these powerful devices, we enhanced our Bell Mobile TV service, including more live sports from TSN, TSN2 and RDS – the most-watched English and French specialty channels in Canada – live content from CTV News Channel and MTV and on-demand content from The Comedy Network. Bell Mobile TV also upgraded its exclusive sports line-up, adding the Montréal Canadiens, Vancouver Whitecaps, NFL football and NHL Stanley Cup playoff games to its roster.
Bell offers customers even more choice through brands such as Virgin Mobile, and brings its devices closer to customers through the most extensive distribution network in the industry thanks to the reach of The Source's network of stores, as well as retail partner and dealer locations across Canada.
To learn more, refer to BCE's 2012 Annual report.