6 Strategic Imperatives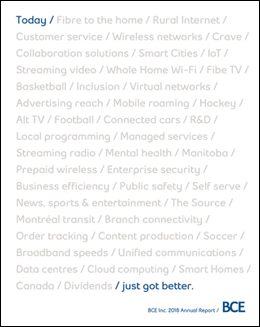 Today just got better
Outstanding gains in wireless, steady growth in broadband Internet and TV, and stable performance in a fast-changing media marketplace underpinned strong BCE financial results in 2018, supporting our strategy to lead in broadband investment and innovation while delivering steady dividend growth for our shareholders.
The fastest Internet. Lucky Mobile. Crave. Gigabit wireless. Alt TV. Enterprise cloud solutions. Wireless Home Internet. Connected Cars, Smart Homes and Smart Cities. These are just some of the Bell service innovations that make today better for our consumer, business and government customers across the country. Bell has the scale necessary to deliver the world's best communications technologies throughout the country, a key factor enabling Canadians and our business community to participate fully in an increasingly global marketplace.
In fact, Bell invests more in new network infrastructure and Canadian communications R&D than any other company. Our focus on bringing Canadians the best in broadband supports our country's technological leadership on a global scale, while giving Bell the competitive edge to succeed in Canada's dynamic communications industry.
Actions taken in each and every line of Bell's business are all framed by our 6 Strategic Imperatives:
This strategy reflects both the challenges of our dynamic industry and the clear opportunities for innovation and growth in Canadian communications. And the Bell team is delivering.
| | |
| --- | --- |
| | Bell delivers better broadband to consumers and businesses in more cities, towns and smaller communities than ever, building advanced networks that deliver unmatched speeds and infinite innovation possibilities. |
As Bell continues to lead the deployment of next-generation broadband networks and services, Canadians are taking full advantage of the advanced capabilities these fibre and wireless connections provide, from streaming content to accessing Internet of Things (IoT) services and new cloud solutions.
More connected devices are being added throughout homes and businesses each day, and the need for fast and reliable connectivity continues to accelerate. As Canada's broadband provider of choice, Bell is addressing the opportunity by investing more in advanced networks and services than any other company, with $3.97 billion in capital expenditures in 2018.
Improving coverage and quality Bell's historic fibre optic network build was approximately 50% complete by the end of 2018, increasing our number of all-fibre connections to approximately 4.6 million homes and businesses in Atlantic Canada, Québec, Ontario and Manitoba.
As we surpassed 1 million locations with direct fibre in the City of Toronto – and continued our large-scale fibre deployment in Montréal – we launched a new initiative to connect 1.3 million households and businesses in the surrounding Greater Toronto Area (GTA). As part of the $1 billion Bell MTS investment plan for Manitoba begun in 2017, we expanded our all-fibre broadband network in Brandon, Niverville, Oakbank, Steinbach, Winkler and within Winnipeg, supporting the ranking of Bell MTS in PCMag's top 10 fastest ISPs in Canada for the first time.
Bell also brought the fastest wireless technology to more Canadians with the expansion of LTE Advanced (LTE-A) network availability to 91% of the national population (overall LTE coverage surpassed 99% in 2017). More than 90% of Manitobans now have access to LTE-A as part of the Bell MTS investment plan, and we extended our wireless network reach into previously unserved areas, including the communities of Stuartburn, Woodridge and Zhoda in southeastern Manitoba.
The speed of our broadband connections also continued to outpace our competitors. In 2018, Bell became the first wireless carrier in Canada to achieve 1 Gigabit per second (Gbps) mobile speeds, and the first Internet service provider to offer access speeds of 1.5 Gbps.
Bell has invested significantly to connect the vast majority of our cell towers to high-speed fibre backhaul which, together with the ongoing deployment of mobile small cell technology,  is greatly enhancing the reliability of our wireless networks while advancing our preparations for 5G. At the same time, our work to maximize the efficient deployment of our wireless spectrum holdings through the use of carrier aggregation and 4x4 multiple input multiple output (MIMO) technology is driving ongoing increases in LTE-A speeds and capacity.
Broadband coverage everywhere
As Bell quickly extends its fibre links in urban centres, we're also delivering broadband speeds to smaller towns and rural locations with our innovative Wireless Home Internet fixed-wireless service. Based on 5G-capable Wireless to the Premises (WTTP) technology in the 3.5 GHz spectrum band, the service is now available in 28 towns in Ontario and Québec and is expected to reach a total of 1.2 million households, up from the 800,000 originally planned prior to the federal government's Accelerated Investment Incentive.
Homes and businesses in Iqaluit and other Nunavut communities now have access to a new satellite-based high-speed Internet service, the result of a joint broadband initiative by Bell, Northwestel, Telesat, the federal Connect to Innovate program and the Nunavut government. Bell Mobility also brought 4G wireless service to 11 Nunavut communities in 2018, and will complete the rollout to all 25 communities in the territory in 2019.
Bell continues to work with network partners and with federal, provincial and territorial governments on providing broadband in other remote areas, winning a number of bids for additional Connect to Innovate projects in Newfoundland and Labrador, Nova Scotia, northern Ontario and the Northwest Territories in 2018.
In Manitoba, Bell MTS is extending broadband to 8 communities – 6 of them First Nations – in partnership with both the federal and provincial governments, while another federal-provincial partnership will connect 13 communities in Québec's Outaouais region.  Communities in all the northern territories will benefit from a new 777 km fibre network being built by Bell subsidiary Northwestel between Dawson City, Yukon and Inuvik, Northwest Territories with funding support from Connect to Innovate and the Yukon government.
The high quality and reliability of Bell's broadband networks were showcased to the world during the G7 Summit in Québec's Charlevoix region. With communications enhancements required to support officials, security and international media, the federal government turned to Bell for a program to expand fibre and wireless networks in less than a year, including installing 13 cell towers and extensive fibre connections that will be a lasting benefit to communities in the region.