6 Strategic Imperatives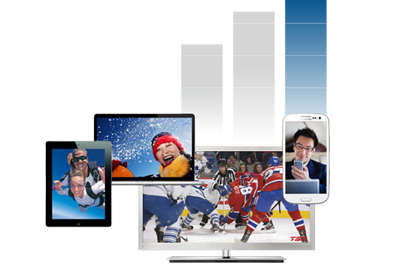 We have one goal: To be recognized by customers as Canada's leading communications company.
To achieve that goal, Bell is making significant investments in developing and delivering the most innovative communications and media services to Canadians across any screen they choose: television, smartphone, tablet and computer. In that way, we will continue to create value for our shareholders and rewarding careers for our team members, while ensuring we have the financial strength to fulfill our Bell Let's Talk charitable commitment to mental health and multiple sponsorship programs across the country.
Our goal is focused around 6 Strategic Imperatives:
By executing these imperatives, we will continue to achieve our primary business objectives to profitably expand our customer base and grow revenues, operating income, free cash flow and return on our invested capital. 
 
With the most advanced networks supporting the latest smartphones and mobile data services, Bell's growing wireless strength was a key driver of our growth in 2013.
Bell's next generation wireless networks, superior smartphone lineup and innovative data services gave us the industry-leading share of net postpaid subscriber activations and average revenue per user (ARPU) growth in 2013.
Already offering access to Canada's largest 4G LTE network, Bell added 25 new LTE markets and reached 80% of the Canadian population by the end of 2013.
The world's best wireless technology, LTE is backed up with our HSPA+ network offering coast-to-coast coverage to more than 98% of Canadians.
The speed and capacity of these networks enable Bell customers to make the most of their powerful smartphones and superphones with the latest mobile business, gaming, information and entertainment apps, including Bell Mobile TV.
With more than 1.2 million mobile TV subscribers at the end of 2013, 66% more than the year before, Bell has staked out a clear leadership position in the fast-growing mobile media segment, delivering record video streaming of major events like the Super Bowl and most recently Sochi 2014 to customers anywhere they may be.
Bell launched 26 new mobile devices in 2013, adding to the best lineup in the mobile marketplace, including the in-demand smartphones from Apple, BlackBerry, HTC, LG, Samsung and Sony, and the ultra- rugged Sonim BOLT push-to-talk phones for heavy business users in the most extreme conditions. Almost three-quarters of Bell postpaid customers now have smartphones, growing to 73% of the base from 62% just a year ago.
These leading networks, handsets and content applications led to robust growth in data service usage, driving a 2.6% increase in blended ARPU to $57.25 for the year. Bell Wireless reported strong financial results overall, with service revenues increasing 5.4% to $5.36 billion and EBITDA up 10.6% to $2.34 billion, the highest growth rate reported in Canadian wireless.
Other notable 2013 wireless developments include:
A fast and secure mobile banking solution developed by Bell and RBC, Canada's largest bank, that lets Bell smartphone users easily buy goods and services with debit or credit simply by tapping their phones at a payment terminal.

To enable customers to enjoy their smartphones when they travel as much as they do at home, Bell significantly  reduced roaming rates in the most popular destinations for Canadians – the United States, Europe, Mexico, China, Turkey, Australia and New Zealand, and popular Caribbean sun destinations including Cuba.

Bell's focus on service improvement and the quality of our networks and devices helped reduce postpaid customer churn by year end to 1.25% from 1.30%.

The new Bell M2M Management Centre is a secure online portal enabling business customers portal enabling business customers to remotely manage network- connected devices such as vending machines or parking meters, supporting Bell's growing leadership in the machine-to-machine marketplace.
In line with our commitment to network leadership, Bell invested $566 million to acquire significant 700 MHz wireless spectrum assets in every province and territory in the January 2014 federal spectrum auction. 
Bell will employ these valuable new airwaves to bring LTE broadband service to small towns, rural locations and Canada's North, ultimately covering 98% of the population with LTE.
To learn more, refer to BCE's 2013 Annual Report.