6 Strategic Imperatives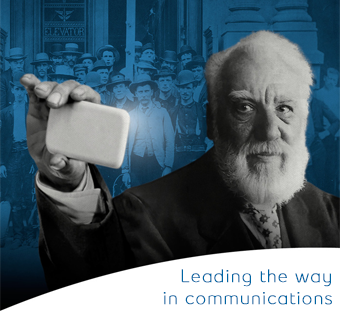 We have one goal: To be recognized by customers as Canada's leading communications company.
To achieve that goal, Bell is making significant investments in developing and delivering the most innovative communications and media services to Canadians across any screen they choose: television, smartphone, tablet and computer. In that way, we will continue to create value for our shareholders and rewarding careers for our team members, while ensuring we have the financial strength to fulfill our Bell Let's Talk charitable commitment to mental health and multiple sponsorship programs across the country.
Our goal is focused around 6 Strategic Imperatives:
By executing these imperatives, we will continue to achieve our primary business objectives to profitably expand our customer base and grow revenues, operating income, free cash flow and return on our invested capital. 
| | |
| --- | --- |
| | 2015 was the 30th anniversary of wireless communications in Canada, and Bell leveraged a mobile 4G LTE network acknowledged as Canada's fastest to take the lead in smartphone postpaid customer net additions, as well as revenue and adjusted EBITDA growth. |
In an intensely competitive double cohort year, when twice as many wireless customer contracts expired compared to 2014, Bell outperformed the industry and gained 43% of net new postpaid subscribers among all wireless incumbents in 2015 – and  half of all new postpaid customers in the competitive fourth quarter period.
Accelerating smartphone and mobile data usage
The success of Bell wireless is built on our award-winning 4G LTE network, which is growing in speed and scope every day. It's a network that enables customers to have an amazing wireless experience on an unmatched portfolio of devices, including more than 30 new smartphones and tablets introduced in 2015 from leading manufacturers like Samsung, Apple, Sony, BlackBerry and HTC.
As Canadians increasingly adopt advances in mobile payments technology, Bell took another significant step forward in mobile commerce with Suretap. This new mobile app lets Bell customers use their smartphones to make day-to-day purchases with one quick tap, collect points on popular loyalty cards and redeem gift cards from popular retailers.
Innovations in Canada's leading mobile TV service continued in 2015 and early this year with new content from CP24, E! and the Comedy Network, as well as premier sports events, including the NBA All-Star game in Toronto, and up to 900 live games with the new NBA League Pass.
Customers have responded positively to enhancements in mobile self-serve account management. About 160 million times last year, customers went online for billing updates, to order new features, check their mobile and Internet data usage, or choose roaming plans for travel.
In 2015, we made it easier and more affordable to travel with a Bell wireless device. With the Roam Better U.S. package, customers travelling in the U.S. can take advantage of unlimited talk, text and 100 MB of data for just $5 a day. Launched in early 2016, Roam Better International offers the same generous data, talk and text for $10 in 110 destinations across Europe, the Americas, Asia and the Middle East, Australia and South Africa, the most of any comparable Canadian plan, and more international coverage than any other competitor.
A leader in wireless growth
For the full year, we grew our base of postpaid customers by 3.7% and increased revenue by 8.7%, driven largely by the 68% of postpaid customers now using our award-winning 4G LTE network. ARPU climbed 5.3% for the year to $63.09.
Bell Wireless adjusted EBITDA increased 7.8%, despite $184 million in additional spending to attract and keep subscribers, particularly during the height of the double cohort period.
From net new postpaid customers to growth in ARPU, service revenue and operating profit, as well as network speed – Bell leads the Canadian wireless industry as we enter 2016.
Bell products in more places
Bell built on our leadership as the industry's #1 retailer of mobile, residential and small business communications products through our strategic investment in Glentel Inc., one of Canada's most successful mobile product distributors.
With the addition of Glentel's familiar WIRELESS WAVE, Tbooth Wireless and WIRELESS etc. brands, Bell products are now available in more than 2,500 corporate stores, Virgin Mobile, The Source and other dealer and retail locations across the country.
As part of continued investment in store design, we enhanced our stores including our newest flagship location at the busy Toronto Eaton Centre, featuring more than 350 square metres of the best of Bell products and services in innovative interactive displays developed in partnership with Bell Media.
Over the busy holiday sales season, Bell was the exclusive communications company connected with the biggest movie event of the year – Star Wars: The Force Awakens. We showcased our technology in a massive Star Wars-themed marketing campaign that included store décor, extensive advertising, and collector pins.
To learn more, refer to BCE's 2015 Annual Report.