6 Strategic Imperatives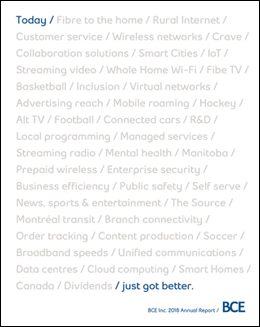 Today just got better
Outstanding gains in wireless, steady growth in broadband Internet and TV, and stable performance in a fast-changing media marketplace underpinned strong BCE financial results in 2018, supporting our strategy to lead in broadband investment and innovation while delivering steady dividend growth for our shareholders.
The fastest Internet. Lucky Mobile. Crave. Gigabit wireless. Alt TV. Enterprise cloud solutions. Wireless Home Internet. Connected Cars, Smart Homes and Smart Cities. These are just some of the Bell service innovations that make today better for our consumer, business and government customers across the country. Bell has the scale necessary to deliver the world's best communications technologies throughout the country, a key factor enabling Canadians and our business community to participate fully in an increasingly global marketplace.
In fact, Bell invests more in new network infrastructure and Canadian communications R&D than any other company. Our focus on bringing Canadians the best in broadband supports our country's technological leadership on a global scale, while giving Bell the competitive edge to succeed in Canada's dynamic communications industry.
Actions taken in each and every line of Bell's business are all framed by our 6 Strategic Imperatives:
This strategy reflects both the challenges of our dynamic industry and the clear opportunities for innovation and growth in Canadian communications. And the Bell team is delivering.
| | |
| --- | --- |
| | Bell Media is meeting the changing needs of audiences by delivering new and innovative content and increasing digital viewing platforms and direct-to-consumer offerings. Bell Media continues to expand its leadership in TV, radio, digital media and out-of-home advertising by providing industry-first solutions for viewers and advertisers. |
Growing international competition and fast-evolving technologies have impacted how media is consumed and monetized. In a dynamic marketplace, Bell Media has the scale, the brands and the creative talent and resources to build on its position as Canada's leading broadcasting and content creation company.
Canada's favourite TV
CTV marked its 17th consecutive year as Canada's most-watched network – the most consistent #1 performance of any network in North America – airing the country's top fall shows, including #1 comedy The Big Bang Theory, #1 drama The Good Doctor and #1 new series The Conners.
Among Canadian specialty channels, Star Trek: Discovery on Space was the #1 most-watched series while The Handmaid's Tale on Bravo ranked #3. Discovery continues to distinguish itself with 3 of the top 6 Canadian series on specialty TV. Bell Media maintained its leadership position in Québec, with RDS, Super Écran, Canal D and Canal Vie ranking as 4 of the top 10 French specialty and pay channels among key viewer demographics.
TSN finished 2018 as the most-watched specialty channel of any kind in Canada, powered by the FIFA World Cup, which reached 23.6 million Canadians on TSN and CTV; regional Canadiens, Jets, Leafs and Senators hockey; Raptors basketball; and NFL football.
RDS also maintained its position as Canada's top French-language sports network, with Montreal Canadiens hockey the channel's most-watched programming, NFL football up 10% and FIFA World Cup reaching 3.7 million viewers.
Premier digital destination
Bell Media launched the all-new Crave streaming service, providing current HBO programming to all Canadians with access to the Internet for the first time ever. Combining HBO Canada, TMN, Showtime, Starz and other premium content into a single service, Crave offers more Emmy® Award-winning TV programming than any other service in Canada. Now available from all major Canadian TV providers, Crave expanded to 2.3 million subscribers by the end of 2018.
Bell Media's digital universe grew further with the launch of new direct-to-consumer streaming offerings in sports, movies and short-form video. TSN Direct and RDS Direct allow subscribers to access TSN and RDS feeds exclusively through digital platforms. CTV Throwback and CTV Movies are free ad-supported, on-demand channels available on CTV.ca and the CTV app that deliver thousands of hours of entertainment. SnackableTV, Bell Media's short-form video content hub, provides premium snack-sized pieces of content while offering a new environment for advertisers to connect with consumers.
Bell Media remains Canada's top radio broadcaster. In addition to 16.6 million local listeners tuning into Bell Media radio stations every week, more Canadians are accessing radio via Bell's enhanced iHeartRadio Canada app, featuring more than 1,000 live radio stations and 10,000 podcasts.
Astral, Bell Media's out-of-home advertising division, strengthened its position with new programmatic partnerships, including alliances with Campsite and Vistar Media. These agreements make Astral's 240 digital, large format and street furniture faces across Canada accessible through programmatic platforms, allowing digital marketers to take advantage of the power of out-of-home media.
Content creation partnerships
Bell Media continued its focus on increasing access to premier content through strategic international partnerships, including Starz and BNN Bloomberg, which saw the rebranding of existing channels (TMN Encore and BNN) and increased digital presence. Bell Media also announced new partnerships with Sony Pictures Television to deliver movie content to new digital on-demand services, a long-term agreement for new and library content from VICE, and a partnership with Spotify that makes Bell Media's original podcasts available on every major audio platform in the country.
Bell Media joined forces with Groupe CH, ICM Partners and Howie Mandel to acquire comedy powerhouse Just For Laughs, and acquired a majority stake in Pinewood Toronto Studios, the largest purpose-built production studio in Canada.
In-house and independent production arm Bell Media Studios greenlit 35 English-language projects with independent producers across the country and 97 original projects with Québec producers. Bell Media and partners received 203 Canadian Screen Awards nominations in 2018 including for homegrown hits and international success stories Letterkenny, Cardinal and Wynonna Earp.
Smart data
Bell Media smart data initiatives went to market this year with the launch of a new proprietary Strategic Audience Management tool (SAM). The data enhanced TV tool combines the powerful reach of linear television with the precision of digital targeting. This ongoing work in smart data by Bell Media's sales and digital teams is generating incremental revenue and providing the foundation for future product builds.