6 Strategic Imperatives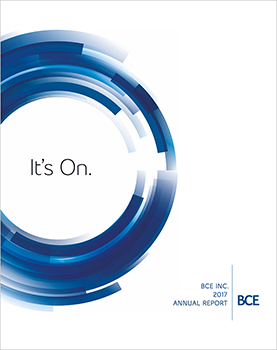 It's all about leadership.
Bell's strategy is to lead the Canadian communications industry in the scale and performance of broadband networks, in developing innovative, compelling services and content, and in making strategic acquisitions to capture emerging opportunities.
Building on our leadership position in broadband communications services, we generated historic growth in 2017. Once again, we invested more than any competitor in the most advanced networks and service innovations to lead in the marketplace and ensure Canada's competitiveness in a global digital economy, while creating consistent dividend growth forthe shareholders who have invested in Bell's broadband strategy.
Each day and around the clock, the Bell team works to deliver world-class network performance, exclusive new products and an enhanced service experience to Canadians in every province and territory. In the highly competitive and fast changing communications sector, Bell continues to set the pace through our dedication to one clear goal – for Bell to be recognized as Canada's leading communications company.
The best wireless, TV, Internet and media services continue to account for most of Bell's growth. But the actions taken in each and every line of Bell's business are all framed by our 6 Strategic Imperatives:
This strategy reflects both the challenges of our dynamic industry and the clear opportunities for innovation and growth in Canadian communications. And the Bell team is delivering.
| | |
| --- | --- |
| | Bell's broadband networks are the foundation of our growth and innovation strategy. Fast fibre and mobile LTE connections power our leading wireless, TV, Internet, media and business services, and their outstanding quality and reliability continue to drive increased customer usage and satisfaction. |
Bell networks connect Canadians to each other and the world, delivering billions of wireless calls, text messages and emails each day, providing fast, reliable access to streaming video and music, social media, online gaming, business applications and much more.
Canada's largest companies rely on Bell's networks and industry-leading roster of 28 data centres across the country for the fast and secure communications they need to support their operations and serve customers in Canada and around the globe.
As demand for bandwidth continues to accelerate, Bell is staying ahead with capital expenditures of $4.03 billion supporting extensive wireless and fibre network expansion in 2017 to power our broadband growth strategy.
It's On: Delivering the fastest broadband in more places
Our major fibre projects in urban centres made significant progress in 2017, expanding Bell's direct fibre footprint to more than 3.7 million homes and businesses in Atlantic Canada, Québec, Ontario and Manitoba, up from approximately 3 million the year before.  That now includes most of Toronto, and we recently announced that we will extend our all-fibre footprint across the fast-growing GTA/905 region surrounding Canada's most populous city.
As we continue to expand our deployments, including in centres large and small throughout Manitoba with Bell MTS, we're on track to bring direct fibre connections to a total of 4.5 million locations by the end of 2018 – approximately 50% of our long-term direct fibre build – providing even more Canadians with access to Gigabit Fibe Internet, the best TV experience with Fibe TV, and a range of new business services.
In wireless, we achieved a major milestone in 2017 as our LTE network, offering theoretical download speeds of up to 150 Megabits per second (Mbps), grew to reach 99% of the Canadian population, throughout urban centres, small towns and rural locations alike.  We expect to grow LTE Advanced coverage, with speeds of up to 260 Mbps, to approximately 92% of Canadians by the end of 2018.  We're achieving industry-leading wireless speeds with active spectrum deployment and aggregation as well as our industry-leading fibre backhaul infrastructure. We continued to enhance Canada's Best National Network in 2017, with Tri-band LTE service now providing speeds up to 335 Mbps to 34% of Canadians and Quad-band LTE service offering up to 750 Mbps in more than 90 cities.
Bell networks support ongoing service innovations
With our industry-leading investments in Canadian R&D, Bell is leveraging the best talent and advanced technologies to build efficient networks that adapt quickly as broadband services evolve. Our advanced and ubiquitous wireless and fibre networks position us for success in the fast-growing Internet of Things (IoT) sector, which encompasses personal wearable devices, connected vehicles, the Connected Home, Smart City platforms and a broad range of business solutions.  In 2017, Bell announced the development of an LTE-M network to improve the efficiency of IoT devices by enabling lower power consumption and better coverage in underground and hard-to-reach areas.
Bell has announced several partnerships that highlight the huge potential of IoT technology and our innovation initiatives in the sector, including the first Smart City project in Kingston to improve the efficiency of municipal operations and services, and a unique vineyard monitoring system with the Henry of Pelham Estate Winery in Ontario's Niagara Region.
Connected cars and homes
We are also working with Hyundai, Kia and other auto manufacturers to provide connected vehicle services such as emergency roadside assistance, remote start and on-demand diagnostics over Bell's national network. Bell's Connected Car product also offers vehicle tracking and notifications, maintenance alerts and an in-vehicle Wi-Fi hotspot.
In residential services, we launched Bell Whole Home Wi-Fi service, the first in Canada to use access points called pods and smart technology to ensure all devices throughout the home receive the strongest signal and fastest speeds available.  Backed by the Fibe network, the new service works seamlessly with the advanced Home Hub 3000 modem and Wi-Fi router.
We expanded our partnership with Ericsson to take Fibe TV innovation to the next level with the new MediaFirst platform. Enabling next-generation services across multiple screens and other enhancements for Fibe TV and Alt TV, MediaFirst will help keep Bell try to catch up in the IPTV marketplace.
To learn more, refer to BCE's 2017 Annual Report.