6 Strategic Imperatives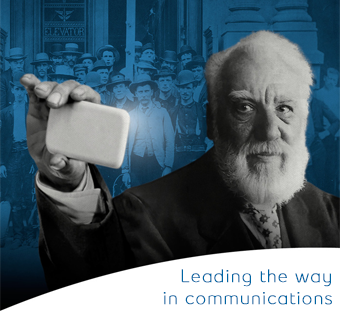 We have one goal: To be recognized by customers as Canada's leading communications company.
To achieve that goal, Bell is making significant investments in developing and delivering the most innovative communications and media services to Canadians across any screen they choose: television, smartphone, tablet and computer. In that way, we will continue to create value for our shareholders and rewarding careers for our team members, while ensuring we have the financial strength to fulfill our Bell Let's Talk charitable commitment to mental health and multiple sponsorship programs across the country.
Our goal is focused around 6 Strategic Imperatives:
By executing these imperatives, we will continue to achieve our primary business objectives to profitably expand our customer base and grow revenues, operating income, free cash flow and return on our invested capital. 
| | |
| --- | --- |
|   | To mark our 135th anniversary in 2015, Bell announced plans to invest $20 billion in network infrastructure by the end of 2020. One of Canada's biggest capital investment programs, this would further solidify our nation's lead in communications innovation and accessibility. |
In 2015, our investments of more than $3.6 billion connected more Canadians to broadband fibre, and brought the fastest 4G LTE wireless speeds to millions more from coast to coast.
World-leading 4G LTE wireless broadband
Bell's 4G LTE mobile network reached 96% of Canadians in 2015 and is expected to be available to 98% by the end of 2016. 
In early 2015, Bell launched its Dual-band LTE Advanced (LTE-A) service, offering data speeds up to 260 Mbps. And in August 2015, in a North American first, Bell gave LTE wireless a speed boost with the launch of Tri-band LTE-A technology, taking peak speeds up to 335 Mbps, the fastest network technology anywhere. With typical average speeds of 18-74 Mbps for Dual-band and 25-100 Mbps for Tri-band, LTE-A is capable of supporting virtually seamless HD video streaming, complex business tools and videoconferencing with virtually no wait time.
LTE-A service was available to approximately half of Canadians in 2015, with coverage in parts of British Columbia, Alberta, Ontario, Atlantic Canada, Yukon and Northwest Territories, and is on track to reach 75% of the population in 2016.
In 2015, we also increased our 2500 MHz spectrum holdings to support service to smaller communities and rural areas. In total, we've invested $7 billion in spectrum and new mobile networks since 2006.
Canada's largest Gigabit footprint
While our broadband fibre network already supported superfast Internet and the most innovative TV services, in 2015 we launched Gigabit Fibe and Gigabit FibreOP, offering North America's fastest Internet speeds.
As part of the Gigabit Fibe rollout, we're investing $1.14 billion in Toronto to connect 1.1 million homes and businesses in the city to our new fibre network. The Toronto build is Bell's single largest infrastructure expansion project ever and is expected to be substantially completed by the end of 2017.
Bell's Gigabit Fibe footprint is already the largest Gigabit network in the country, with availability to more than 2.2 million homes in Québec, Ontario and the Atlantic region and is growing rapidly. In 2016, Bell plans to invest another $3.7 billion in network capital, approximately $1 billion in fibre alone, to expand Gigabit Fibe service capability to 3 million homes and businesses by the end of the year.
To learn more, refer to BCE's 2015 Annual Report.