6 Strategic Imperatives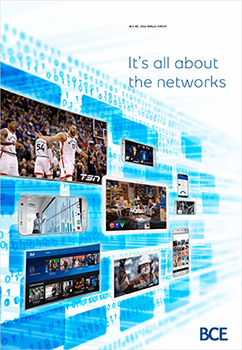 We have one goal: To be recognized by customers as Canada's leading communications company.
Bell continued to build on our position as Canada's broadband communications leader in 2016. We are investing in the most advanced networks and service innovations to lead in the marketplace and ensure Canada's competitiveness in a global digital economy, while delivering consistent dividend growth to you, the shareholders who have invested in Bell's broadband strategy.
Each day and around the clock, the Bell team works to deliver world-class network performance, exclusive new products and an enhanced service experience to Canadians in every province and territory. In a highly competitive and fast changing communications sector, Bell continues to set the pace through our dedication to a clear goal – for Bell to be recognized as Canada's leading communications company.
To achieve our goal, Bell executes a strategy focused on delivering the best wireless, TV, Internet and media growth services in the most timely and efficient manner possible, an approach framed by our 6 Strategic Imperatives:
Ours is a strategy that reflects both the challenges of our dynamic industry and the clear opportunities for innovation and growth in Canadian communications.  And the Bell team is delivering.
| | |
| --- | --- |
| | It's all about the networks, the essential links that connect Canadians to each other and the world. Fast broadband fibre and wireless networks are the core of Bell's leadership in the marketplace, enabling growing customer usage and satisfaction across our services. |
On any given day, Bell networks will connect 39 million wireless calls, deliver 10 million hours of CTV programming, 2 million iHeartRadio streams, 213 million visits to Google, 13 million videos on YouTube, 79 million emails, 151 million text messages, and 35 million tweets.
On that same day, 96 of the 100 largest Canadian enterprises will rely on Bell's networks for the fast, safe and secure communications they need to compete, including access to co-location and other managed and professional services through Bell's industry-leading roster of 27 data centres.
To meet the astounding growth in demand for bandwidth, Bell is driving broadband network innovation and investment with capital expenditures of more than $3.77 billion in 2016, far more than any communications companies in Canada and on par with major investors in Canada's oil and gas sector.
Growth accelerates wherever Bell lays fibre, and we are quickly expanding our broadband Fibe network, including our Gigabit Fibe Internet footprint in Ontario, Québec, Atlantic Canada and, soon, Manitoba. We are bringing our 4G LTE and LTE Advanced (LTE-A) mobile networks to more Canadians across the country, increasing capacity to meet the growing demand for data and enabling speeds up to 335 Megabits per second (Mbps) with typical speeds up to 100 Mbps.
Bell is also implementing four-carrier spectrum aggregation that will enable mobile speeds in select areas of up to 560 Mbps (typically up to 166 Mbps), and laying the groundwork for the next generation of wireless connectivity as Bell partnered with Nokia in 2016 to complete the first trial of 5G mobile technology in Canada.
Independent testing highlights benefits of Bell networks
In wireless, independent analyst PCMag ranked Bell's 4G LTE network the fastest in Canada and significantly faster than US carriers in 2016. Our national 4G LTE network reached 97% of Canadians by the end of the year.
Two reports by the CRTC in 2016 showed Bell's rapidly expanding broadband fibre network stood out for delivering the highest quality Internet service in the country. Based on data collected from more than 3,000 Canadian Internet users, the reports confirmed that Bell's direct fibre links exceeded advertised Internet download speeds by a greater margin than other Canadian providers, and that FTTH services like Fibe offer the best browsing and streaming experience.
Bell's broadband Fibe service is available now to 8.3 million homes and businesses, including 2.9 million direct fibre connections. By the end of 2017, approximately one-third of homes and businesses inside Bell's wireline footprint will be capable of accessing Gigabit Fibe service, the fastest Internet available with download speeds of 1 Gigabit per second and more.
Accelerating our investment momentum
With the acquisition of MTS approved to move forward in 2017, Bell plans to invest $1 billion in broadband network infrastructure projects throughout the province over the next 5 years. Bell's investments will bring major wireline and wireless expansions to Winnipeg's Innovation Alley; to the remote but burgeoning ecotourism destination of Churchill, the Polar Bear Capital of the World; continuous broadband wireless coverage along Highway 75 in southern Manitoba; and the expansion of mobile and wireline broadband networks in northern Manitoba, including along Highway 6 to Thompson, in Flin Flon and in 5 small indigenous communities.
As part of our network innovation strategy, we announced a partnership with AT&T and Orange in 2016 to develop software-driven networks that transcend the need for specialized hardware such as switches and routers. These networks of the future will accelerate the Internet of Things (IoT) and support emerging services such as virtual reality, self-driving vehicles, connected homes and smart cities.
To learn more, refer to BCE's 2016 Annual Report.