6 Strategic Imperatives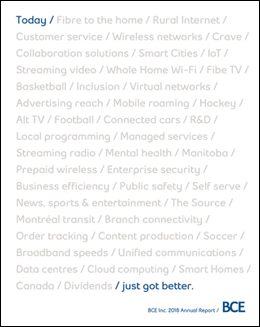 Today just got better
Outstanding gains in wireless, steady growth in broadband Internet and TV, and stable performance in a fast-changing media marketplace underpinned strong BCE financial results in 2018, supporting our strategy to lead in broadband investment and innovation while delivering steady dividend growth for our shareholders.
The fastest Internet. Lucky Mobile. Crave. Gigabit wireless. Alt TV. Enterprise cloud solutions. Wireless Home Internet. Connected Cars, Smart Homes and Smart Cities. These are just some of the Bell service innovations that make today better for our consumer, business and government customers across the country. Bell has the scale necessary to deliver the world's best communications technologies throughout the country, a key factor enabling Canadians and our business community to participate fully in an increasingly global marketplace.
In fact, Bell invests more in new network infrastructure and Canadian communications R&D than any other company. Our focus on bringing Canadians the best in broadband supports our country's technological leadership on a global scale, while giving Bell the competitive edge to succeed in Canada's dynamic communications industry.
Actions taken in each and every line of Bell's business are all framed by our 6 Strategic Imperatives:
This strategy reflects both the challenges of our dynamic industry and the clear opportunities for innovation and growth in Canadian communications. And the Bell team is delivering.
| | |
| --- | --- |
| | At Bell, service innovation is what we do: building the best broadband network technology in Canada, offering exclusive services and the best in digital content, and working continuously to improve the customer service experience every day. |
Bell's leading investments in networks, services and content and in our service operations are focused on making it faster and easier for our customers to access Bell service. In 2018, our work to leverage new technology and tools for our call centre, online and field service teams, sharpen internal processes, and integrate strategic acquisitions into our service channels has supported leading subscriber growth, reduced customer churn and increased overall customer satisfaction.
Self-serve innovation
Bell continues to lead the development of self-serve technology that makes it more convenient for our customers to manage their accounts, including bill payment, service selection and monitoring of mobile and Internet data usage. The success of MyBell self-serve options have decreased customer operations costs by greatly reducing the volume of calls to our service centres, freeing up our representatives to spend more time managing complex requests.
In 2018, customers visited our self-serve sites using the MyBell mobile app and MyBell.ca online tool 104 million times and conducted 13.4 million transactions. Mobile visits increased by 22%, while customer calls to our contact centres decreased by almost 3%.
The MyBell app was named the Best Telecommunications Mobile Application of the Year by the Web Marketing Association, which said the app "empowers Bell customers to manage their telecom bills and services on the go in a simple and intuitive mobile interface." In 2018, we enhanced the MyBell app to enable customers to manage even more elements of their Internet and TV services, including updating channels and programming packages, ordering pay per view and on demand content or upgrading their receiver.
In 2018, Virgin Mobile Canada ranked highest in overall customer care satisfaction in the J.D. Power Canada Wireless Customer Care Study. Cited for its outstanding service, including store, phone and online support options, Virgin took the top honours for the second consecutive year.
For business customers, the Bell Business Portal's self-serve centre was updated with a customizable dashboard that makes service orders and appointments, move requests and billing inquiries faster and more convenient than ever.
Field services enhancements
We also upgraded our Manage Your Appointment service, which enables customers to access real-time scheduling information about our Field Services technicians. Now customers can reschedule appointments online, communicate helpful information such as building entry codes and parking instructions directly to technicians, and provide instant feedback on their service experience.
With these technological improvements and the hiring of almost 2,000 new field technicians to support the ongoing expansion of our all-fibre footprint, we accelerated residential installation appointments and improved our on-time performance.  We offered appointments 33% earlier than in 2017, and technicians were on time for 97% of appointments, delivering an overall customer satisfaction rating of 94%. Bell techs also reduced the time for new fibre installations by 9% and the number of fibre repair visits by 6%.
Supporting improved industry standards
Bell actively took part in the CRTC's 2018 hearings into telecommunications retail sales practices, which focused on ensuring best practices in customer sales across the Canadian industry. Bell proposed several new industry service standards, and we are pleased that the CRTC's report endorsed some of these recommendations as best practices.  Bell will continue to work constructively with the regulator and the broader Canadian industry to ensure our sector leads the way in delivering exceptional customer service.