6 Strategic Imperatives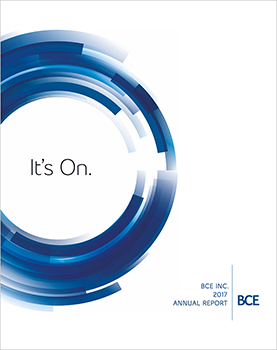 It's all about leadership.
Bell's strategy is to lead the Canadian communications industry in the scale and performance of broadband networks, in developing innovative, compelling services and content, and in making strategic acquisitions to capture emerging opportunities.
Building on our leadership position in broadband communications services, we generated historic growth in 2017. Once again, we invested more than any competitor in the most advanced networks and service innovations to lead in the marketplace and ensure Canada's competitiveness in a global digital economy, while creating consistent dividend growth forthe shareholders who have invested in Bell's broadband strategy.
Each day and around the clock, the Bell team works to deliver world-class network performance, exclusive new products and an enhanced service experience to Canadians in every province and territory. In the highly competitive and fast changing communications sector, Bell continues to set the pace through our dedication to one clear goal – for Bell to be recognized as Canada's leading communications company.
The best wireless, TV, Internet and media services continue to account for most of Bell's growth. But the actions taken in each and every line of Bell's business are all framed by our 6 Strategic Imperatives:
This strategy reflects both the challenges of our dynamic industry and the clear opportunities for innovation and growth in Canadian communications. And the Bell team is delivering.
| | |
| --- | --- |
| | Achieving a competitive cost structure is a critical component of Bell's broadband leadership strategy, enabling us to stay ahead of our rivals in network investment and innovation, continually enhance our service operations, effectively manage our debt and pension obligations, and deliver sustainable dividend growth to our shareholders. |
Working competitively and cost-effectively is part of the Bell team's everyday mindset. As the communications sector continues to evolve, we focus on managing costs in every aspect of our operations, refining our processes at every level to achieve maximum productivity and efficiency.
Strategic acquisitions accelerate Bell's execution of our broadband growth imperatives, enhancing our competitiveness and growth in existing and new markets, and operational efficiency with the integration of new brands and capabilities into Bell.
Bell welcomed the MTS team in March 2017, aligning capital investment plans, centralizing corporate functions, and coordinating our branding, technology and distribution assets across our residential, wireless and business groups.
We achieved cost synergies of approximately $33 million from the integration of MTS and launch of the new Bell MTS brand in Manitoba in 2017, and look forward to additional operating and capital expenditure synergies going forward. Our recent acquisition of AlarmForce Industries will enable us to achieve both operational savings and pursue new opportunities in the Connected Home marketplace.
The speedy integration of new teams and brands into Bell's corporate and customer-facing business units accelerates the financial contributions of our strategic acquisitions. The MTS and Q9 Networks acquisitions contributed to positive adjusted EBITDA in Bell Wireline, and integration cost savings drove further improvement in our Wireline segment's North American industry leading margin results. Technology innovation is also reducing costs, including leveraging our highly efficient all-fibre network for wireless backhaul and decreasing the amount of traffic not carried by our own networks, and reducing call centre traffic volumes by continually enhancing our online and wireless app customer self-serve options.
Since 2011, the number of customers choosing our self-serve options has grown 400%, reducing calls to our service call centres by more than 20 million a year. Bell Canada successfully accessed the capital markets in 2017 to raise $3 billion in gross proceeds, lowering our after-tax cost of outstanding public debt. BCE also made a $100 million voluntary contribution to fund its defined benefit (DB) pension plans, taking advantage of new Ontario pension legislation that effectively eliminates solvency funding requirements for provincially regulated plans over 85% solvent.
BCE's DB pension plans had attained a solvency ratio of 97% by the end of 2017, positioning us to achieve a surplus position should interest rates rise.
To learn more, refer to BCE's 2017 Annual Report.