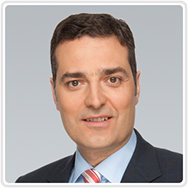 Mirko Bibic
Chief Operating Officer
As Chief Operating Officer, Mirko Bibic leads Bell's customer-facing business units: Bell Mobility, Bell Residential and Small Business, and Bell Business Markets. Mr. Bibic also oversees all legal, regulatory and government affairs for BCE and Bell.
A key driver in the success of Bell's broadband investment and innovation strategy in his previous role as Executive Vice President, Corporate Development since 2015, Mr. Bibic has overseen a broad range of strategic M&A transactions, Bell's participation in multiple wireless spectrum auctions, and a wide range of other investment and partnership initiatives.
Mr. Bibic joined Bell in 2004 as Senior Vice President, Regulatory, was promoted to Senior VP, Regulatory & Government Affairs in 2008, and appointed Chief Legal & Regulatory Officer in March 2012.
Prior to joining Bell, Mr. Bibic was a managing partner of Stikeman Elliott LLP in Ottawa. He holds a Law degree from the University of Toronto and was called to the Ontario bar in 1994.
Back to Executive team